Greenville On a Budget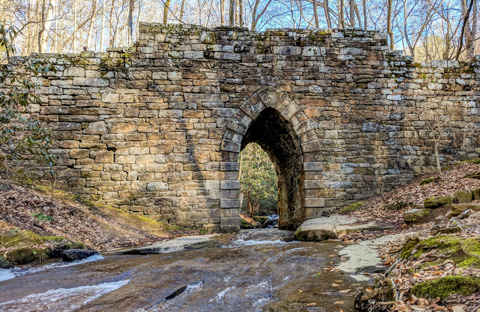 Greenville marks the largest metropolitan area of South Carolina in terms of expanse. The urban area makes for a unique landscape where the Old South meets the New South in a mix of historic homes and modern skyscrapers. Considered to be the "upstate" region of South Carolina, Greenville has much to offer in entertainment, drawing visitors with its annual concerts, festivals, and events.
Sights
Following the downtown's tree-lined Main Street to the south, you will find yourself coming into Falls Park on the Reedy-one of the most beautiful urban green spaces in the U.S. Home to the 60-foot Reedy Falls, the park provides a peaceful oasis from the bustle of the city outside. It is not only one of Greenville's most iconic sights, but also a great place to relax in the confines of nature.
The Greenville County Museum of Art presents another kind of beauty with a collection of American art on display including the works of Andrew Wyeth, Josef Albers, Jasper Johns, Andy Warhol, Romare Bearden, Jacob Lawrence, Ronnie Landfield, Helen Turner, Mary Tannahill, Eric Fischl, Marylyn Dintenfass, and Leon Golub. Traveling exhibitions are also featured on occasion. And then there is the Bob Jones University Museum and Gallery which features the works of many European Old Masters from the 14th-19th centuries. Paintings, sculptures, tapestries, and porcelain are all a part of the collection.
Neighborhoods
Greenville's downtown area has received many accolades for being a pedestrian-friendly city center. With wide sidewalks, outdoor plazas, shopping opportunities, and streetside dining, this is the place to which most visitors flock. The lush tree-lined Main Street is home to many of the downtown area's shopping and dining destinations, while Falls Park is renowned for the beautiful Reedy River Falls as well as the award-winning Liberty Bridge. Back to the center of things, downtown Greenville has more than 100 retail stores, plus art galleries and specialty shops, making the streets here a shopper's paradise. And by night, those streets stay alive with over 150 independent restaurants encompassing a 10-block stretch. Downtown Greenville is the city center. It is where the hustle and the bustle of the city thrive with both locals and visitors alike.
Activities
As far as activities go, the city of Greenville is home to many theatre and event venues that host concerts and shows throughout the year. Some of these include the Palmetto Expo Center for conventions and exhibitions, The Bon Secours Wellness Arena for major concerts and sporting events, and The Warehouse Theatre for Blackbox Theater. The Peace Center is a performing arts venue that hosts touring Broadway shows, symphonies, concerts, and civic events, while the Centre Stage Greenville's Professional Theater is a stage that sees music, comedy, drama and special events year-round.
A few of the annual events that attract visitors include the ARTISPHERE showcase of the arts in April, the Living Gallery around Easter each spring with live portrayals of some of the most famous Old Master paintings, Fall for Greenville festival during the first week of October, and the Greek Festival held in May by members of the Greek Orthodox Church. Art in the Park is another major festival as is the annual Independence Day celebration. And when it comes to music, Greenville News Shaggin' on Augusta held one day in May features a festival of beach music on Augusta Street, while Countybank Main Street Jazz is a tradition that occurs every Friday evening on North Main Street April to September. Greenville is truly a center for the arts, celebrating music and culture all year long.
Food and Dining
With so many restaurants in the downtown alone, Greenville has become known as a culinary center in South Carolina-a foodie's paradise so to speak. Not only does the city offer plenty of options for good 'ole native soul food and home style barbeque, but also a plethora of international and innovative cuisine inspired by all walks of the world. There is Vietnamese at Pho Noodleville, Jamaican at Island Blend Jerk & Grill, Middle Eastern at Pita House, German at Schwaben House, and a slew of sushi restaurants like one called Red Fin. If you wish to stay true to the southern experience, a place like Soby's offers a fine dining spin on low-country comfort food with dishes including lobster mac 'n' cheese with truffled Parmesan streusel, and shrimp and grits with ham and creamy wine sauce. The options are endless, and don't forget to sit back with a cold glass of sweet tea.
Transportation
Greenville is served by two airports: Greenville Downtown Airport and Greenville-Spartanburg International Airport which is the second busiest airport in the state.
By train, an Amtrak station is located at 1120 West Washington Street.
By car, Greenville is on the I-85 corridor, linking it to Atlanta and Charlotte, and links to I-26, which is in nearby Spartanburg, goes northwest through Asheville on to Tennessee, and southeast on to Charleston. It is also located at the northern terminus of I-385. I-185 and U.S. Highway 123 (Calhoun Memorial Highway) also converge in the area. Other major highways include U.S. Highway 25, Business U.S. Highway 25, U.S. Highway 29 and U.S. Highway 276.
Related:
Looking for a
party hostel in Las Vegas
or
San Diego
? Traveling alone to
NYC
or
LA
? Want a budget hostel in
San Francisco
?