Columbia On a Budget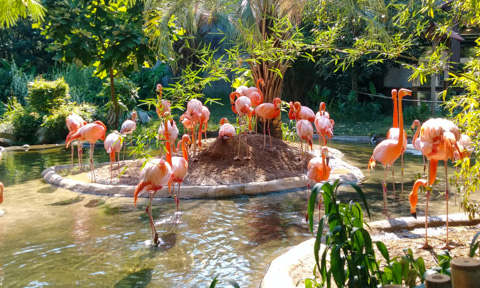 Both the largest and capital city of South Carolina, Columbia is literally the center of everything. Geographically it is located in the middle of the state, and it is the home to the University of South Carolina, the Army's Fort Jackson, as well as a variety of museums that celebrate the city's art, history, and culture.
Sights
One of the major draw of visitors to Columbia is Fort Jackson, a historic U.S. Army Training Center, established in 1917 when the United States entered World War I. There is also a Fort Jackson Army Museum, free to the public, whose collection has grown to over 4,000 items, including weapons, uniforms and vehicles from WWI to the present. Other worthwhile museums include the Columbia Museum of Art and the South Carolina State Museum whose four-floor exhibit space features educational hands-on exhibits, a science theater, a planetarium, and changing exhibits that highlight natural history, science and technology, art, and culture, as they relate to South Carolina.
As far as historic sites go, the Hampton-Preston Mansion and Gardens built in 1818 stands today as one of the few remaining antebellum houses with authentic furnishings. It is on the National Register of Historic Places and is open for touring for a small fee. The South Carolina Statehouse with its copper dome and gold stars also stands as a piece of South Carolina history. The building itself has a historic and architectural allure, while the grounds include several monuments and a rose garden.
Neighborhoods
Downtown Columbia consists of the area surrounding the University of South Carolina. The grid pattern streets are pedestrian-friendly and are lined with many options for shopping, dining, and entertainment. Not only is it the hub of today's culture and activity, but it is also the center for some of the most historic places in Columbia. The South Carolina Governor's Mansion, for example, was built in 1855 as a residence for military officers and later the state's governors, and encompasses 9 acres of the downtown area. There are also several beautiful parks in downtown Columbia that give residents and visitors alike a respite from the bustle of the city. Built upon the banks of the Congaree River, the downtown is essentially the city center. There is plenty to see and do, many good eats to indulge in, and a number of comfortable places for spending the night.
Activities
Columbia, the city that it is, has much opportunity for sightseeing, museum-hopping, dining, shopping, and entertainment. There is even a zoo on the banks of the Saluda River that offers more than your regular animal kingdom. Located just outside of the downtown, the Riverbanks Zoo and Botanical Gardens is home to over 2,000 animals, representing more than 350 species. From African lions to Siberian tigers, giraffes, zebras, and grizzly bears, the place is full of unique habitats that cater to each animal. Demonstrations are held daily, the botanical gardens cover a beautiful 70 acres, and there are even zip lines, a rock-climbing wall, carousel, and vertical ropes course for kids to find their inner monkeys.
Congaree National Park is another way to get in touch with the wilder side of the region. It is located about 20 miles south of the city and is home to some of the largest cypresses in the world amongst wildlife like wild pigs, deer, turkey, and alligators. Mostly consisting of a natural floodplain, the park is a popular place for canoeing and kayaking, especially along the Cedar Creek Canoe Trail, which is marked with brown rectangle signs stamped with white canoes.
Food and Dining
South Carolina, like most of the southern United States, is known for its home cooking, soul food, and barbeque. Most of the BBQ in South Carolina consists of tangy mustard-based sauces on pulled pork or chicken, and since BBQ is one of the staples it is the only state that boasts 4 distinct styles of sauces: mustard, vinegar, heavy tomato and light tomato. Being a major city, Columbia also has a wide array of innovative and international foods to choose from. Some of the most popular restaurants include the Blue Marlin which features seafood prepared in the South Carolina Lowcountry tradition, Bull Market Restaurant which serves Southern cuisine with a Greek Mediterranean flair, Motor Supply which has a changing menu of fresh local ingredients, the Hampton Street Vineyard best known for its fine wine selection, and SakiTumi Grill & Sushi which specializes in Pacific Rim cuisine. With over 450 dining options in all, Columbia has a treasure trove of culinary choices. Also, don't forget to try southern style sweet tea, a staple throughout the south.
Transportation
By plane, Columbia is served by the Columbia Metropolitan Airport, located 7.5 miles southwest of downtown. There are nonstop flights available from here to Atlanta, Charlotte, Chicago, Dallas-Fort Worth, Detroit, Fort Lauderdale, Houston, New York, Philadelphia and Washington. Comet Bus Route #28 operates on weekdays from the Midland Tech Airport campus (a few blocks from the airport). This route will take you to downtown Columbia.
By train, an Amtrak station is located at 850 Pulaski Street in the Vista. Columbia is a stop along a north-south line that's runs from New York City to Miami.
By car, the city can be easily reached by I-20, I-26, I-77, or by U.S. Highway 1.
Related:
Looking for a
party hostel in Las Vegas
or
San Diego
? Traveling alone to
NYC
or
LA
? Want a budget hostel in
San Francisco
?