San Antonio On a Budget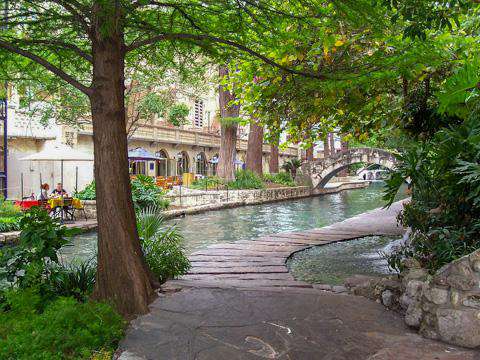 The third largest city in Texas, San Antonio, has grown in recent years as a popular travel destination. It's a beautiful city that is strategically situated at the edge of Texas's Hill Country near the South Texas Plains and Prairie Lakes areas. The city holds on to its small town feel despite having a population of about 1.4 million and 2.3 million in the greater metropolitan area. The city holds tight to its Spanish and Mexican heritage, making it a fascinating cultural destination. The Hispanic population has much influence in the city and this makes it a fun and unique city to visit, particularly during Fiesta week, which is an annual celebration with parades, music and food.
San Antonio is known for its hot summers. It's not uncommon for temperatures to reach above 100 degree Fahrenheit between the months of May and September. Even during the spring or fall months, temperatures can stay uncomfortably hot. Winter is cool and rainy, but not unpleasant.
Sights
The city has many museums and parks, and many visitors are excited to find
so many things to do in San Antonio
. Many people are most intrigued by the famous
River Walk
area. The River Walk runs on both sides of the scenic San Antonio River. There are many restaurants, cafes and shops along the walk and you can easily pass a few hours wandering through the area any time of the year. It's particularly popular in the evening when the nightlife is in full swing, but during the day it's fun to take a boat tour that will take you over the course of the river any time of the year. As the weather in Texas is generally warm all year round, San Antonio is one of the
warmest places in the U.S. to visit in January
.
Another very popular and famous sight in San Antonio is the
Alamo
. It's a historic mission which was the sight of the well known Battle of the Alamo in 1836. You can enter the building for free, but if you're in town on a popular weekend you should expect to wait in line for awhile. Inside there are several plaques and information boards that give you a history of the area. The grounds around the building have some very nice gardens which are also worth a visit.
Neighborhoods
There are a variety of neighborhoods throughout San Antonio and the metropolitan area. Alamo City is where you will find a high concentration of college students and families. The River Walk and Downtown areas are at the heart of the city's tourist industry. In these areas you will find a high concentration of restaurants, clubs, and entertainment. Alamo Heights is a wealthy, residential district with large and beautiful homes. There is also high end shopping and dining in this area. In the northeast and north central parts of the city you'll find a high concentration of families and chain restaurants or stores. King William and Southtown have trendy, urban settings with unique coffeeshops, art galleries, and theaters.
Activities
San Antonio also hosts a couple of interesting festivals every year, some of the most well known being the San Antonio Stock Show & Rodeo and the Texas Folklife Festival. If you're on a
Texas road trip
, then you might want to plan your schedule to coincide with one of these fun and popular events.
Also nearby are Sea World and Six Flags, both of which are great places to visit, particularly if you're traveling with young children.
Food and Dining
Food in San Antonio is excellent and generally affordable. If you're planning to dine out, check out some of these
best restaurants in San Antonio
for your next trip. Mexican cuisine is everywhere, as are Tex-Mex options. Other budget options include pizza, Vietnamese, Thai, and delis. If you're interested in spending a little more on a great meal, then there are a variety of good grills, steak houses, or riverfront options that won't disappoint.
As motioned earlier, the Riverwalk area is very popular and has a number of great places to eat. For fine dining on the Riverwalk, head to Biga on the Banks, Boudros, or the Little Rhein Steak House.
Transportation
You can easily walk around the River Walk and downtown areas of San Antonio, but you likely want to have your own car to visit anything else. While there is a bus system, it is inconvenient and slow most of the time. Having access to your own transportation will give you a much great flexibility and help you enjoy your visit on a whole different level.
If you do take the buses, take note that there are four different types of routes. These are Express, Skip, Frequent, and Metro. The Express routes usually connect the suburban areas with downtown. They run every half hour. The Skip service travels in high traffic areas and also runs every 30 minutes. They do not always stop at every bus stop. Frequent routes are also in high traffic areas and are prone to frequent stops. They typically come every 15 minutes. The Skip buses are often the faster and better option. The Metro service runs through neighborhoods and the frequency is inconsistent and less reliable.
Related
Looking for a
party hostel in Las Vegas
or
San Diego
? Traveling alone to
NYC
or
LA
? Want a budget hostel in
San Francisco
?