Yosemite National Park On a Budget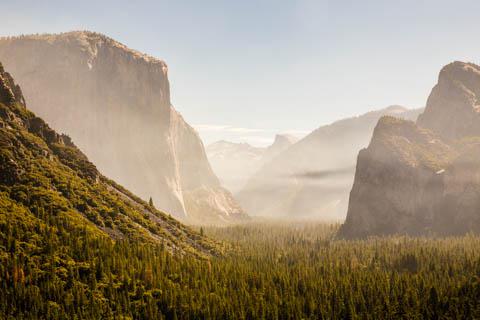 Yosemite National Park is located in east-central California in the Sierra Nevada mountains. It's one of the most famous and popular parks in the country and is known for its breathtaking granite cliffs, dramatic waterfalls, clear streams, and giant sequoia groves. The park covers 750,000 acres, or 1,200 square miles, and includes thousands of lakes and ponds and an impressive range of biodiversity. There are 800 miles of hiking trails within the park as well. Yosemite National Park is the third most visited park within the United States with an average annual visitation of almost 4 million people.
Yosemite has variable weather depending on the time of year or the elevation within the park. It is best to plan for all types of weather during your visit. Rain gear is a must, as storms are common throughout the year. Summer is typically dry though, with the occasional dramatic thunderstorm. Temperatures can range from 50 degrees Fahrenheit to the low 90s. Fall and Spring are the transitional seasons within the park. Temperatures can be highly variable and rain is less common in late spring or early fall. You can expect snow during late fall through early spring. Winter is snowy or damp, although the sun does occasionally make an appearance. Temperatures range from 30 to 60 degrees Fahrenheit and lows can dip into the high 20s.
Sights
Yosemite National Park (official website)
is very large and offers many sights. If you only have a few days then you'll have time to see some of the major highlights, but will miss much of what the park has to offer. Natural beauty is what the park is all about. The waterfalls are at their peak during the spring, but the park is more accessible during the warmer summer months.
Famous sights in Yosemite Valley include Half Dome, El Capitan, Yosemite Falls, Bridalveil Falls, Nevada Falls, Vernal Falls, and the Tunnel View. Wawona is where you'll find the historic Wawona Hotel, the Pioneer Yosemite History Center, and the Mariposa Grove. Glacier Point offers an excellent view of Yosemite Valley, Half Dome, and the Sierra Nevada mountain range. The Toga Road is a 39 mile scenic drive between Crane Flat and Tuolumne Meadows.
Neighborhoods
Yosemite National Park can be divided into the areas of Yosemite Valley, Wawona, Glacier Point, Badger Pass, Tuolumne Meadows, Crane Flat, and Hetch Hetchy Valley.
Activities
Outdoor activities in Yosemite National Park are countless. Visitors can enjoy hiking, rock climbing, horseback riding, golf, and skiing. Yosemite is also great for families, so check out this
family guide to Yosemite National Park
.
Food and Dining
Within Yosemite National Park you can find small grocery stores or restaurants in Yosemite Village, Crane Flat, Curry Village, Wawona, and Tuolumne Meadows. Yosemite Valley has the widest selection of options. Ahwahnee Dining Room is an upscale restaurant that has a large buffet on Sundays. It also serves breakfast, lunch and dinner. More budget options in the area include Yosemite Lodge Food Court as well as several delis, cafes, and grills.
Wawona has it's on fine dining room that serves breakfast lunch and dinner, as well as Sunday brunch. There is also a lawn barbecue held every Saturday evening during the summer months. It's located on the lawn outside of the Wawona Lodge.
Tuolumne Meadows Lodge offers family style meals under tents. Reservations are required. There is also a grill where you can grab food to go. Another snack stand is found at Glacier Point.
Transportation
The current price for entrance is $35 for a vehicle (and various annual passes are available).
Most visitors choose to arrive at Yosemite with their own vehicle. It is important to stay on top of weather conditions while you're in the park as some roads may temporarily close. The Tioga Pass Road and the road to Glacier Point are both seasonal and close before the first major snowstorm. The speed limit within the park is very low and is strictly enforced. It is best to adhere to the rules. The loop road through the Valley is one way and allows for passing of slow vehicles.
If you visit Yosemite during its peak summer months then your best option is to take the shuttles. The shuttles are free and run between 7 am and 10 pm in the eastern parts of the park. They operate year around and stop near all accommodations, shopping areas and major sights. During the spring, summer and fall seasons there is a shuttle that runs between Wawona and the Mariposa Sequoia Grove. There is limited parking at the Grove so this is your best option. During the ski season there is a shuttle that runs between Yosemite Valley and the Badger Pass ski area. It runs twice daily. During the summer months there is a bus around Tuolumne Meadows as well.
For a fee you can take either the Tuolumne Meadows Hikers' Bus or the Glacier Point Hikers Bus. Tickets should be purchased a day in advance.
Related:
Looking for a
party hostel in Las Vegas
or
San Diego
? Traveling alone to
NYC
or
LA
? Want a budget hostel in
San Francisco
?