Santa Monica On a Budget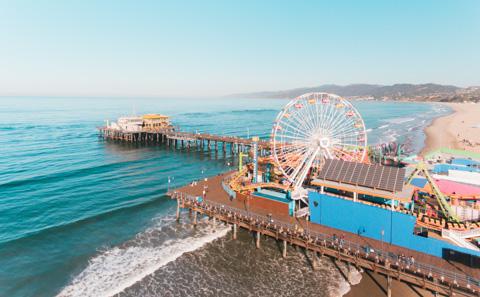 When it comes to visiting Los Angeles, Santa Monica is high on the must-see-and-do list. Chances are you'll recognize the iconic ferris wheel from Pacific Park in films and TV shows, and nothing beats the relaxed yet bustling vibe of this laid-back city.
Santa Monica is a popular and diverse beach town, cultural hub, fitness venue, shopping district, and neighborhood full of unique and trendy restaurants, all rolled into one. Visited by more than 6 million people a year, it's no wonder you'll always find a crowd there.
So whether you're up for a high-end shopping spree, bicycling down the waterfront, an eclectic food crawl or simply a stroll down the promenade, Santa Monica is sure to have something in store for you.
The weather in Santa Monica is moderate, with average summer highs in the low to mid 70s and winter climate that rests comfortably around the low 50s. Though flip flops and sandals are considered year-round footwear in Los Angeles, bring comfortable walking shoes for browsing galleries, malls, and boutiques. Santa Monica is the perfect place to break out your California-casual wardrobe.
Sights
Walk down the iconic Santa Monica Pier and see fishermen patiently waiting for their daily catches. Children (and the child in you) will enjoy the classic Playland Arcade, which still takes quarters and dispenses tickets for prizes. Head toward Pacific Park for midway games, specialty foods like funnelcakes, souvenir shops, and of course, thrill rides on the pier.
Just south of the Pier is the retired Original Muscle Beach, where you can swing on the rings and ropes at this the outdoor gym. If you're up for a walk, take the 2.5 mile beachfront path south, toward Venice Beach, where you'll come across the world-famous Venice Beach Freakshow, the Venice Beach Boardwalk featuring street performers, restaurants, and a multitude of independent and souvenir shops.
Don't forget to stop by the Venice Public Art Walls for a look at fresh street art, much-loved by the community. Want to contribute to the wall? Anyone is welcome to paint on weekends and city holidays, after signing an Artist's Agreement and presenting a photo I.D. to the In Creative Unity arts organization.
Keep heading south and you'll reach the newer Muscle Beach, Venice, where it's not uncommon to see body-builders and fitness fanatics pumping iron and their admirers nearby.
Head inland to visit the homes that line the tranquil Venice Canals Historic District, where each home has its own dock and the sidewalks run along the waterfront.
Activities
Head to Downtown Santa Monica where the famous Third Street Promenade and Santa Monica Place are located for designer shopping, movies, and the trendiest of restaurants and pubs in the area. If smaller boutique shopping is what you prefer, Montana Avenue may be more your pace with unique small shops along a quieter neighborhood from 7th to 17th Street.
Besides fun in the sun, sea, and sand with the usual watersports such as swimming surfing, paddle-boarding and skim boarding activities, fitness buffs may want to bike or skate down the 26-Mile Bike Path, also known as the Marvin Braude Bike Trail or The Strand, which runs along the shorefront from Will Rogers State Beach south to Torrance State Beach. Santa Monica Bike Center and Sea Mist Rentals are nearby for bike rentals.
If you're feeling daring, Trapeze School New York has a location on the Santa Monica Pier for thrill-seekers who want to learn from trapeze, aerial, or trampoline classes.
To take in the natural scenery of the mountains and Pacific Ocean, head to the Santa Monica Mountains, the largest urban national park in the world. The Santa Monica Mountains Natural Recreational Area offers more than 30 hiking trails at different levels of difficulty whether you're a beginner or seasoned hiker. The park is also a popular spot for mountain biking, rock climbing, horseback riding and camping.
Art and culture lovers are bound to find something that piques their interest, whether it's a photo exhibit at the Annenberg Space for Photography, the Bergamot Station Arts Center which houses more than 30 art galleries, or artists outside performing, exhibiting, or peddling their works at the Third Street Promenade.
Food and Dining
Santa Monica boasts the trendiest and newest restaurants, whether you're into farm-to-table organics, vegan, or the most innovative California fusion cuisine.
For quick, inexpensive, and casual dining, try the famous Godmother sandwich at Bay Cities Italian Deli and Bakery, the place to go for a hearty Italian sandwich as well as imported Italian products and groceries to bring home.
Nearby, Milo and Olive is a trendy but moderately-priced restaurant and bakery, especially known for their famous burrata pizza, garlic knots and chicken meatballs. If you want to avoid a wait, the restaurant offers communal seating and bar seating, which may be a quicker way to sit, check out what others are ordering and possibly even make a few new friends.
For one of the most raved-about burgers in the neighborhood, stop by Father's Office for an artisan burger, sweet potato fries, and an extensive selection of beers, both on tap and in bottles.
If you're looking for fine dining, you're in the right neighborhood. Melisse is one of the most highly-regarded restaurants with 2 Michelin stars, serving French fare and seafood. Diners love the egg caviar, lobster bolognese, and full 15-course Carte Blanche tasting menu. If you order the latter, be sure to reserve several hours for a leisurely and luxurious dining experience.
Tar & Roses serves new American fare in a rustic and intimate, yet modern and hip environment. Customer favorites consist of decadent menu items such as bone marrow, oxtail dumplings and braised lamb belly, with honeycomb ice cream and ricotta crostata for dessert.
For an altogether different shopping and dining experience, visit one of the four Santa Monica Farmer's Markets, which take place on Wednesday mornings, Saturday mornings, and Sunday mornings in different locations. Don't be surprised by A-list celebrity sightings; even renowned chefs from all over Los Angeles frequent these markets for their fresh produce and seafood.
Transportation
Los Angeles International Airport is a mere 10 miles away from the heart of Santa Monica. For just $1-2, you can take the Big Blue Bus to Santa Monica. From the LAX Lot C Bus Terminal, take Bus 3 or R3 (R3 is the express bus, which costs extra) all the way to 4th Street and Santa Monica Blvd, which will drop you off right next to Third Street Promenade.
The light blue Expo Line on the Los Angeles Metro Rail also serves Santa Monica with the nearest exit located at Downtown Santa Monica.
Once in the area, the Big Blue Bus is still the most economical way to get around without renting a car of your own, but if you so choose to, you can easily find a car for hire at LAX. Bus fares on the Big Blue Bus range from $1.25 - $2.50 for regular riders (5 - 61 years old) and $0.50 for seniors and disabled passengers.
However, if you're exploring locally, walking and biking are the best ways to get around, considering the city is very walkable and either of these rids you of the hassle and costs of parking.
Related:
Looking for a
party hostel in Las Vegas
or
San Diego
? Traveling alone to
NYC
or
LA
? Want a budget hostel in
San Francisco
?