Berkeley On a Budget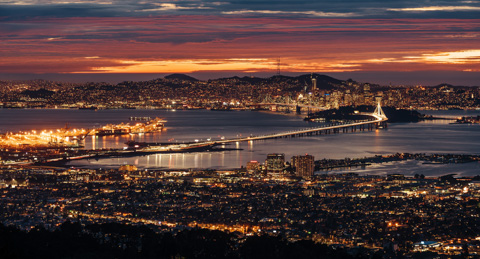 Berkeley is considered to be perhaps the most progressive or liberal city in the United States. The town has deep roots in the Free Speech movement of the 1960s. Visitors, students, and locals alike will find an eclectic mix of cultures and viewpoints. The city's free-thinking environment has witnessed the creation of quality attractions, great food from many world cultures, and of course the internationally renowned University of California, Berkeley (also known as "Cal" or "Cal Berkeley").
Like the rest of the San Francisco Bay Area, Berkeley has a mild climate, with wet, mild winters and dry summers. Because of its position on the bay Berkeley gets a decent amount of fog, with mornings typically cool and foggy, followed by sunny afternoons, with the fog returning at night.
Sights
Berkeley sits across the bay from San Francisco, north of the Oakland metro area. The views from campus and other points around town look out over the bay to San Francisco. On a clear day, one can see the Golden Gate Bridge, downtown San Francisco, and the hills of Marin and Sausalito. You can easily reach Berkeley from the city of San Francisco on the Bay Area's Regional Transit System, known as BART. The trains run daily, but have a reduced schedule on weekends and in the evenings.
Activities
Life in Berkeley today offers remnants of street life culture, a growing Asian student community, a shrinking low income area and a large amount of "yuppies". The affluent and aging Berkeley Hills neighborhoods look down quite literally and figuratively on the more student and youth oriented "city of Berkeley", the smaller downtown core. Berkeley is extremely complex for a city of its size, 100,000 people.
Food and Dining
Restaurants in Berkeley are diverse and international. Prices vary dramatically, with many budget options catering to the student population while high end restaurants cater more to the older, working population. Food at most is generally high quality.