Srinagar On a Budget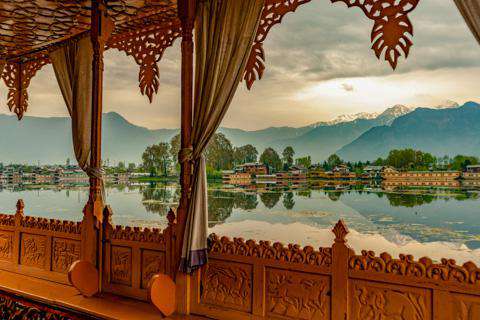 Lying on the banks of the Jhelum River, Srinagar is the largest city and the summer capital of the Indian state of Jammu and Kashmir. It is best known for its gardens, waterfronts, and houseboats as well as local traditional Kashmiri handicrafts and dried fruits.
Sights
Sometimes referred to as the "Kashmiri Venice" Srinagar is a city surrounded by water. Lakes in the immediate area include Dal Lake-noted for its houseboats-as well as Nigeen Lake and Anchar Lake. Apart from these, the city is also famous for Wular Lake (one of the largest fresh water lakes in Asia) and Manasbal Lake, both to the north of Srinagar. The Jhelum River, upon whose banks the city sits, is a tributary of the Indus River, and Dal and Anchar lakes.
The Mughal Gardens are also very famous, complete with terraced lawns, cascading fountains, and bright flowerbeds with boxes painted with a panorama of the Dal in front of them. Of these gardens, Nishat Bagh (the garden of spring) is situated on the banks of the Dal Lake with the Zabarwan Mountains as its backdrop, Shalimar Bagh is in front of Dal Lake built by Emperor Jahangir, and Chashma shahi (the royal fountains) is another beautiful example of a Mughal garden. Pari Mahal (the palace of the fairies) and Naseem Bagh are also worth a visit.
Other popular sights include Hazratbal Mosque, Jamia Masjid Mosque, a mosque and shrine called Ziarati Hazrati Youza Asouph, and Shankaracharya Mandir-a Hindu temple dedicated to Lord Shiva on a hilltop. Just on the outskirts of Srinagar, there is also Parihaspora, a place of ruins of the palaces of Kahmir's Buddhist and Hindu rulers and Buddhist places of worship.
Neighborhoods
Throughout Srinagar, there are a number of places to experience the local market scene and admire some of the region's handicrafts and specialty items. Popular goods with tourists include pashmina garments, locally handmade woolen socks, gloves, caps and sweaters, prayer wheels, Buddhist masks and Thangka paintings, Tibetan silver and traditional jewelry with turquoise, as well as handwoven rugs, amongst much more. The Polo View market is one such place specializing in handmade crafts, as is the Badshah Chowk market place which has beautiful carpets and pashmina shawls, as well as Lal Chowk with just about any handicraft imaginable. Srinagar is also home to the unique floating vegetable market, where vendors sell goods from their houseboats on Dal Lake. The markets and areas around the lake are also great places to find restaurants and cafes.
Activities
Within the city, one of the most common activities is to take a ride on a skikara, or houseboat, on Dal Lake. Paragliding is also popular, where visitors can get a sweeping view of the city and its gardens and waterways from above. Srinagar also serves as a home base for adventure tourism, with many visitors looking to trek into the high altitude lakes of the Himalayas. Some of these alpine lakes include Vishansar Lake, Nundkol Lake, Tarsar Lake, Gadsar Lake, and Satsar Lake, amongst others.
Food and Dining
The more popular restaurants and cafes of Srinagar are located in Lal Chowk or on Boulevard along the banks of the Dal Lake. Most restaurants will serve Kashmiri, Indian, Mughlai, and 'Indianized' Chinese dishes. Some of the local cuisine consists of rogan-gosht (meat cooked in red gravy), gushtaba (soft meatballs cooked in natural yogurt), rishta (soft meatballs in gravy), tabakmaaz (deep-fried lamb ribs), and kanti (small chunks of meat cooked with onions). Most meat dishes consist of chicken or mutton and are served with rice. Another local delicacy called is seekh-tuji which consists of marinated meat pieces, freshly barbecued and eaten with chutney. As far as drinks go, kahwah is a traditional green tea recipe from Kashmir made from green tea leaves with saffron strands, cinnamon bark, and cardamom.
Transportation
Sheikh ul Alam Airport, commonly known as Srinagar Airport, offers international service. Flights are operated by Jet Airways, Jet Konnect Indigo, SpiceJet, Go Air, Jet Lite and Air India from Delhi and Mumbai to Srinagar, with or without a layover at Jammu. Planes fly once or twice a day by each airline.
It is common for visitors to take the train to Jammu followed by a taxi or bus ride to Srinagar. Typical travel time from Jammu to Srinagar is 11-12 hours, while the ride from Srinagar to Jammu is about 9-10 hours (without any traffic). J&K State Road Transport Corporation (J&KSRTC) operates buses from Jammu, taking about 12 hours. Two-day buses run between Srinagar and Leh staying overnight in Kargil, as well as a direct 24-hour bus ride from Delhi to Srinagar.
Related:
Looking for a
hostel in Delhi
or
Goa
? Heading to
Kathmandu
or want a
party in Tel Aviv
?