Leh On a Budget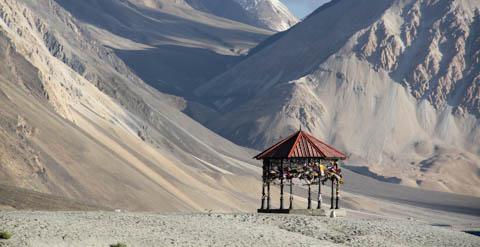 Leh is a small town located in the Indus river valley at a crossroads of the old trading routes from Kashgar, Tibet, and Kashmir. Today, the town is best known for its Buddhist sites and nearby trekking areas. It is situated in northern India, amidst the mountainous Himalayan range.
Sights
The former Palace of the King of Ladakh is the most noticeable building in Leh, first built in the 17th century modeled after the Dalai Lama's former home (at Tibet's Potala Palace). The views of the outside are impressive, while the inside is a maze of corridors fun for exploring. Most of the palace is empty except for the Buddhist prayer room at its center which is furnished.
As far as temples go, Namgyal Tsemo Gompa was built in 1430 and sits above the Palace, while Karma Dupgyud Choeling is a monastery in the Karma Kagyu tradition. Just around the corner from the main Bazaar is Soma Gompa, which also serves as the location of the Ladakhi Buddhist Association, a conservative political organization with ties to Hindutva groups.
Lying on the Indo-China border there is also a stunning high-altitude lake called Pangong Tso, surrounded by mountain scenery. The drive is about 5 hours from Leh, so an overnight is recommended.
Other attractions include the Shanti Stupa, Nubra Valley, a War Museum, and a Donkey Sanctuary. Within the Nubra Valley visitors will find spectacular mountain scenery as well as a desert with sand dunes around the towns of Diskit and Hunder. Lying on the old silk route from South to Central Asia, the valley is also a piece of history.
Neighborhoods
Being a small town, it is easy to get around on foot. The old town is a charming compact area of traditional mud brick houses and narrow lanes, located just east of the main Bazaar. Throughout town, there are plenty of opportunities for shopping at the bazaars and markets of Leh. Popular items with tourists include pashmina garments, locally handmade woolen socks, gloves, caps and sweaters, prayer wheels, Buddhist masks and Thangka paintings, Tibetan silver and traditional jewelry with turquoise, as well as handwoven rugs. A few specific markets in Leh include the Tibetan Market off the Old Leh Road for clothes and Moti Market near the Leh bus stand. Bargaining is commonly practiced at the open markets.
Activities
Leh is a popular home base for trekking, with a number of possible routes through the mountainous region of Ladakh. White water rafting on the Zaskar and Indus rivers is also common and can be organized from Leh. With beautiful scenery just about everywhere, many visitors enjoy camping at places like Pangong Lake and on the sand dunes of Nubra Valley. Cycling tours and safaris can also be arranged, as well as unique activities like a carpet or pashmina workshop. During the summer, polo is also popular in Leh, as is archery (though mostly during festivals when competitions are held).
Food and Dining
Cuisine in and around Leh consists largely of chicken and mutton with vegetable which include pumpkins, potatoes, beans, and beetroots. Some staple meals of the region include thukpa (noodle soup usually with chicken and vegetables), skyu (thumb-sized pieces of kneaded dough cooked in a kind of soup), and momos (dumplings). Other specialties comprise of khambir (a whole wheat local bread baked into a pan shape), butter tea (salty tea churned with butter), and chang (a light local brew of beer). These dishes are common throughout the mountainous regions of the Himalayas. The shopping areas of the old town in Leh and the area around the bus station are good for Tibetan styled restaurants, although few offer more than thukpa (noodle soup) and momos (dumplings).
Transportation
There are two roads into Leh--one from Manali in the south, and one from Srinagar in the west. Both routes are very scenic but time-consuming with winding, narrow roads, and a number of military checkpoints. The quickest way to travel (from Manali to Leh) is by jeep along a route that is also popular with motorcycles (which can be rented). It is also possible to travel by truck.
Buses are available from cities like Srinagar and Manali.
The closest train stations are Pathankot or Chandigarh, both at least three days away by bus.
Planes fly year-round to Kushok Bakula Rimpochee Airport in Leh. Flying is the only option in the winter season. Air India, Jet Airways, and GoAir have daily flights from Delhi and Air India flights are also available from Srinagar and Jammu. Be aware that luggage weight restrictions are strict and enforced.
Related:
Looking for a
hostel in Delhi
or
Goa
? Heading to
Kathmandu
or want a
party in Tel Aviv
?