Being the capital of Spain, Madrid has borrowed many culinary traditions from other regions of the country. Additionally, the capital has its own special recipes that have become part of the local cuisine. Here are some of some of the most famous dishes that you are most likely to see on the menu at a typical Spanish restaurant in Madrid. You may have heard of some of them, but others might be quite a surprise! And then down below, we list a number of restaurants where you can taste them.
Madrid's Culinary Specialties
Tapas
You're probably already familiar with this Spanish specialty. These small dish plates originated at bars as a way to get people to drink more, but now they are a category all to themselves. Various tapas restaurants can be found all over Madrid as well as elsewhere in Spain. They usually serve a variety of both traditional and modern small plates. Diners typically order multiple dishes which they share as one dish is not nearly enough for a meal. Traditional dishes include various meat, potato, cheese, and vegetable recipes.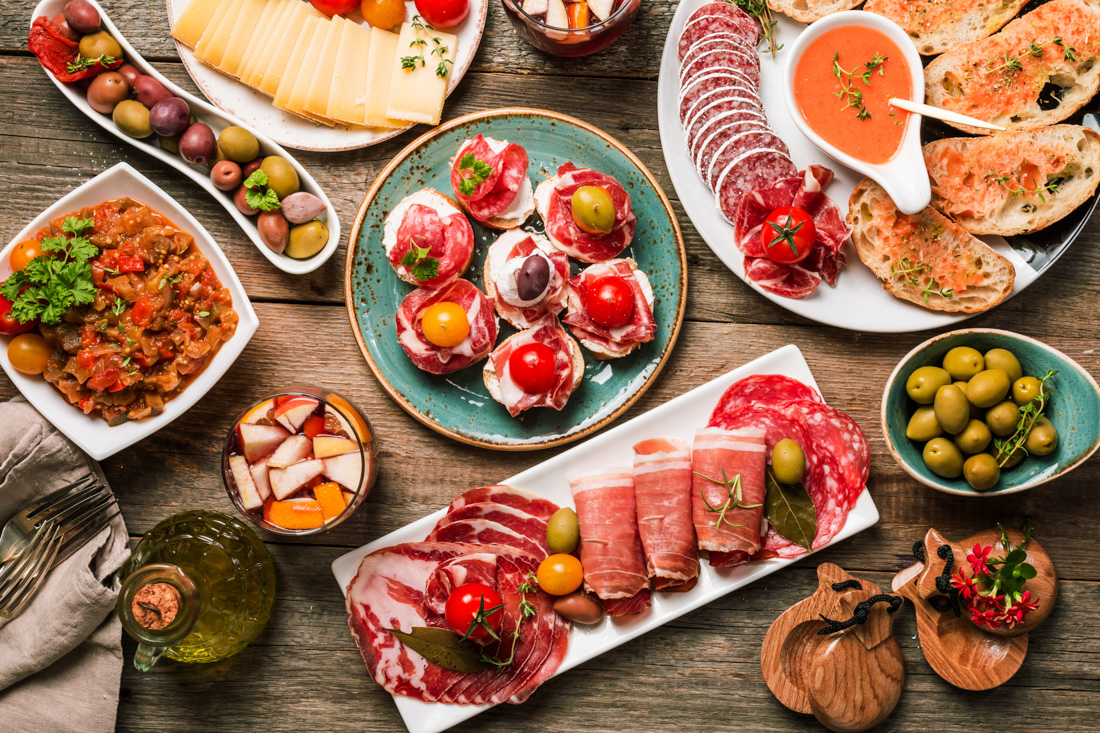 Huevos Rotos
Literally "broken eggs", this traditional dish places fried eggs over french fries (or other potatoes) and mixes in meats such as chorizo (spiced sausage) and Spanish ham. What's not to love?
Pork Stew - Cocido Madrileno
Known as "Madrid's Stew", this traditional dish is stewed pork with chickpeas. The recipes can vary a little, and many add other vegetables as well as chorizo and sometimes pasta. A favorite in winter, the traditional way to serve this meal is to cook everything together but then divide it into three courses. First comes the broth of the dish, then the vegetables, and finally the meat.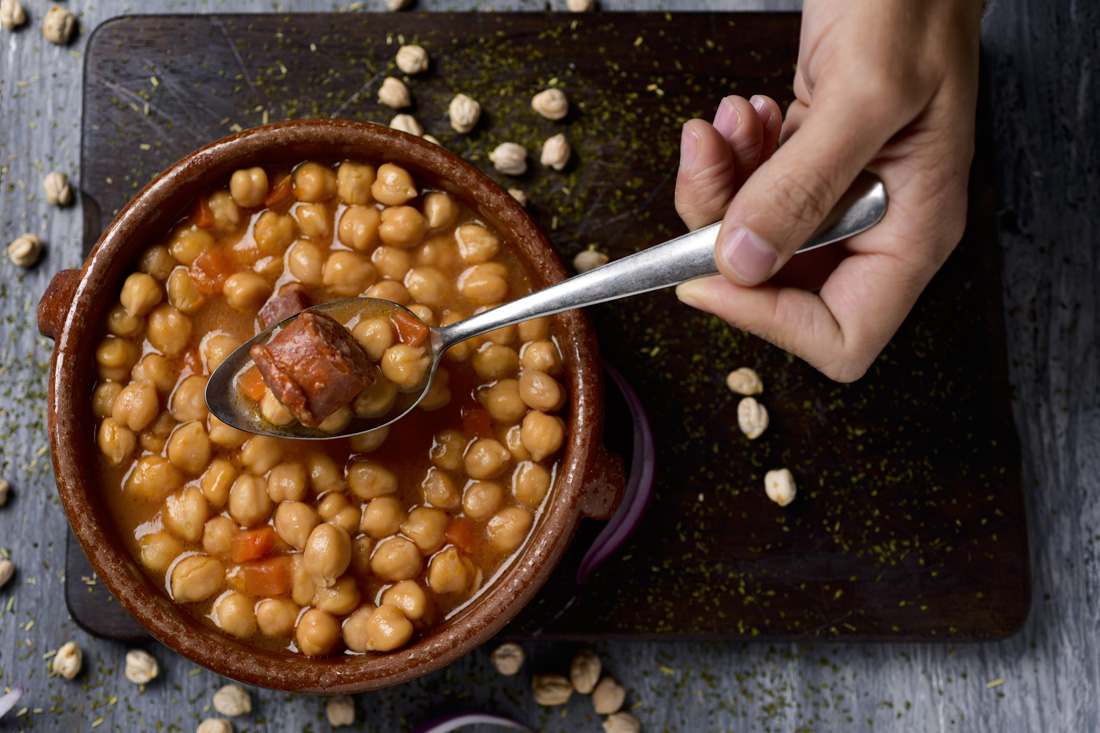 Churros
Another famous Spanish food that everyone has heard of is the churro. It's like a long, skinny doughnut. In Madrid, they like to serve them with a side of warm chocolate sauce for dipping. We approve wholeheartedly.
Pincho de Tortilla
Literally, a "slice of tortilla," this traditional dish usually contains eggs and potatoes. From here, the varieties are endless. Sometimes the eggs are runny, and at other times they resemble a fully cooked omelette. Either way, be prepared to use your hands and get a mouthful of flavor.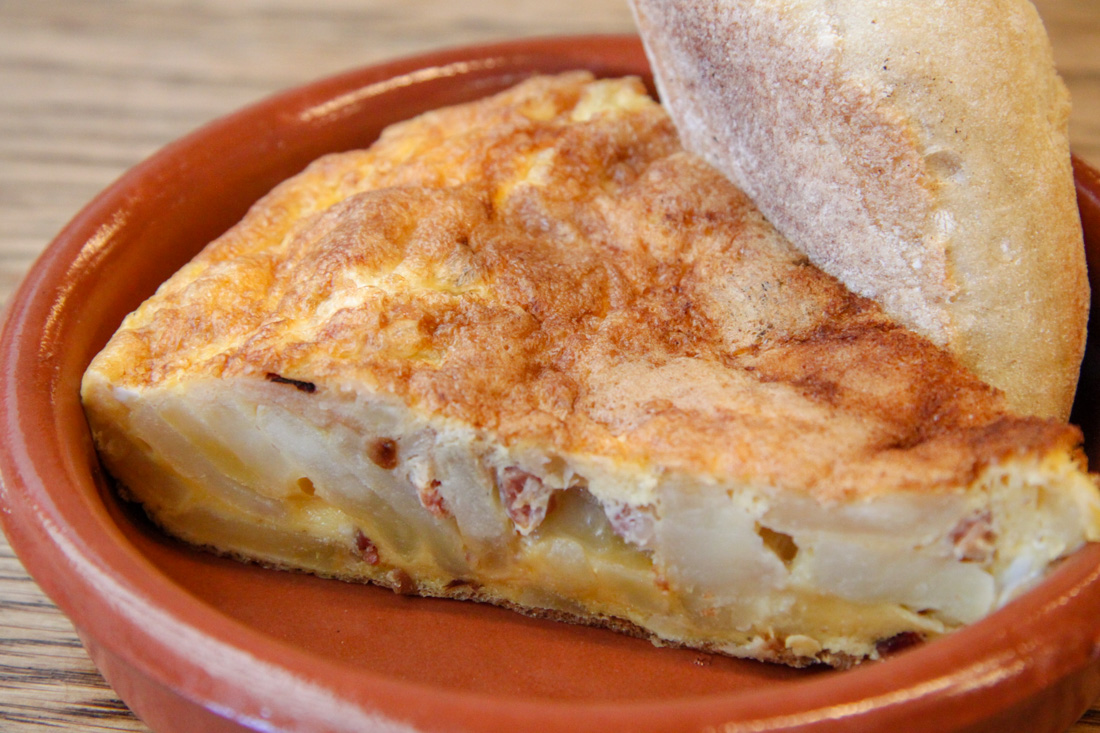 Oreja a la Plancha
Yes, this is pig ear, and yes, it tastes good. Often served in large chunks with toothpicks, a variety of recipes can be found that involve searing the ear meat and then sprinkling it with salt, paprika, other spices, and lemon juice. Often, other ingredients are mixed in such as bacon, mushrooms, or other light vegetables.
Bocadillo de Calamares
This is the Spanish equivalent of calamari, or squid. With so much access to the sea, Spain has no shortage of recipes for this dish, although the most popular way to serve it in Madrid is casual and plain. The locals' favorite method of cooking involves frying the squid and serving it as a sandwich on crusty bread, sometimes only with a little mayonnaise if anything at all. Occasionally they might put a tomato on it. This dish lets the flavor of the fried squid speak for itself, and trust us, it's good! These sandwiches are usually served fast-food style and can be found in corner shops around town. They make a great budget-friendly lunch.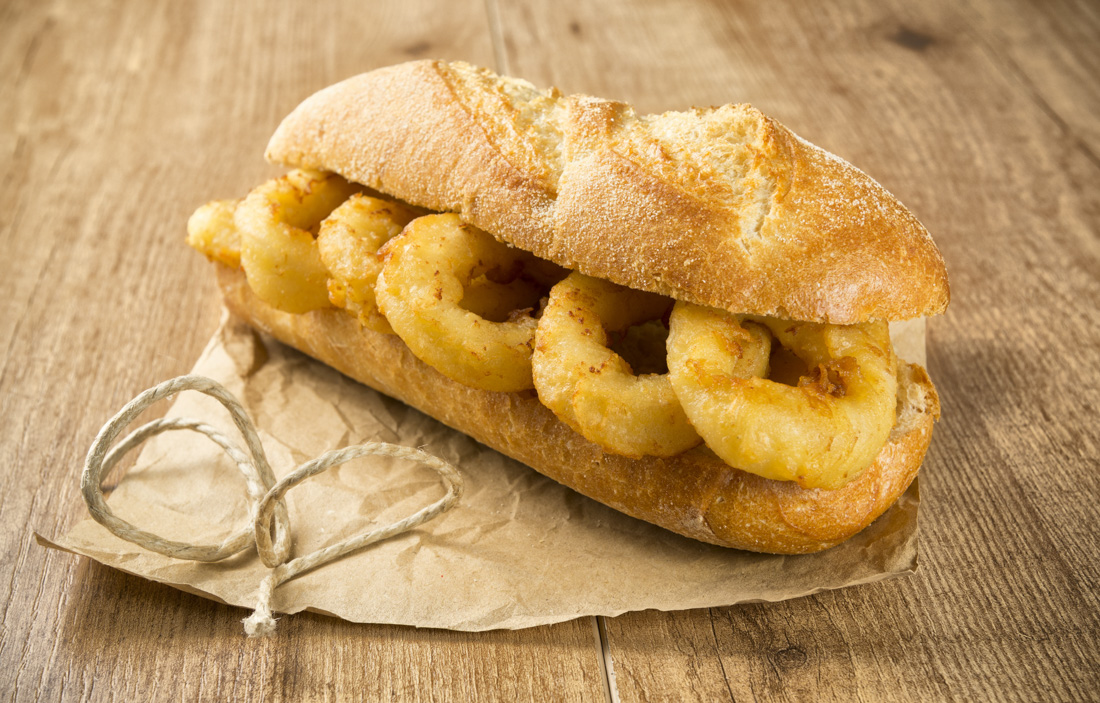 Tripes
A traditional and historical dish eaten by locals and visitors alike is the tripe. Usually, it's veal tripe, deep fried with spices and served with a side of fries. Sometimes it's boiled, though, and served with tomato sauce, beans, and vegetables like a stew.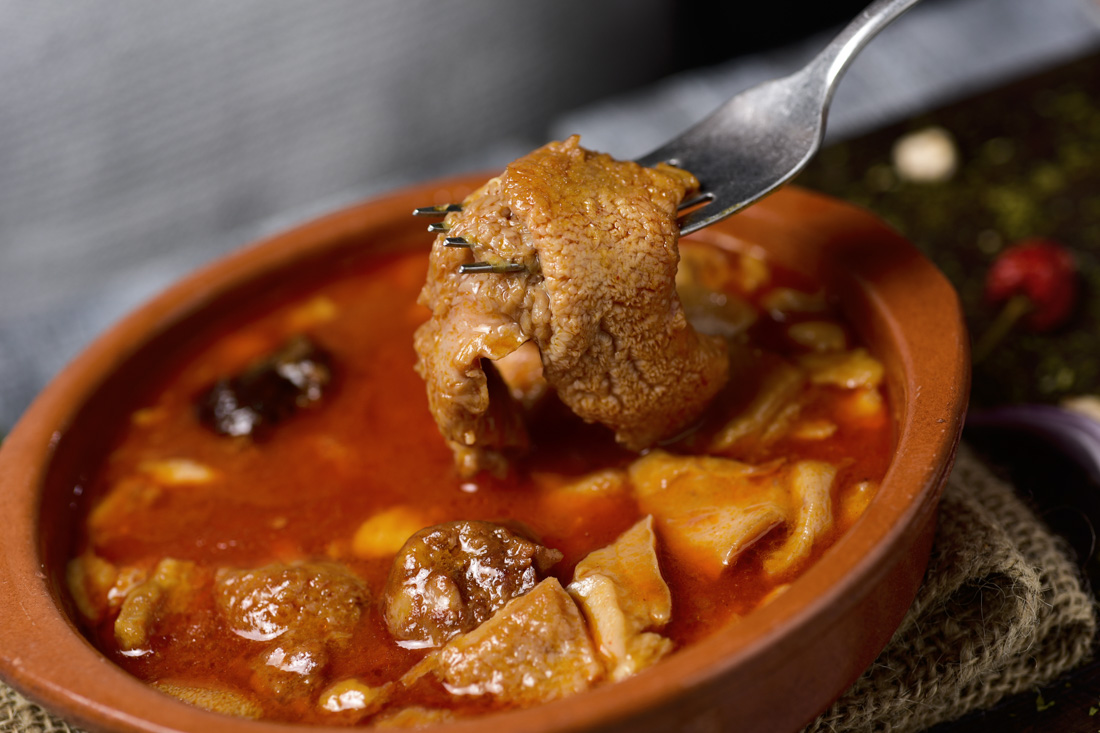 Veal Rosca
While "rosca" means "donut," don't be fooled. This traditional and time-consuming recipe takes ground veal and pork and mixes them with ham, flour, eggs, and spices. The mixture is then baked much like a meatloaf, then topped with a mushroom gravy. A smaller, tapas version of this dish is also quite popular.
Other Options
The dishes listed above may be some of Madrid's more traditional meals, but don't think that these are your only options! Madrid is a large city and offers a huge array of foods from all over the world and the rest of Spain, too. For example,
Madrid has plenty of Vegan restaurants
, plus other European and even Asian cuisines.
Madrid's Best Restaurants
As one would imagine, Madrid has no shortage of restaurants. Here are just a few favorites of travelers and locals alike.
Los Huevos de Lucio
This amazing little restaurant is small, intimate, and serves a variety of traditional Spanish recipes for dinner or tapas. Located near the La Latina metro station, it's not far from Plaza Mayor and the Royal Palace.
Website and Menu
Chocolateria San Gines
It's no surprise that a cafe that serves chocolate and churros would stay open since 1894. Extremely popular throughout the day, but especially during the early morning hours, expect to wait in line for a bit. You'll be glad you did! It's located a few blocks west of Sol.
Website and Menu
Lhardy
This is a French restaurant in Spain, but it's still one of the best in the city and worth visiting. It's not cheap to say the least, but the food is tres magnifique! They often do some French variations on traditional Spanish dishes. It's a few blocks east of Sol.
Website and Menu
La Bola Taberna
Some people claim that this is the home of cocido, the traditional pork stew (described above). This family-run restaurant is still in business after more than a century, although some say the staff is a bit arrogant about their place in the city. It's just northeast of the Royal Palace.
Website and Menu