Madrid is Spain's bustling capital city which is home to millions and sees millions more visitors every year. It offers a variety of sights, attractions, activities, hotels, restaurants, transport options, day trips, and more. With so many options, how can a visitor keep it all straight?
That's where this "ultimate guide to Madrid" can help you out. We've outlined everything you need to know before and during your visit. From accommodation to transportation, and from food to activities, you'll find it either on this page or only a click away.
So, let's go to Madrid!
Madrid Accommodation
With plenty of options for every type of traveler, Madrid's prices and accommodation quality can be all over the board. From cheaper hostels to guesthouses to traditional hotels, which should you choose? And why? Well, here's the information you need to make your decision:
Hostels
Guesthouses and Pensiones
Like other cities in Spain, Madrid has a number of family-run guesthouses. At least, most are family run but some are run by companies. These guesthouses are also referred to by other names such as pensiones and also
hostals
(spelled with an
A
). (Note that hostals are not dorms like hostels,
spelled with an E
, but rather they are guesthouses.) Generally, these types of accommodations offer a bed in what appears to be someone's house or apartment. Breakfast is usually included, and the bathroom is sometimes shared. There is a resemblance to a Bed and Breakfast, although the prices for these guesthouses tend to be much less, but they are usually less luxurious.
These types of establishments are labeled with a "
CH
" at their door, whereas standard hotels are labeled with an "
H
" at the door.
Hotels
Like any major city, Madrid has an overwhelming number of hotel options. The hotel star rating system is set by the government. Therefore, visitors can understand exactly what a room might contain, such as a TV. In order to be rated as a hotel in Spain, a room must have its
own ensuite bathroom
.
From budget, low-cost hotels to the highest luxury establishments, make sure that you shop around for the best price. Many of the hotels in Madrid's touristy city-center are priced higher than their equal counterparts with locations a bit further out. Often, going a little out of the city will land you a better deal. And with Madrid's terrific public transportation system, it might not be as inconvenient as you think.
Neighborhoods
Madrid is a large, sprawling metropolis, but most travelers tend to stay near the city center, as this is where the majority of interesting sights and activities can be found. Getting around in the city is also quite easy. For more information on getting around, see the transportation section below.
City Center (Centro)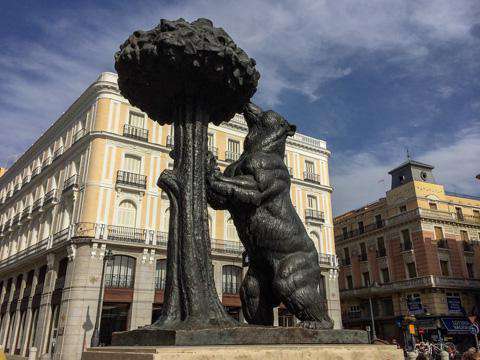 In the center of the city are two main plazas, Puerta del Sol and Plaza Mayor. Sol is said to be the exact center of the Iberian Peninsula and is "kilometer zero" for all of the major roads in Madrid. A large bear statue is in the plaza and makes for a popular meeting spot. The surrounding streets are full of shops, restaurants, bars, and more.
A ten-minute walk southwest of Sol will get you to Plaza Mayor, which is in the heart of the "old town" area of Madrid. This area, known as Austrias quarter, is home to narrow alleyways and beautiful buildings from various historical periods. Plenty of churches can be found here as well. This is the main tourist hub for the city of Madrid, as plenty of hotels, shops, restaurants, and bars are located here. Many are open late into the evening, catering to the crowds. Don't miss the Arco de Cuchelleros on the southwest side, where you can find touristy but interesting bars and restaurants known as mesones.
The Mercado de San Miguel is a block west of Plaza Mayor, so don't miss it!
Continuing west along Calle Mayor will take you to the imposing Catedral de la Almudena. Just north of here is the Royal Palace. (More information for these attractions can be found below.)
In the opposite direction, heading east from Puerta del Sol or along the Gran Via are several museums, including the Thyssen-Bornemisza Museum which is dedicated to European art. Pass around the Neptune Fountain, flanked on each side by the Westin and Ritz, and you can head further east to the large and beautiful El Retiro park (details below).
Gran Via
To the north of these "old town" areas is the Gran Via, another section of the city center full of restaurants, shops, theaters, office buildings, and more of Madrid's museums and attractions. The Gran Via runs diagonally from the east to the northwest to the Plaza de Espana, which is several blocks north of the Royal Palace.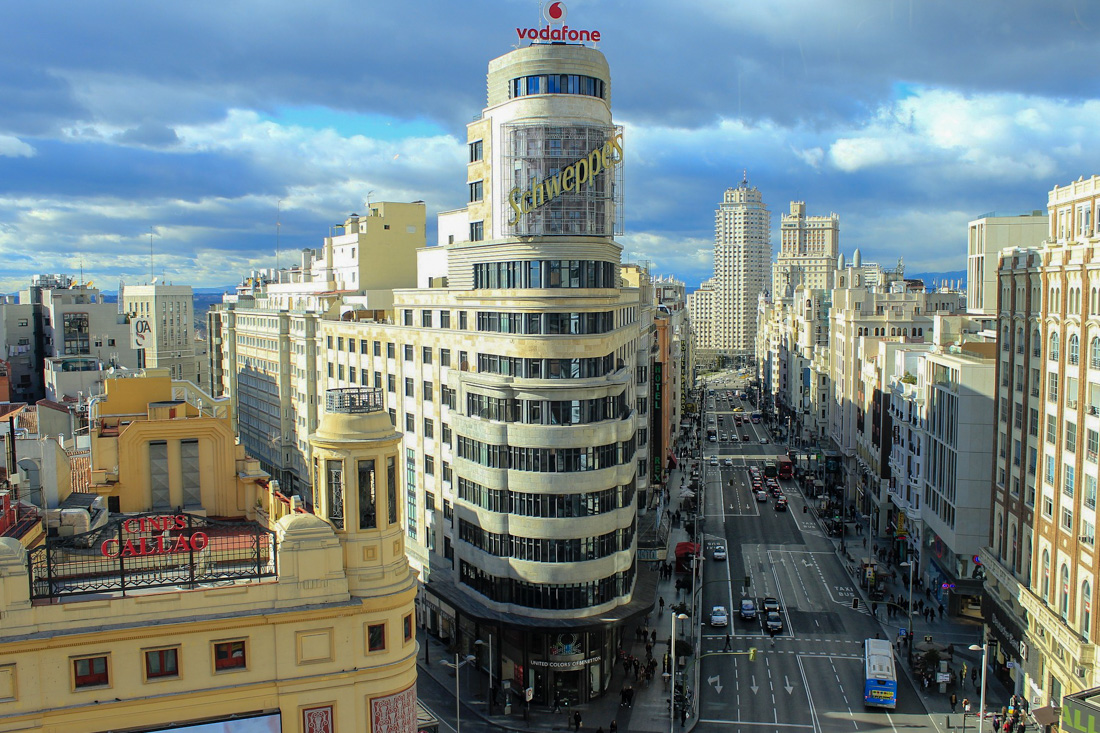 Chueca
The Chueca area, to the north of Gran Via, is a trendy, hip and gay-friendly neighborhood with plenty of nightlife. Here, bars and restaurants are open late and shops abound for the locals and tourists alike. Plenty of boutiques can be found during the day, including an entire street dedicated to shoes! And don't miss the Mercado de San Anton, a large market with a rooftop bar.
Malasana
Malasana is the hip and edgy area of Madrid and it's home to even more bars and restaurants worth visiting. Here, tattoo parlors mix in with nice outdoor cafes to create a diverse ambiance. The history of this neighborhood goes back several hundred years as a place of revolution against Napoleon. From the 1970's to the 90's it was a place of sexual revolution and experimentation. Today the dirtier side of the neighborhood has been replaced with higher-end and pricy tattoo parlors, bars, cafes, and shops, leading to an overall decrease in the less desirable aspects of the area.
La Latina
A good walk south of Plaza Mayor is the Latin Quarter, or La Latina. Here the small, narrow streets are home to many small cafes and shops that make their mark on the streets that turn into stairs. The most famous street is La Cava Baja, which is lined with bars and shops. It is especially popular on Sundays. Nearby is El Rastro, the huge flea market which is not to be missed.
Salamanca
North of El Retiro park is this high-end and expensive, but quiet neighborhood. Here, visitors can find more luxurious accommodation options as well as fine dining, including some of the more gourmet restaurants in Madrid. Plenty of boutique shopping can be found in this area, too. But not everything is expensive, as this is where locals live, too. Look for small covered markets and family-run restaurants if you want to experience something interesting.
Transportation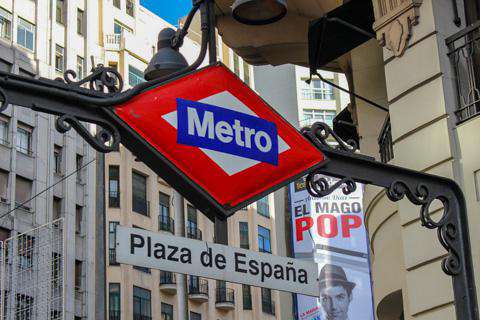 The Madrid Metro system is massive, convenient, and affordable. It operates from 6 a.m. until 1:30 a.m. Many parts of the system are of interest to historians, and one particular station actually houses an archeological museum. In the city center, various underground stations will allow you to board trains on various lines, labeled with colors and numbers. Outside the city center, some stations are above ground, and other commuter rail stations can take passengers further out into the suburbs. There are also buses available to take visitors around the city.
Individual ticket prices are from €1.50 to €2.00 for zone A, which covers the city center and much of the inner suburbs. The base price of €1.50 could go up to €2, depending on the length of the trip. It may, however, be more frugal to purchase one of several multi-ticket options, depending on how long you might stay. A 10-trip pass is €12.20, which is cheaper than the €1.50 per ride if you know that you will ride the system at least 10 times. Monthly passes are also available. A ride to or from the airport will cost up to €5. For more information, check out the official Madrid Metro website.
Activities, Tickets, and Things to Do
Madrid is home to plenty of museums, attractions, parks, art galleries, theaters, and more. We've assembled a very thorough and comprehensive list of things to see and do in Madrid on our
Madrid Activities and Things to Do
page. This list also includes costs and operating hours when appropriate.
If you're only in Madrid for a few days, certain locations need to be on your must-see list. First is the Royal Palace. This official residence of the royal family is now mostly a museum and is quite fascinating. Nearby is the Catedral de la Almudena, a relatively new construction with plenty of ornate decorations.
If art is your thing, you've come to the right city. The golden triangle of museums includes the world-famous Prado, Reina Sofia Museum dedicated to 20th-century art, and the Thyssen-Bornemisza which contains an interesting mix of world art along with impressionist works.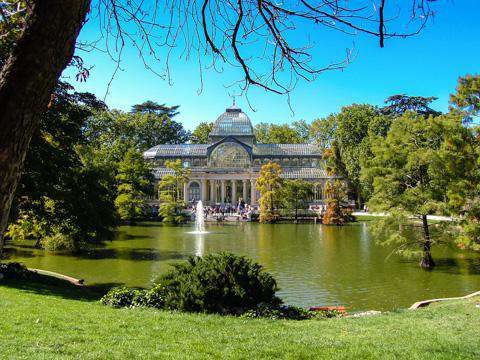 A few other cultural locations are worth a visit, such as the Bullfighting Museum, Anden 0, and the Teatro de la Luz Phillips on the Gran Via.
Madrid also has a large expanse of public parkland. Near the Royal Palace are the gardens (not to be missed). On the east side of the city center is El Retiro Park, a vast area of gardens, open space, walking and biking trails, and outdoor artwork. A few smaller art galleries are found here as well. To the west of the city is Casa de Campo, a massive park with historical roots. It's now home to the zoo, an amusement park, long biking and hiking trails, and a large lake.
As mentioned before, don't miss our guide to
Things to Do in Madrid
for more details, costs, and logistical information.
Day Trips
Located in the middle of Spain, Madrid is a great jumping off point to see other nearby destinations. From the historic cities of Toledo, Segovia, and Avila to the royal palaces at La Granja and El Escorial, plenty of sightseeing is to be had for all types of travelers.
Only 35 minutes away by train, or an hour by bus, Toledo offers a variety of attractions, including historical Christian, Muslim, and Jewish sites and architecture. This old city has plenty of history, as well as delicious restaurants and an easily navigable old town. Art galleries sit side by side with lovely cafes and bars. It's quite easy to make it here for a day and be back in Madrid by dinner.
Segovia is another city that offers plenty of history in the form of architecture and artwork. The most iconic site here is perhaps the Roman aqueduct which cuts right through the center of the city. From here you can venture around to old churches, art galleries, and (as usual) some amazing Spanish restaurants.
Avila is like stepping back in time several hundred years. This fortified town feels like an old castle with thick walls, various gates, and a variety of historic churches and homes. A two-hour train ride will have you wandering around Avila's cobblestone streets in time for lunch, and back in Madrid for dinner.
El Escorial is the destination to visit if you're interested in the history of the Spanish royal family. This palace and the surrounding area is now a UNESCO World Heritage Site and a museum filled with art and period pieces. As this is one of the most visited destinations in Spain, it's no surprise that many compare it to France's Versailles. And it's only 45 minutes from Madrid by train, too!
Plenty of other destinations are also near Madrid. For more information, including prices and transportation info, see our
guide to Day Trips from Madrid
.
Food and Dining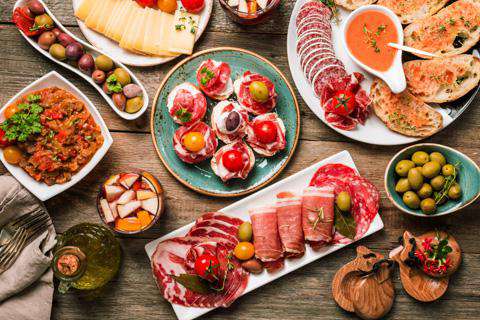 The food in Madrid is so good that many people plan their trips to Spain's capital just to taste all of the cuisines and dine at the amazing world-class restaurants. Madrid is full of traditional foods such as Cocido Madrileno, a famous pork stew, or Bocadillo de Calamares, the casual fried squid sandwich loved by locals and visitors alike. And of course, who could forget about those churros covered in chocolate?
Plenty of great restaurants and cafes are also around for your culinary adventures. Why not try Los Huevos de Lucio, Lhardy, or La Bola Taberna. Being such a large city, Madrid has no shortage of restaurants featuring every type of food from Spain and around the world.
We go into much more detail with all of the amazing cuisine and restaurants in Madrid in our
guide to Food and Dining in Madrid
, so check it out! We describe some of Spain's most interesting dishes as well as provide some restaurant recommendations, too.
Nightlife
If you thought Madrid was busy during the day, just wait until the sun goes down. Madrid has it all, with everything from world-famous Flamenco Dancing shows to theatre, concerts, nightclubs, and bars. If you just want to relax at a cafe, you can do that. If you want to stay up all night dancing to music mixed by world-famous DJ's, you can do that, too. If you want to see Broadway-style shows or laugh at an intimate comedy club, then those are also on the list.
Spain has plenty of neighborhoods for you to explore at night, too, especially if you're looking for a bar crawl with your friends. Chueca and Malasana are just two of Madrid's hopping nightlife scenes that offer a variety of options.
In fact, there are so many options that we've created a separate guide to
Madrid's Nightlife
, so check it out to find out more information on bars, clubs, neighborhoods, Flamenco dancing, and theatres.