Madrid has numerous options for nightlife, and it's not just about clubs and bars. With everything from theatres to Flamenco shows, small cafes, or casual live music, Madrid offers something for everyone.
Flamenco Shows
Madrid, being the capital of Flamenco, has no shortage of options for watching this traditional form of dancing. Often the shows involve dinner, sometimes as a buffet, while dancers perform on stage. The settings are usually smaller and intimate, and in some establishments it may feel as if the dancers are dancing on top of your dinner or immediately in front of your table. Just roll with it!
Flamenco bars are known as
tablaos
, and some of the more popular are Corral de la Moreria, Las Tablas, Cafe de Chinitas, and the famous Torres Bermejas, which also has amazing food and wine.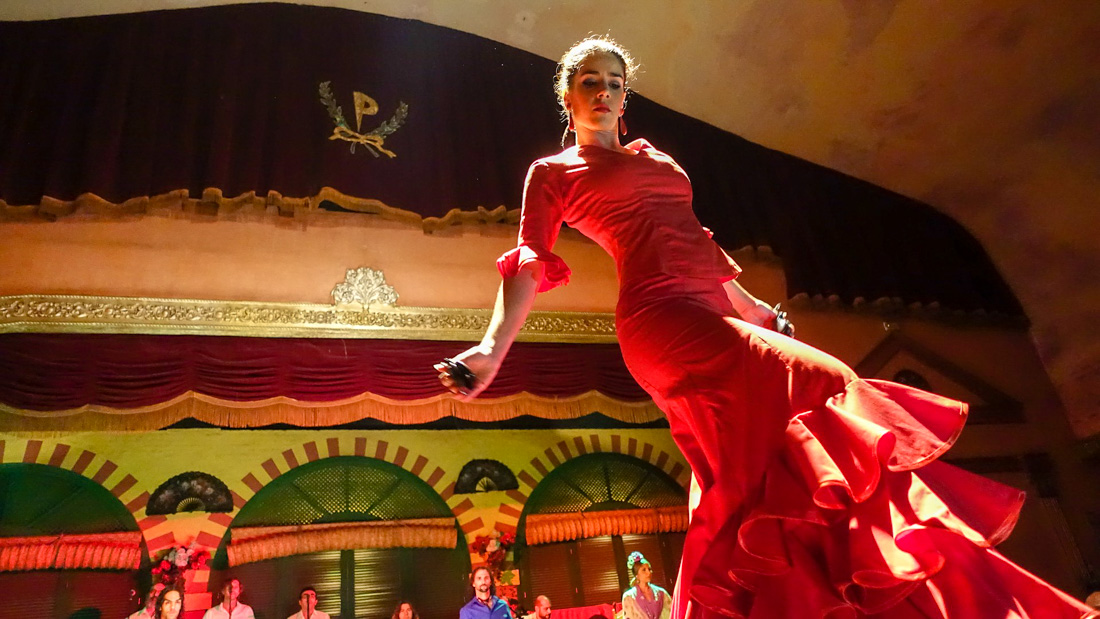 Theatre
A number of theatres can be found in Madrid which play anything from the latest Broadway-style shows to movies or independent productions. Near Sol and along the Gran Via are numerous venues. Some of the more famous include Teatro Real (near the Royal Palace), Teatro Calderon, and Teatros del Canal.
A variety of movie theaters are also found in the city center. Most play the latest releases in a typical movie theater environment.
Neighborhoods for Nightlife in Madrid
Finding a bar in Madrid is as easy as walking down the street in the middle of the city in the evening with your eyes open. Various neighborhoods each have different styles and atmospheres.
If you're looking for something any night of the week, a good bet is to head to the neighborhood around
Plaza de Santa Ana
, known as the Literary Quarter, a few blocks southeast of Sol. Here, you'll find a combination of bars, live music venues, evening cafes, and more.
Head to
Chueca
(metro station of the same name) for plenty of activity and partying at bars and clubs. Here larger bars mix with clubs and evening cafes so that anyone can find somewhere to hang out. Many of the bars are historic, while others are modern. Many also cater to the LGBTQ community, while others are more touristy.
La Latina
offers a number of bars and cafes as well, in part because of the numerous small theatres in the area. From comedy clubs to small Flamenco shows, theatre patrons mill about before and after shows for dinner and drinks, and sometimes dancing.
A number of nightclubs and bars can be found around
Sol and Gran Via
in the heart of the city center. While this area caters to tourists, many locals visit as well. Countless bars and venues with live music can be found simply by wandering up and down the Gran Via (and surrounding alleys). Many places are open in the evenings or late at night, as they say this is the street that never sleeps. Don't miss the famous Museo Chicote, an old bar which has hosted movie stars and famous singers from around the world.
The
Princesa
neighborhood is home to mainly students of the nearby universities, thus the bars and clubs here cater to a younger crowd. Some bars are more quiet and conversational, while clubs play electronic music and can get very popular and crowded later in the night. Plenty of great restaurants are also found here.
Finally, the
Malasana
area caters to pretty much every type of person from young to old, no matter their musical tastes. This is an active and lively neighborhood through the night, and many people begin or end their evenings here because there is always something happening. Don't miss
TupperWare
, the famous bar known for its eclectic decor and consistently good musical selections.
Dance Clubs
Madrid has so many dance clubs that it would probably take years to try them all (that sounds like a fun challenge). But if you're only in town for a few days, here are some of the best and most popular in Madrid that are highly recommended by locals and visitors alike.
Kapital
has been around forever, and is one of the largest clubs in Europe. With 7 floors there is something for everyone.
Fabrik
is a bit outside of the city, but worth the visit. This internationally famous dance club brings in DJ's from around the world, and has room for more than 7,000 people.
Nox Club
feels like it's underground, and brings in guest DJ's from around the globe. It has become quite popular in recent years.
Gotham
is another very large venue, with room for over one thousand guests. On weekends they attract a large crowd and play a variety of techno and house.
Opium has a reputation of attracting the beautiful people of Madrid, so expect to get dressed up and look your best. The central location helps to draw a crowd, too.