Lanzarote On a Budget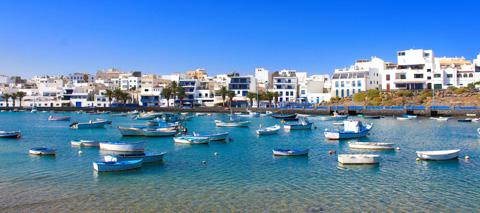 Lanzarote is one of Spain's Canary Islands, located off the northwestern coast of Africa. Some of its most popular features include the volcanic landscape of Timanfaya National Park, the underground caverns of Cueva de los Verdes, as well as the resort towns of Costa Teguise, Puerto del Carmen, and Playa Blanca.
Sights
Timanfaya National Park is one of the island's top attractions. A volcanic landscape that has barely changed since its eruption in the 1730s, the park covers about a quarter of the island's surface. Some highlights of the park are the Montañas del Fuego (or Mountains of Fire), as well as the Timanfaya National Park Visitors' Centre which features a permanent display explaining the origins of the island, the recent volcanic activity that formed the park, and the surprising flora and fauna to be found in the seemingly barren landscape.
Jameos del Agua and Cueva de los Verdes are two other sights worth seeing. Jameos del Agua is a part of a volcanic tunnel that is exposed to the sky due to a ceiling collapse-the cavity now houses a bar, restaurant, swimming pool, and concert hall. Cueva de los Verdes is a part of the same tunnel, located a few hundred meters inland. Here visitors can tour a succession of caverns and tunnels formed by an underground river of lava.
Other highlights of the island include the lookout point of Mirador del Rio, Fundación Cesar Manrique (an impressive house built inside five volcanic bubbles), the Whales and Dolphins Museum, Agricola Museum, and Lanzarote's beaches.
Neighborhoods
Arrecife is the island's capital. It is known for its black volcanic reefs, and also gives its name to the island's only airport. The three major tourist towns of Lanzarote include Costa Teguise, Puerto del Carmen, and Playa Blanca. Costa Teguise is best known for its nearby aquatic park, scuba diving, and beaches good for windsurfing with the busiest center of activity in Pueblo Marinero. Puerto del Carmen is a resort town with plenty of beachside activities by day, as well as shopping opportunities and sightseeing, plus bars and restaurants by night. Playa Blanca is located on the southern tip of Lanzarote, best known for its calm white beaches which frame the town. Playa Blanca is the quietest of the resort towns, perfect for those seeking a laid-back vacation. Other nearby destinations include the smaller islands of Montaña Clara, Alegranza, and La Graciosa.
Activities
In addition to sightseeing amongst the many features mentioned above, Lanzarote is also a hotspot for beaches and water activities like snorkeling, scuba diving, surfing, windsurfing, parasailing, and canoeing. There is also a water park (with bus service from Puerto del Carmen), a Zoo (Guinate Park), an aquarium-type park and a wild-west themed animal park called Rancho Texas. There are even submarine excursions as well as yacht charter and sailing. Lanzarote has plenty to offer from beach-bumming, shopping, and dining, to the more adventurous opportunities amidst the volcanic landscape.
Food and Dining
The local cuisine of Lanzarote is a fare typical of the Canary Islands. Main dishes are simple, usually with some kind of meat or fish as a base, and are often accompanied by a sauce called mojo. The sauce made mainly of oil, garlic, vinegar, salt, red pepper, thyme, oregano, coriander, and several other spices. There are two varieties of mojo: rojo (or red, often served with meat) and verde (or green, often served with fish). Another kind of local dish is papas arrugadas (or "wrinkly potatoes"), which are cooked unpeeled in salt water then baked dry. Gofio is another common ingredient. Served as a side dish in a moist patty or as a base for pastries and pies, gorfio is a flour substitute milled from a variety of cereals like wheat, corn (maize), and barley, or a mixture of them. In addition to traditional fare, there are also a number of non-traditional restaurants especially in the resort areas. Visitors will be able to find a wide variety of dining selections including Greek, Chinese, Indian, and Mexican.
Transportation
The island's only airport is located about 5 kilometers to the west of the town of Arrecife. Charter flights serve Lanzarote from Northern Europe. There are also scheduled flights to some of the other Canary Islands, to the Spanish mainland, and to a few international locations (notably London).
Some of the airlines serving Lanzarote (ACE) include Iberia, Air Europa, EasyJet, British Airways, Monarch, Thomsonfly, Thomas Cook, Hapag Lloid, Air Berlin, Jetair, Lauda Air, Aer Lingus, Ryanair, and Jet2. Two local companies, which mostly offer flights between the Canary Islands, are Islas Airways and Binter Canarias.
Related:
Looking for a party in
Barcelona
or
Madrid
?
Traveling alone to
Granada
or
Seville
?
Find a
Contiki tour
to Europe.
Train and Bus Prices
The best prices for buses and trains in Spain
can be found on Omio
(formerly
GoEuro
). They let you search across all train, bus, and plane routes throughout the region.