Toledo On a Budget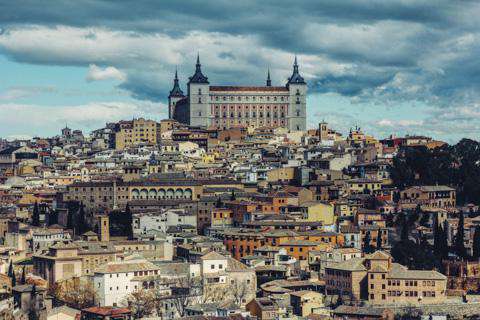 Set upon a hill above the plains of Castilla-La Mancha in central Spain lies the ancient city of Toledo. Its intricate architecture is only enriched by its profound historical background, spurring tourists from all over the world to gaze at and study the story of Toledo. It has been given many names throughout its history, including the "Imperial City" for being the main venue for Charles V, Holy Roman Empire, as well as the "City of the Three Cultures" for its historical co-existence of Christians, Muslims, and Jews. In 1986, UNESCO named Toledo a World Heritage Site due to the plethora of extensive cultural and monumental heritages. You will find that though an old city, it is just buzzing to life with things to do and places to see!
Sights
With its magnificence rivaling that of Notre Dame, Catedral Primada, or the Holy Cathedral Church, was built in 1227 under the leadership of Archbishop D. Rodrigo Jimenez de Rada and was consecrated to the Virgin Mary. The architecture has both Gothic and French influences, with the Cathedral measuring to be 120 m long by 60 m wide. Composed of 5 naves, supported by 88 columns and 72 vaults, the Cathedral stands as one of Toledo's most popular points of interest. A complete visit includes the Primate Temple, museums, Chapel of Kings, Cloister, Bayeu Paintings, San Blas Chapel and the Tower of Bells for no more than 12,50 €. However, if you are looking for a shorter, less expensive tour, the Cathedral offers tours of the museums for 10 €, with audio and group tours given upon prior notice.
If you are looking to kick back and relax while viewing the grandeur of Toledo, hop on and hop off one of the many tourist buses offered and catch a glimpse of the panoramic view of the Spanish city from Mirador del Valle. What's more, through these guided train tours, you experience the full beauty of Toledo, while understanding the historical backgrounds that coincide with its dazzling cathedrals, monuments, and streets. These tours even allow its fellow travelers to gain stops to some pretty neat commercial shops for any need you may acquire.
Food and Dining
However, though Toledo may be a feast for your eyes, you may find yourself getting a bit hungry amidst all this action. If you are looking for a high-class dining affair, Restaurante Adolfo will suit you nicely. Founder Adolfo Muñoz, has traveled to over 30 countries, making his cooking both diverse and multicultural. Though specializing in Mediterranean and Spanish cuisine, Restaurante Adolfo has a menu that is so distinctive that your jaw will drop at the seemingly endless possibilities. With Restaurante Adolfo awarded the National Food Prize by Spain's Ministry of Agriculture, Fisheries and Food, the price is worth paying at Adolfo's!
If you are looking for a restaurant that offers more than just lunch and dinner, La Abadia may be able to oblige. Established in the sixteenth century by the Casa de Oficios, its original architecture of caves and cisterns remains intact to fit beautifully with the rest of the majestic landscape of Toledo. Unlike Restaurante Adolfo, La Abadia is far more affordable, providing all types of meals including brunch and after-hours. Just like most of the restaurants in Spain, La Abadia also specializes in Mediterranean and Spanish dining and have perfected it to a T.
Transportation
Besides hop-on-hop-off tour buses, there are a variety of options to use in order to get around Toledo. If you are looking to get to other destinations in Spain like Madrid, it may be easiest and cheapest to use the train. Consider buying your tickets online or from a travel agent as the train station is quite difficult to maneuver around. The train station is a mile from the 'old town' of Toledo and is reasonably priced.
However, if you are looking to navigate within Toledo and do not want to use a bus, a taxi is a wonderful alternative. Advertised as 4.50 € in the old town, it is even possible to negotiate for cheaper prices with your given taxi driver. There is but little traffic within the city, so you should be able to get around just fine. This is but one of the many amazing things about Toledo!
Related:
Looking for a party in
Barcelona
or
Madrid
?
Traveling alone to
Granada
or
Seville
?
Find a
Contiki tour
to Europe.