Cambridge On a Budget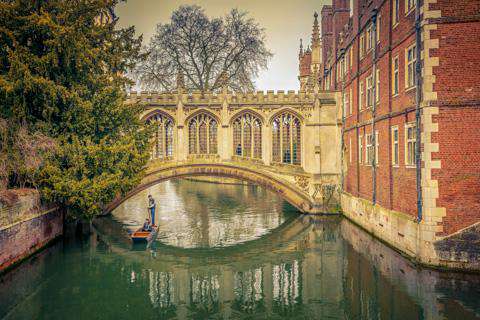 Cambridge is a university city in England located along the River Cam and best-known as the home of Cambridge University, which was established in the 13th century. Aside from university architectural landmarks, Cambridge is also characterized by open green landscapes perfect for picnics and gentle walks, as well as churches, museums, parks, and gardens.
Sights
Many visitors come to Cambridge to see the university and its many colleges. Some charge entrance fees, and they are all generally closed to the public during exam periods. King's College and King's College Chapel are popular landmarks for sightseeing, as is Queens' College with its Mathematical Bridge across the River Cam and medieval Old Hall. Trinity College is also very famous, featuring a beautiful courtyard and a library that houses important artifacts including medieval bibles, possessions of Sir Isaac Newton, and original manuscripts by Wittgenstein. Other colleges good for sightseeing include St Johns College, Pembroke College, Clare College, Saint Catharine's College, and Homerton College-all of which have scenic grounds and impressive architecture.
As far as green areas go, one of the most popular is The Backs-a large green space along the River Cam that runs behind several colleges, offering walking paths, trees, and opportunities for boating. The Botanic Garden of Cambridge University is also a relaxing place to spend some time enjoying the collection of more than 10,000 species of plants. Other areas with parks and recreation include Jesus Green, Parker's Piece, and Christ's Piece.
Churches are another central aspect to the Cambridge landscape. Loyal to the Church of England, the colleges of Cambridge all have chapels. One of the largest and most impressive is Great St Mary's, which is open to the public. Dating from the 15th-century, the church is open daily and allows visitors to catch stunning views of the city from its bell-tower.
Neighborhoods
For the most part, Cambridge is pedestrian-friendly. Many sights can be easily reached on foot and much of the central area is traffic-free, except for cyclists. The tourist hub for shops and dining is located in around Market Square, though there are also plenty of options outside this area as well. Most of the main attractions are within walking distance from this central area, though cycling is also popular. University Colleges are scattered throughout the city, along with churches, chapels, and plenty of green space.
Activities
In addition to sightseeing, there are also a number of museums worth-visiting in Cambridge. The most important is probably the Fitzwilliam Museum on Trumpington Street, which showcases a large collection of art and antiquities from many ages and civilizations. Their departments include Antiquities, Applied Arts, Coins and Medals, Manuscripts and Printed Books, and Paintings, Drawings and Prints. Other museums include The Sedgwick Museum of Earth Sciences, the Museum of Archaeology and Anthropology, the Folk Museum, the Polar Museum, and the University Library.
Other activities involve enjoying the green spaces, gardens, parks, and opportunities for recreation along the River Cam. Punting, for example, involves propelling yourself in a long wooden boat by pushing a pole against the shallow river bottom. Guided river tours are available for those looking to experience the local sport, as are options for self-hire. Rowing on the Cam is also very common, and visitors might be able to see races at certain times of the year.
Food and Dining
Cambridge has a rich and varied dining scene like most cities. Traditional fare of England consists of anything you might find in a British pub-fish and chips, bangers and mash (sausages and mashed potatoes), stews, soups, and just about any kind of meat pie you could ask for (often called pasties). A few additional specialties include black pudding (black sausage), steak and kidney pudding, pickled eggs, and plenty of coffee and tea shops. With England's imperial history, curry is also a very popular specialty in many British cities, including Cambridge. English pubs can be found just about everywhere, as well as kebab and pizza shops, but there are also plenty of restaurants serving Asian, Indian, Italian, American, and more.
Transportation
Cambridge is located about 50 miles (80 kilometers) north of London, making London airports a common way of entry when traveling to Cambridge. London Stansted Airport is about 30 miles away and has regular bus and rail services into Cambridge. Luton Airport is also easily connected to Cambridge via National Express Coach. Both airports offer some of the cheapest international flights in Europe with a number of low-cost airlines. Other London airports include Heathrow, Gatwick, and London City Airport. Regular trains run from London (at King's Cross and Liverpool Street) to Cambridge.
Train and Bus Prices
The best prices for buses and trains in United Kingdom
can be found on Omio
(formerly
GoEuro
). They let you search across all train, bus, and plane routes throughout the region.