Hot Springs On a Budget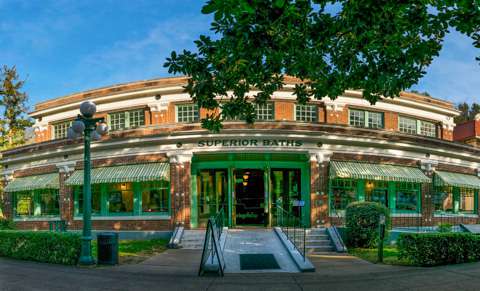 Hot Springs is a popular resort city in central Arkansas. It's location in the Ouachita Mountains make it a convenient base for exploring the area's natural hot springs, from which the city gets its name. The city is also home to
Hot Springs National Park
, which have long been believed to have healing properties. Today many spas have popped up around the hot springs.
In addition to it's fame as a tourist destination, Hot Springs is also known as the childhood home of the former US President, Bill Clinton.
Sights
Hot Springs has a rich history because of its location and the town's nearby hot springs. The city's historical downtown and
Hot Springs National Park
, with Bathhouse Row, are impressive. Many of the bathhouses closed in the early 1900s with the beginning of modern medicine, but the buildings are still open for tours. There's also a public fountain where you can fill up your water bottles with fresh hot springs water. The downtown area also has a number of art galleries and restaurants. There are also many historical buildings in the area.
Other sights in Hot Springs include the national headquarters for Mountain Valley Spring Water and the accompanying historic Classical Revival building.
Hot Springs also is home to
Garvan Woodland Gardens
, the city's botanical gardens. A popular museum in town is the
Mid America Science Museum
.
Neighborhoods
Hot Springs has seven districts that are of historical significance.
The Fordyce-Ricks House Historic District
has several buildings and cabins on 37 acres of land.
The Pleasant Street Historic District
is another area with about 93 buildings that highlight the area's African American community.
The Quapaw-Prospect Historic District
is near the downtown and has a number of historical residences, and
the Whittingtown Park Historic District
Activities
Hot Springs has a number of activities that visitors can enjoy. There are walking trails, lakes, and a number of other recreational activities. Head to
Oaklawn Race Track
to see thoroughbred horse racing.
Hot Springs also has a couple of amusement parks.
Magic Springs
and
Crystal Falls
offer rides, water slides, and more.
Finally, Hot Springs National Park is part of the Diamond Lakes region and has a number of fishing tournaments as well as other water sports.
Food and Dining
There are a number of good restaurants in Hot Springs. For a full, historical experience, choose one of the many restaurants that are located in Victorian buildings. Many of these restaurants are found in the
Historic Downtown District
. You can also enjoy a meal by the lake, or on the main street in town. The meals are local and fresh, and the prices are good.
Transportation
Like many cities in the southern United States, there isn't a reliable public transportation system in Hot Springs. You really need a car to explore the area. Many places in the downtown area are walkable, but once you're outside of this area a car is required.