Memphis On a Budget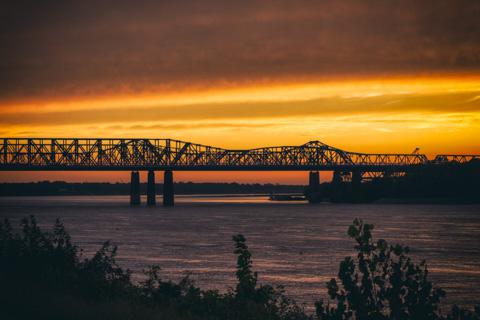 Located on the banks of the Mississippi River in southwest Tennessee, Memphis is a city famous for the blues, soul, and Rock 'n' Roll music that originated there. There are a number of museums and historic landmarks like Elvis Presley's Graceland dedicated to that history, while areas of the city like Beale Street keep the musical culture alive today with a vibrant scene of bars, restaurants, and live music.
Sights
Most visitors staying in Memphis come to experience its musical culture, both past and present. With figures like Elvis Presley, B.B. King, Jerry Lee Lewis, and Johnny Cash all having recorded albums at the Sun Studio, it is no wonder it's considered to be the birthplace of rock' n' roll.
Presley's Graceland mansion
is an especially popular attraction, open for tours of the musician's estate, which includes costumes, gold records, a car museum, private jets, and more, as well as Presley's final resting place.  It is also the best place to purchase Elvis Presley souvenirs. Other music landmarks include the
Rock 'n' Soul Museum
,
Blues Hall of Fame
, and Stax Museum of American Soul Music, all of which feature unique insight into the culture and history of Memphis's musical legacy.
Other non-musical attractions worth visiting include the National Civil Rights Museum, the Belz Museum of Asian & Judaic Art, and the Ornamental Metal Museum.  Even the Mississippi River draws tourists to the outskirts of Memphis.  Mud Island River Park, for example, contains a museum of the Mississippi River and a scale model of the river that visitors can wade through. There is even a large pool at the end of the river model representing the Gulf of Mexico that visitors can paddleboat in. Additional closer to nature attractions include the Memphis Zoo, Memphis Botanic Gardens, Dixon Gallery and Gardens, and Shelby Farms city park which features 4,500 acres with biking and horse trails, bodies of water for fishing and boating, and a few playgrounds.
Neighborhoods
Downtown Memphis is a hub for visitors as well as much of the city's local population. Beale Street is the downtown's entertainment district. Known as the "Home of the Blues" it is a melting pot of delta blues, jazz, rock 'n' roll, R&B, and gospel, and covers three blocks of bars, nightclubs, restaurants, and shops.  South Main, just south of Beale Street, is a charming historic neighborhood of the downtown area. Home to the arts district, South Main features trendy shops, restaurants, art galleries, and some of the city's oldest buildings. Midtown is another thriving center, featuring its own Broad Avenue Arts District, historic Cooper-Young neighborhood, Overton Square, and Overton Park which encompasses the Memphis Zoo, Memphis College of Art (MCA), the Brooks Art Museum, the Overton Park Golf Course, and the largest strand of old growth forest in a U.S. city.
Activities
The music and food culture of Memphis dominates the tourism scene of the city. Many come to sightsee important historic landmarks, visit museums, and experience the local culture of Memphis today. May is an especially popular time to visit, largely known as the Memphis in May International Festival, though it consists of multiple festivals and events.  Some of these include the Beale Street Music Festival which showcases over 40 musicians on multiple stages for three days the first weekend in May, and the World Championship Barbecue Cooking Contest where hundreds of teams compete for over $100,000 in prizes. Visitors can sample championship barbeque and the festivities end with a fireworks display.
Food and Dining
Memphis is famous for its food as well as its music. Memphis-style barbecue has become well-known due to the World Championship Barbecue Cooking Contest held each May, which has been listed in
Guinness World Records
as the largest pork barbecue contest in the world. The meat is cooked in two varieties: "wet" (with spicy, tangy sauce) or "dry" (rubbed with spices before cooking). Other examples of Southern home cooking that abound in Memphis include fried chicken, catfish, country ham, buttermilk biscuits and gravy, cornbread, fried pickles, and banana pudding.  Often classified as Soul food, these dishes and other favorites like po'boy, hush puppies, and mac and cheese are widespread. As a major city, Memphis also has a plethora of restaurants serving international fare as well, from Japanese, Chinese, Indian, and Filipino to Italian, Venezuelan, Cuban, and even West African.
Transportation
Memphis International Airport is the nearest major airport near the city, located about 7 miles southeast of downtown Memphis. It is home to the FedEx global hub, but also services passengers with airlines including Air Canada, American Airlines, Allegiant Air, Frontier Airlines, Southwest Airlines, Delta, and United Airlines. As an alternative, Nashville International Airport is the largest airport in Tennessee, and is located about 220 miles northeast of Memphis.
By train, Amtrak has stops up and down the Mississippi River. Long-distance bus services are available through Greyhound.