Jacksonville On a Budget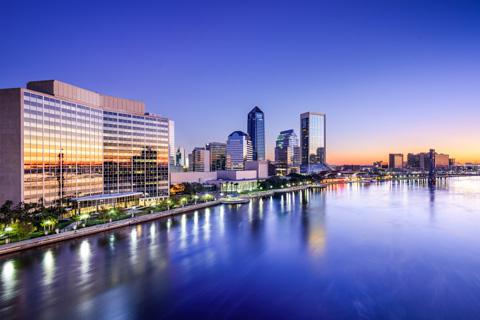 As the sky above you darkens, the city around you glows with a vividness of a thousand colors as you hear the soft swell of waves upon the shore. Such an urban paradise is none other than Jacksonville, Florida. Located on the northeastern side of the sunshine state, Jacksonville stands where the St. John's River meets the Atlantic Ocean. Estimated to be the 12th most populous city in the United States, Jacksonville works as the cultural, commercial and financial hive of north Florida. The large city is known for its exquisite beaches, interactive museums, and golf course areas. Surf, shop, and socialize in one of Florida's most popular metropolitan areas.
Sights
One of Jacksonville's main points of interest sits at the west end of the Southbank Riverwalk adjacent to the Museum of Science and History: Friendship Fountain. Built in 1965, Friendship Fountain is one of the largest self-containing fountains built, pumping 3,500 to 6,500 gallons of water per minute. The elegant cascades of water is illuminated by 265 lights, allowing its waters to dazzle the night. In 2010, the municipality of Jacksonville initiated a $3.1 million-project to transform the surrounding area of the fountain into a full-fledged park. Whether one wishes to admire the beauties of the river or picnic by the calming sound of the fountain, Friendship Fountain works as Jacksonville's most attractive locations.
Jacksonville's shopping district is known by all to be the most diverse, bustling examples of retail therapy in northern Florida. No matter your taste or style, Jacksonville has the shop just for you. If you are looking to visit trendy, upscale boutiques, take a walk through the San Marco and Avondale areas. Be sure to peruse the sale racks at the St. Augustine outlets, or discover vintage goodies in the Five Points and Southside areas. If you are looking for more centralized methods of shopping, Jacksonville holds an ample supply of malls, with Avenues Mall and St. Johns Town Center being the most popular.
Activities
If you are feeling more adventurous, the Catty Shack Ranch Wildlife Sanctuary gives locals and tourists alike a taste of the wild all while located in a thriving metropolitan area. The Catty Shack Ranch is a non-profit organization that rescues big cats from dangerous situations. Resident cats currently staying at the ranch include tigers, lions, cougars, leopards, bobcats, arctic foxes, and coatimundis. The Catty Shack Ranch offers both daytime and nighttime feeding tours, where visitors will become acquainted with all the cats as well as their histories and the history of Catty Shack itself. Be sure to plan promptly as admission for these tours runs from only 1 PM to 4 PM and 6 PM to 8 PM.
The white sands of Jacksonville's shimmering beaches has attracted surfers and swimmers alike to this great city. A favorite for tourists and locals, Atlantic Beach has two miles of white sandy beach with 18 ocean accesses. Besides its magnificent shores, Atlantic Beach also holds a large picnic pavilion (available by reservation), 6 tennis courts, 2 racquetball courts, 2 playground areas, 2 baseball diamonds, a full basketball court, and a soccer field. Whether one wants to surf or play tennis, Atlantic Beach provides a plethora of options for its visitors to make the most out of the Florida sun.
Food and Dining
If you want to wine and dine in a stylish and slick atmosphere, Bb's Restaurant should satisfy you nicely. Bb's offers American cuisine with international influences including great salads, seafood, pizzas and sandwiches as well as daily specials of fish, steaks, chops and pasta. Some of Bb's most sought after dishes include stuffed mozzarella bruschetta, duck wonton napoleon, lemon chicken and rice soup, almond crusted calamari, and white truffle pizza. Bb's prides themselves on service from-scratch dishes, using only fresh, local ingredients. If you yearn for a first-class dining affair, be sure to stop at Bb's!
Transportation
While Jacksonville is a pedestrian city, the town also provides alternative methods as well. Visitors can rent a car from Jacksonville International Airport or throughout Jacksonville or make use of the more than 30 JTA bus routes the city has available. If you are looking to take advantage of the brilliant river within Jacksonville, the St. John's Ferry takes a break from the busy highways to retire to the blissful streams. This ferry carries passenger and cars between Mayport and Ft. George Island. The Jacksonville River Taxi also works as a convenient method of transportation for both sides of the St. Johns River. The river taxi is probably one of the easiest ways to get where you need to go all while enjoying the golden skyline of Jacksonville.
Related:
Looking for a
party hostel in Hawaii
or
Miami
? Traveling alone to
LA
or
New Orleans
? Want a budget hostel in
NYC
?