Baltimore On a Budget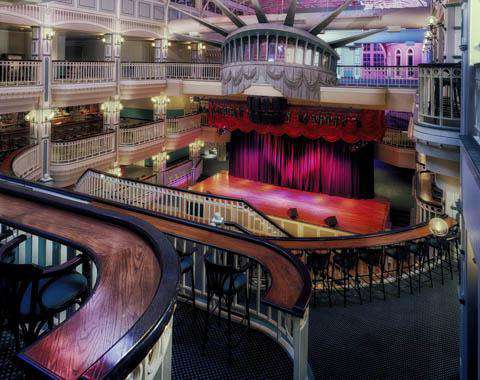 Baltimore is a large, industrial city and popular tourist destination in the state of Maryland. It is about an hour outside of Washington, D.C. and is a hub of tourism and entertainment for the area. It has a vibrant nightlife, comfortable climate, and is a great place to visit when you're in the area. The city proper has a population of about 600,000 and the metropolitan area has 2.7 million. Its economy is centered around science, technology, engineering and math and it has many undergraduate and graduate schools including the world renowned Johns Hopkins University.
The city's climate is humid subtropical and there are four different seasons. Winters are cool with occasional snow. Spring and fall are warm and comfortable, but rain is not uncommon during the spring months. Summers are hot and humid and thunderstorms are frequent, particularly during the early evening.
Sights
Many visitors head straight to the Inner Harbor. This area is a must-see for any visitor to the city. There is plenty of shopping, dining and music in the area. This is also where you will find the National Aquarium, the Maryland Science Center, and the American Visionary Arts Museum.
Other popular sights around town include Fort McHenry, the Maryland Zoo, and the Baltimore Museum of Art.
Neighborhoods
Baltimore's main areas are the Inner Harbor, Fells Point, Downtown, Midtown, South Baltimore, North Baltimore, Southeast Baltimore, West Baltimore and East Baltimore.
The most popular tourist area in Baltimore is the Inner Harbor area, which has many of the city's museums, restaurants, bars, and the National Aquarium. It's a fun place to walk around, but most of the restaurants and bars are targeted specifically at tourists, and there are a large number of chain restaurants immediately off the Inner Harbor. The area does have some great festivals and events however, and it's a great place to walk around the water. Fells Point is a better area to enjoy a local restaurant and grab a drink in a bar. It's also home to Baltimore's Little Italy area. The Downtown area has the University of Maryland at Baltimore and Lexington Market.
Most of the city's best hotels are in the Inner Harbor area. As a tourist this is also the most convenient place to stay, but it is also the most expensive. If you have access to a car, you'll save yourself some money if you find a hotel further out of town and drive in to the area.
Activities
One fun experience to have in Baltimore is to go to a Baltimore Orioles game at Camden Yards. It's a quintessential experience for the area and you can often get tickets the day of for a very reasonable price, although your seats may not be good.
Festivals are common around town as well. Some of the city's festivals include Artscap, Afram, the Maryland Film Fest, Otakon, StoneSoul, Baltimore Pride, and the Maryland Deathfest.
Food and Dining
Restaurants in Baltimore are excellent and diverse. Fresh seafood is common throughout the city and crab cakes are a favorite as are the area's famous blue crabs. Steamed crabs can make a fun feast with family and friends. They are often served with steamed shrimp, corn on the cob, and beer. Another interesting local specialty in Baltimore is the pit beef sandwich. This is a slow roasted barbecue sandwich that is served on a kaiser roll with onions and horseradish. Baltimore Lake Trout is another common dish. The white fish is lightly breaded and served as a sandwich.
Good neighborhoods in Baltimore to grab a bite to eat include Lexingtom Market, Canton Square, Little Italy, and Hampden.
Transportation
Public transportation in Baltimore is not excellent. There is a light rail system, subway, and buses. You can buy a day pass that works on all three options. The light rail system helps you get into the city but is less effective if you're trying to travel within town. It's possible to park just outside of the city for free and take the light rail into town.
The subway only has one line that runs from Johns Hopkins hospital through downtown and into the northwest suburbs of Pikesville and Owings Mills. It is not very useful for tourists as it does not pass by any tourist attractions. The MTA buses are infrequent and unpredictable. The newer Charm City Circulator is city run and free. There are several routes that travel through touristy areas and are useful for those without a car. The Orange Route runs east and west from Hollins Market to Harbor East. The Purple Route runs north and south between Penn Station and Federal Hill. The Green Route operates east of downtown connecting Power Plant Live, Fells Point, and the Johns Hopkins Medical Complex. The Banner Route goes between the Inner Harbor and Ft. McHenry.
Many people enjoy taking the water taxi to see the city's main sights. It travels through the Inner Harbor, Fells Point, Fort McHenry and Canton. It operates between the months of May and September and runs every 20 minutes.
If you have a car, parking in Baltimore can be expensive but is not hard to find. There are plenty of parking garages and parking lots near the most touristy areas. Having a car will make your visit much easier and more efficient, particularly if you hope to get outside of the more central locations.
Related:
Looking for a
party hostel in Hawaii
or
Miami
? Traveling alone to
LA
or
New Orleans
? Want a budget hostel in
NYC
?