El Paso On a Budget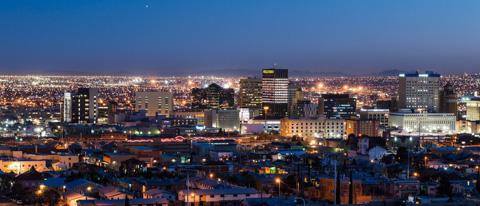 El Paso is a city in west Texas, along the waters of the Rio Grande. Outside the city, Franklin Mountains State Park is home to cacti and desert wildlife like coyotes and golden eagles. The park's Wyler Aerial Tramway ascends to Ranger Peak for views of the city and over to Mexico. El Paso is coming up in the world and starting to make a name for itself. A sleek new hotel has opened downtown, luring locals back to the city's core for socializing and dining. The new Montecillo entertainment and residential district to the west is booming. The city even has a new baseball team, the El Paso Chihuahuas. And the city's first microbrewery opened in 2015. Outdoorsy types also have it made here: there's cycling and hiking in the largest urban park in the US, and the nearby Hueco Tanks State Park is ideal for wintertime rock climbing. Best of all is the hospitality of the locals, which makes this city of nearly 700,000 feel a whole lot smaller.
Sights
See the Franklin Mountains State Park. At over 24,000 acres, this is the largest urban park in the US. It's a quick escape from the city to the home of ringtail cats, coyotes, and countless other smaller animals and reptiles. There's excellent mountain biking and hiking here, with North Franklin Peak (7192ft) looming overhead.
Head to the visitor center to get a basic park map, written descriptions of the hiking trails, mountain-bike trail maps, or route maps of the 17 different rock-climbing routes. (The visitor center will be relocating in 2018, so confirm the location before setting out.) You'll find most of the trails in the Tom Mays Unit of the park, which is east of the I-10 off Transmountain Rd.
Visit the El Paso Museum of Art. This thoroughly enjoyable museum is in a former Greyhound station. They feature an Italian Madonna and Child (c 1200), their Southwestern art is terrific, and the engaging modern pieces round out the collection nicely.
The El Paso Holocaust Museum may seem a little out of place in a predominately Hispanic town, but the Holocaust Museum is as much a surprise inside as out for its thoughtful and moving exhibits, which are imaginatively presented for maximum impact.
Neighborhoods
West Side
Between the Franklin mountains and Mexico and New Mexico includes El Paso's most affluent neighborhoods along the side of the mountain. Providence Memorial Hospital, Sierra Medical Center, Las Palmas Medical Center, El Paso Country Club, and the University of Texas at El Paso (UTEP) are located here. The UTEP area ("Kern Place") is emerging as an entertainment district with restaurants and nightclubs also known as the "Cincinnati Entertainment District". The Sun Bowl, Don Haskins center, and Centennial Gardens are all located on the UTEP campus.
Downtown
Located in the southern part of El Paso, just below the tip of the Franklin Mountains. The streets of Downtown are often difficult to navigate for first time visitors. Walking through Downtown, there are many little shops reminiscent of Mexico and many small cafes. Many of the buildings are historic and very beautiful. The Downtown area boasts a beautiful plaza in the center of the city. The El Paso Museum of Art, the Plaza Theater, El Paso Civic Center and a children's science museum, Insights, are all located here. Nearby on Paisano Street is the El Paso Zoo.
North East El Paso
Home to Fort Bliss Military Base. Fort Bliss is one of the largest US Military bases in the world and Northeast El Paso is home to many active and retired servicemen and women. Fort Bliss located near the airport with adjacent Biggs Army Airfield has a great influence on Northeast El Paso culture.
East Side
The fastest growing area mostly home to middle class working families. The Socorro Student Activities Complex, Del Sol Medical Center, Las Palmas Marketplace, Cielo Vista Mall and Bassett Center are all located in East El Paso. It is close to the Mission Trails area and Hueco Tanks State Historic Site.
Activities
Take a scenic drive in El Paso. Popular at night for city-lights viewing, Scenic Dr offers great views of El Paso, Juarez and the surrounding mountains. Take N Mesa St to Kerbey Ave (across from the university), head east till it becomes Rim Rd, then turn right on Scenic Dr. En route, keep an eye out for little Murchison Park, a fine spot for sunrises.
Take a ride on the Wyler Aerial Tramway Cable car to the top of the Franklin Mountains. The ride only takes about four minutes to the top via this gondola system. After gliding 2600ft and gaining 940ft in elevation, you'll reach the viewing platform on top of Ranger Peak, where you'll enjoy spectacular views of Texas, New Mexico and Mexico. For maximum enjoyment, bring binoculars and a jacket.
Visit the El Paso Zoo, home to a large number of endangered animals, including the Asian elephant, Sumatran orangutan, Malayan tiger and the rare Amur leopard. All told, more than 670 animals represent 231 species, all packed into 35 acres. You can catch a free-flight bird show in the new Wildlife Amphitheater, which added 4000 sq ft for housing birds, mammals, reptiles and invertebrates.
Food and Dining
El Paso's food scene has been picking up momentum for the last few years, and is showing no signs of slowing down. El Paso's downtown's restaurant scene is expanding; more chains are dotting the landscape, while local and sustainable food are growing in popularity. Mexican food is the biggest food offering in the area, and there are delicious options everywhere for a good meal. Travelers will see signs referring to Menudo everywhere. It is a type of soup made with hominy, chili and tripe. It is a Mexican specialty. Another border favorite, burritos, are a humble but delicious food. True burritos are done with homemade flour tortilla and your choice of filling. Try "chile con queso", chile relleno, barbacoa (meat) or "deshebrada con chile colorado" (shredded meat with red chile) for the local traditional El Paso/Juarez flavor. Green chile fillings are great too. All other flavors are more likely not from the region.
Transportation
El Paso International Airport is located 6 mi northeast of downtown and is the easiest way to get to El Paso. El Paso is accessible by train on Amtrak to the downtown area and can also be reached by bus or car, if driving, via the interstate. Having your own car may be the easiest way to see what El Paso has to offer. Since many sites of interest are quite far apart from one another, renting a car may afford visitors the most flexibility. A limited bus route is available, but coverage is not great and schedules are limited.