Dallas On a Budget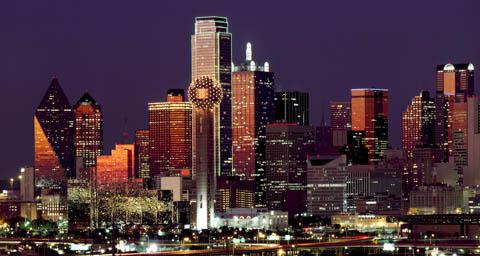 Located in the north central part of the state, Dallas is a prominent city in Texas and is one of the most populated metropolitan areas in the United States of America. The business reputation of Dallas rose from its historical status as the center for cotton and oil industries. It was also positioned among numerous railroads.
As far as costs go, Dallas is relatively inexpensive compared to other huge cities in the U.S., but its not as cheap as many others, especially if you're in the downtown area. It's not hard to find affordable restaurants, hotels, or transportation if you look.
It is best to visit Dallas during the spring or autumn, because summer in this city can get uncomfortably hot. The mild spring temperatures give rise to vibrant and blooming wildflowers. The weather in Dallas is generally pleasant in autumn between late September and early December.
Sights
The Dallas Arts District is located in the center of downtown Dallas. It consists of a large performing arts venue, award winning museums and art galleries. Some of the most prominent places include the
Dallas Museum of Art
, Nasher Sculpture Center, Crow Collection of Asian Art, and the newly opened
Klyde Warren Park
. Dallas has substantial art and sculpture collections for visitors.
In addition to thought provoking art, there are plenty of places worth visiting in Dallas, such as the
Dallas Zoo
, Reunion Tower, Perot Museum of Nature and Science, Dallas World Aquarium, Six Flags over Texas, and Dallas Arboretum. Most of these places are kid and family friendly. The Sixth Floor Museum is dedicated to the assassination of President John F. Kennedy and is located in the same building where Lee Harvey Oswald fired the shots.
Neighborhoods
Dealey Plaza in Dallas is worth visiting as it is the place where president John F Kennedy was fatally assassinated. Downtown Dallas has a growing nightlife scene. Uptown & Oak Lawn are located to the north of downtown Dallas and are worthwhile for shopping, eating and staying. McKinney Avenue boasts elegant old homes with upscale restaurants and eclectic shopping arcades. Greenville Avenue & East Dallas are well known for contributing to the Dallas nightlife scene –– with a multitude of bars, lounges, bohemian restaurants and nightclubs.
East Dallas is considered the "streetcar suburbs" and has many quaint bungalows, coffeehouses, and restaurants. Highland Park and University Park are some of the wealthiest parts of the city. The areas are mostly residential but there is also high end shopping, several museums, and the George W. Bush Presidential Library.
Activities
Dallas hosts an agglomeration of various events, such as the Chocolate Tour for roughly $40, a BBQ and Brewery for around $60, House of Blues Dallas for approximately $50, and many more.
There are plenty of free things to do in Dallas as well. You can go on a self-guided walking tour with Public ArtWalk Dallas or drive through historic neighborhoods like Swiss Avenue, Highland Park and Kessler Park. Dallas is a big city, so guided exploration is a convenient and informative way to see the city. Some of the best tour operators around town include the Dallas City Tours, Big D Fun Tours, Dallas Texas Tour Attractions and Autobuses Mares.
And being in the center of Texas, visitors can find
plenty of day trips from Dallas
, too. Why not visit nearby Fort Worth, or the quaint town of Waco?
Food and Dining
Dallas has a good number of budget and fine dining restaurants for those looking to satiate their palates. There are a multitude of cuisines that range from Tex-Mex and American to South East Asian and Indian. Visitors will never be short of places to eat in Dallas. The Shinsei Restaurant located in the University Park neighborhood offers some of the best Asian cuisines, with huge portions of sushi and Thai food. The Grape located in Lower Greenville Avenue is a popular place with outdoor dining adding to its charm. From fried food to seafood, you can find anything here. Chamberlain's Steak and Chop is the place to go, if you are craving juicy steak. Order the Kobe sirloin steak, smoked salmon with capers and onions or the prime rib eye and you won't be disappointed. Dallas Fish Market located in the heart of downtown Dallas, is the perfect spot for any type of gathering. This restaurant flaunts a modern and comfortable decor. Hook Line & Slinker is one of the best places for seafood in town. Boasting a casual atmosphere, some of the most famous dishes include boiled shrimp, boiled crab legs, fried catfish basket, and raw oysters.
Transportation
Having access to a private vehicle is important if you hope to see Dallas in any level of detail. (
Car rental prices here
.)
Like most cities in Texas, public transportaion is limited and car travel is the norm, but there is limited public transit available.
Dallas Area Rapid Transit (DART)
operates bus and rail services in the city but relying on this as your sole form of transportation is not recommended. The light rail system has four lines, and although it does travel near many tourist sights, it is more convenient for commuters into the city. The trains run every 10 minutes during rush hour, but less often during the off times. Sometimes trains run as infrequently as two an hour. Although buses travel through much of the city, you'll likely have to transfer several times and the trips can be very slow.
There are several pedestrian-friendly walkways in the uptown and downtown areas of Dallas. Dallas Fort Worth International Airport and Dallas Love Field are the two major airports in the city.
Related
Looking for a
party hostel in Hawaii
or
Miami
? Traveling alone to
LA
or
New Orleans
? Want a budget hostel in
NYC
?