Charlotte On a Budget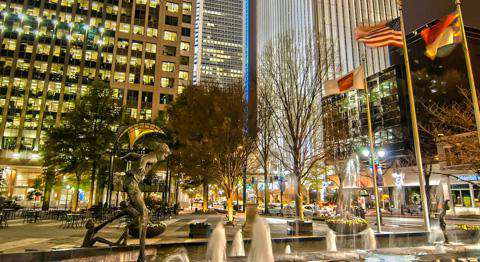 With a population of almost 800,000, Charlotte is the largest city in the state of North Carolina. The city has grown rapidly in recent years and the thriving economy has led to major revitalization efforts in the city's central district. The city is a center for finance, industry, technology, and entertainment within the state. It is the location of the corporate headquarters of Bank of America as well as the east coast operations of Wells Fargo, making it the second largest banking center in the United States. Although Charlotte has never been considered a significant tourist destination, recent efforts to enhance the urban core and develop entertainment venues have begun to appeal to outside visitors.
Charlote is located in central North Carolina. The climate is similar to that found elsewhere in the Piedmont region of North Carolina. There are four distinct seasons with short but cool winters and hot and humid summers. Snow falls occasionally but freezing rain is much more common. Thunderstorms are frequent during the summer months.
Sights
There are a handful of good museums and historic sights in Charlote. The Mint Museum has two locations. At these museums you'll find art and history based exhibits as well as various traveling exhibits. Discovery Place is in Uptown and is one of the top children's museums in the country. Also worth a visit are Levine Museum of the New South and Carolinas Aviation Museum. James K Polk Historic Site has a memorial to the president and a museum that is worth visiting.
Neighborhoods
Charlotte has many districts and neighborhoods. The city center is referred to as "Uptown". This is the central district and where you will find many businesses, museums, theaters, nightclubs, restaurants, and more recently, high rise condos.
North of Davidson Street (NoDa) is an eclectic area that is the Historic Arts District. This area is about two miles north of Uptown.
South End is near Uptown along the corridor of Tryon St. and South Blvd. It has grown into a somewhat upscale entertainment area.
Myers Park is a beautiful area that is home to "old money". The neighborhood has large, beautiful trees and impressive homes. It's also where you'll find Queens University and Freedom Park.
Dilworth is the city's first "streetcar suburb". It's an upscale area with a lot of character. There are art galleries, restaurants, and quaint homes.
Other neighborhoods in the city include Plaza-Midwood, South Park, Elizabeth, University City, East Charlotte, Ballantyne, and the Historic West End.
Activities
Charlotte has grown into a cultural hub for the state. There are many theaters and coliseums in town that host shows, concerts, and live performances. The largest venue in town is Verizon Wireless Amphitheater but other options include Bojangles Coliseum, Memorial Stadium, the Children's Theatre of Charlotte, Actor's Theater of Charlotte, and Blumenthal and Spirit Square, among many others.
NASCAR is a popular sport in town. The Charlotte Motor Speedway hosts events regularly and the city is home to the NASCAR Hall of Fame and headquarters. Other sports in the area include the Carolina Panthers, the Bobcats, and the minor league Charlotte Knights baseball team.
Food and Dining
Charlotte has a diverse range of restaurants that represent many different ethnicities and cuisine types. There are restaurants that offer the typical southern favorites such as grits, sweet potatoes, and barbecue, but there are also contemporary and modern restaurants that have eclectic or high end selections. Ethnic food in the area includes Mexican, Chinese, Japanese, Lebanese, Ethiopian, Greek, and much more.
Transportation
Charlotte Douglas International Airport is a large airport with frequent flights to many major cities. The airport is a hub for American Airlines and there are frequent deals on both international and domestic flights. The airport is located on the west side of town near the Billy Graham Parkway and there's a shuttle bus called Sprinter that travels between the airport and Uptown. There is also an Amtrak station in town.
Once you're in town, the Uptown area is generally walkable but if you hope to travel anywhere else, a car is very helpful. There is also a light rail system that is efficient if you're traveling to or from Uptown from the southern parts of Mecklenburg County. The Charlotte bus system is not very efficient and not particularly reliable. It is best not to depend on the bus system as your sole means of travel.
Related:
Looking for a
party hostel in Las Vegas
or
San Diego
? Traveling alone to
NYC
or
LA
? Want a budget hostel in
San Francisco
?