Mystic On a Budget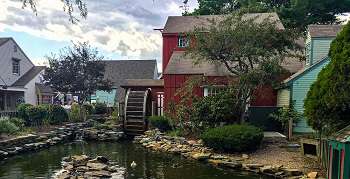 Mystic is a popular tourist destination in Connecticut for its many marinas, historic buildings, aquarium, and seaport. It was historically a shipbuilding and maritime town but today it attracts crowds from many nearby states and regions. Sailing trips are a fun activity that get visitors out on the water. The town is also near Foxwoods Casino.
Sights
One of the most popular sights in Mystic is
the Mystic Aquarium and Institute for Exploration
. It offers a number of animal exhibits and educational opportunities for visitors.
The Mystic Seaport
is another fun place to visit. It houses the nation's largest maritime museum which is spread out over 17 acres. Other areas worth visiting in Mystic include Mashantucket Pequot Museum and Research Center,
Olde Mistick Village
, Denison Pequotsepos Nature Center, B.F. Clyde's Cider Mill, and Mystic Museum of Art.
Neighborhoods
Mystic is located on the east and west bank of the Mystic River. It is divided by the famous Mystic River Bascule Bridge and has a charming downtown as well as seaport areas.
Activities
Mystic has a number of activities that visitors can enjoy. If you want to get out on the water, there are traditional sailing trips as well as whale watching excursions available. There are also a number of educational opportunities available at the nature centers, aquariums, and museums around town. Mystic also hosts a number of festivals that highlight the area's food, culture, and holidays.
Food and Dining
Mystic's location on the ocean make it the perfect place to enjoy seafood. There are countless great seafood restaurants around town that have everything from lobster and shrimp to fish and oysters. Also around town are pizzerias, breweries, ice cream shops, cafes, and more.
Transportation
The easiest way to explore Mystic is with a car. There are a number of rental car vendors around town that offer good rates. It's also possible to bike around Mystic. Bikes are available for use through the Mystic Community Bikes programs. There are many pick up and drop off locations found around town.
The shops in the main touristy area are close together and compact, so many visitors prefer to walk in these areas.
(
Main photo by Sarah Vanheel of CosmopoliClan.com.
)