Atlantic City On a Budget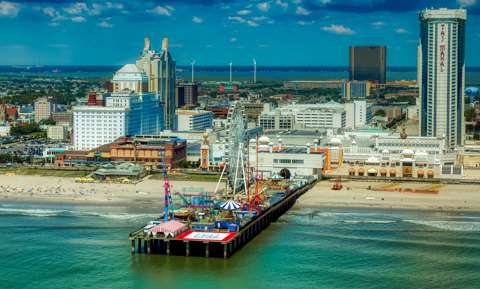 Atlantic City, on the southeastern coast of New Jersey, is a popular destination for gambling, partying, and generally having fun. The beach is lined with casinos, many with famous names, and there's a boardwalk that offers a diverse experience. Most people don't head to Atlantic City for the beaches - it's the casinos and partying that draws a crowd. This is a popular spot for bachelor and bachelorette parties, or anybody looking for an affordable place to gamble.
There is no shortage of hotels to stay at in Atlantic City. Most are chains with affordable prices. It's easy to experience Atlantic City on a budget, just don't gamble away your savings!
Sights
Atlantic City is really about the casinos, but if you venture outside a bit, there are some interesting attractions. Head to the Atlantic City Aquarium to see a bit of wildlife. There's also the Atlantic City Historical Museum and Absecon Lighthouse. Slightly more unique attractions include Lucy the Elephant, a 65 ton building designed to look like and elephant, and Monopoly Monument. Also make sure you check out one of Atlantic City's famous live shows at Boardwalk Hall.
Neighborhoods
Tourists typically spend their time either the Boardwalk or the Marina areas. The Boardwalk runs along Pacific Avenue right by the beach. This area is where you'll find the famous casino hotels including popular names like Tropicana, Caesars, and Trump Taj Mahal. There are plenty of restaurants in the area.
The Marina is where cruise ships dock. This is also where fishing charter boats depart from. The area has a handful of casinos, including Golden Nugget, Harrah's and the Borgata. It's connected to the boardwalk by the Jitney buses.
Budget travelers sometimes stay along Route 30 where there are cheaper chain hotels and budget chain restaurants.
Activities
Casinos, partying, and shows are the activities of choice in Atlantic City. For guests who want to get out on the water, there's fishing and other activities to choose from as well along the beach.
Food and Dining
There's no shortage of cheap restaurants to choose from in Atlantic City, but for visitors who want a little more, there are also some good upscale restaurants to choose from. There's a wide variety of cuisine types to choose from including seafood, pizza, subs, and more.
Transportation
The Boardwalk is 4 miles long and many visitors choose to walk from casino to casino. Street parking is a bit hard to come by, but the casinos offer garage parking for an affordable price. If you want a more unique experience, there are old-fashioned rolling chairs that you can hire to travel up and down the route. You'll pay at least $5 plus tip for the ride. Alternatively, you can pick up a taxi easily and you'll pay about $13 plus tip for the ride.
The Atlantic City Jitney runs minibuses between the Marina and the Boardwalk. The fare is $2.25 and they run 24 hours a day.