Pittsburgh On a Budget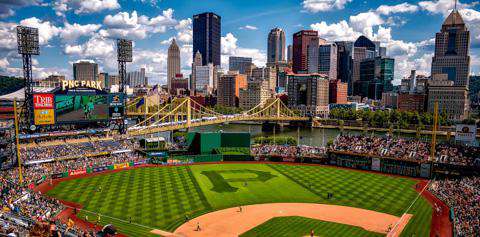 Pittsburgh is a city in western Pennsylvania at the junction of 3 rivers. Set between the Monongahela and Allegheny Rivers, and a mountain ridge called Mt Washington, Pittsburgh has a unique character that is evident from the moment you arrive. Juxtaposed with the rumbling freight trains and the iconic bridges are the Bladerunner-esque self-driving Uber vehicles, scanning the roads with spinning Lidar scanners. Its Gilded Age sites, including the Carnegie Museum of Natural History, the Carnegie Museum of Art, and the Phipps Conservatory and Botanical Gardens, speak to its history as an early-20th-century industrial capital. In the North Shore neighborhood are the modern Andy Warhol Museum, Heinz Field football stadium, and PNC Park baseball stadium. Experiencing periods of boom and bust since its founding, the city is in a boom now, and it's a fun place to visit, with top-notch museums, great gardens and parks, and amazing food.
Sights
The six-story Andy Warhol Museum celebrates Pittsburgh's coolest native son, who moved to NYC and made himself famous with pop art. The exhibits start with Warhol's earliest drawings and commercial illustrations and include a simulated Velvet Underground happening, a DIY 'screen test,' and pieces of Warhol's extensive knickknack collection. Cans of inflatable Campbell's soup are for sale.
The Carnegie Museums, founded in 1895, these neighboring institutions are both tremendous troves of knowledge. The Carnegie Museum of Art has European treasures and an excellent architectural collection, while the Carnegie Museum of Natural History features a complete Tyrannosaurus Rex skeleton and beautiful old dioramas.
The Gothic Cathedral of Learning tower, soaring 42 stories at the center of the University of Pittsburgh, is a city landmark. Visit to see the delightful Nationality Rooms, themed classrooms ranging from Russian to Syrian to African.
Neighborhoods
Downtown
The historic, economic, administrative, and cultural center of the city, where the three rivers meet. Here you will find many of the main attractions, best restaurants, and a variety of shopping establishments.
East End-South
Home to the city's "second downtown" - the college neighborhood of Oakland - as well as many institutions, parks, and quieter residential and shopping areas.
East End-North
A center of the city's ethnic diversity, this formerly industrial area is now bustling with shops and restaurants.
North Side
Two of Pittsburgh's major league sports teams and many of the city's finest museums can be found here.
South Side
A particularly hilly region famous for its inclines and great views of the city - as well as its bar scene.
Activities
Ride the Duquesne or Monongahela Incline. These nifty funiculars, both built in the late 19th century, are Pittsburgh icons, zipping up the steep slope of Mt Washington every 5 to 10 minutes. They provide commuters a quick connection, and give visitors great city views, especially at night. You can make a loop, going up one, walking along aptly named Grandview Ave and coming down the other. At the top, you can take in the view of the beautiful skyline.
Visit the aquarium and zoo. The Pittsburgh Zoo & PPG Aquarium can make an entertaining afternoon for young families. This zoo is home to more than 400 different species of animals, some of which are threatened or endangered. Animals are grouped in different habitats, ranging from the African Savanna (where you'll see elephants, lions and giraffes) and the Asian Forest (say hello to tigers, red pandas, and snow leopards) to the PPG Aquarium (with penguins, sharks and colorful fish) and Water's Edge (home to sea otters and polar bears).
Have some fun at Kennywood amusement park. The park first opened as a "trolley park" attraction at the end of the Mellon family's Monongahela Street Railway in 1899. The amusement park features various structures and rides dating back to the early 1900s. Along with Rye Playland Park, it is one of only two amusement parks designated a National Historic Landmark for its history and historic rides.
Pittsburgh holds a number of arts and cultural festivals. Some of the favorites include the Three Rivers Arts Festival, Pittsburgh Folk Festival, Greek Food Festival, Three Rivers Regatta, Pittsburgh Vintage Grand Prix, and Little Italy Days.
Take a river tour. Several different tour companies are centered around Station Square in South Side, and most of them focus on giving river tours - indeed, one of the best ways to see Pittsburgh is from the three rivers themselves, taking in views of the downtown skyline, the hillsides, the bridges, and the stadiums.
Food and Dining
Traditional Pittsburgh foods reflect the city's multicultural heritage, especially that of the European immigrants of the early 20th century. While these immigrant populations introduced dishes such as pierogis to the city, they are now enjoyed by Pittsburghers in general. Other Pittsburgh food specialties were developed in the city. Pittsburgh's food scene is extensive and delicious. From hamburgers to pierogi's, Pittsburgh has something for every appetite. It is becoming one of the most popular food destinations in the US, for good reason. Pittsburgh has several distinct dishes, but one of the most famous is the Primanti. The Primanti sandwich is served on a sheet of wax paper with two slices of Italian bread then it is piled high with coleslaw and french fries (don't order the coleslaw or fries on the side - you will likely get made fun of). The other ingredients after these depends on the sandwich you order. There are many locations in and around the Pittsburgh area but the original is in the Strip District. A stop should be made here to try some food that embodies Pittsburghers.
Transportation
Pittsburgh Car Rental Prices
Compare prices across all major rental companies:
Pittsburgh International Airport is the normal way in, although the area is also served by the smaller Allegheny County Airport, primarily used by private and corporate airplanes. The airport is located near Robinson Township in Findlay, about 20 miles west of downtown. Hotel shuttles and buses are available, and a city bus, route also connects the airport to Downtown and Oakland, taking a reasonably fast route mostly along freeways and dedicated busways. You can also get here by train on Amtrak, which has a station located in the downtown area. Bus routes also run to Pittsburgh from other cities, and the interstates make it easily accessible by car. Pittsburgh is often difficult for strangers to navigate because the roads go every which way, constrained by the rivers and hills. Many are one-way and nearly all are narrow, as they were laid out in the days of horse-and-buggy transportation. Bus service covers much of Pittsburgh and Allegheny County and, for the most part, is reliable and clean. Light rail connects the south side of the city to downtown and the stadiums, but doesn't connect to many other points of interest. Those with a GPS navigation device should get around fine. For those without, a taxi is an option until you get used to the roads, but the public transit, operated by the Port Authority, works quite well for travel within the City.
Train and Bus Prices
The best prices for buses and trains in United States of America
can be found on Omio
(formerly
GoEuro
). They let you search across all train, bus, and plane routes throughout Europe.