Providence On a Budget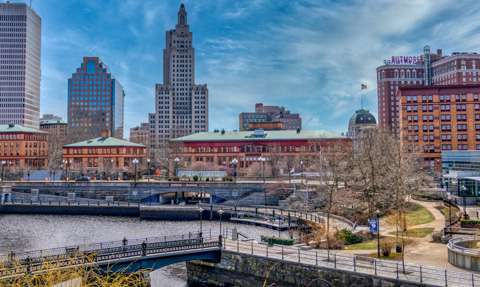 Providence is the state capital and the largest city in Rhode Island. It's a fascinating city to visit with diverse neighborhoods, beautiful parks, and a rich history. Like much of New England, the winters are cold and snowy with milder summers. It's a great year round destination that has a beautiful setting whether it's covered in snow or in full bloom.
Neighborhoods
For tourists, there are four neighborhoods that are most interesting in Providence.
Downcity is where you'll find the downtown core as well as Waterplace Park, the Providence Place Mall, and Capitol Hill.
Federal Hill is to the west of the downtown area and runs along Atwells Avenue. This area is popular for its lively nightlife scene and Italian restaurants.
College Hill/The East Side is where you'll find Brown University. It has many of the city's most historical and beautiful homes as well as diverse shops and restaurants. The neighborhood runs along Thayer Street where it meets Angell Street.
South Providence begins at Elmwood Avenue and Broad Street. This area has diverse, international restaurants that include Spanish and Chinese options. The area is about a 15 minute drive from downtown.
Activities
Providence has a wide variety of activities that visitors can enjoy including live shows, live concerts, seasonal festivals and more. Some of the more popular venues include the Providence Performing Arts Center, Avon Cinema, Dunkin' Donuts Center, the Rhode Island Convention Center, the Century Lounge, and Monet Lounge. During the summer months it's well worth exploring Water Place Park which has pedestrian walkways and live music.
Food and Dining
Providence has a combination of local restaurants and chain restaurants. Popular areas with great restaurants include Downtown Providence, Providence Place Mall, Thayer Street, and Federal Hill. Providence Place Mall has the typical mall style restaurants like P.F. Changs, the Cheesecake Factory, and Uno Chicago Grill. Thayer Street has a number of international restaurants including Chinese, Japanese, Middle Eastern, and Greek. Federal Hill has good, upscale restaurants as well as a few great dessert cafes.
Transportation
Downtown Providence is compact and walkable. Parking isn't particularly challenging to find, particularly if you're willing to pay for it. The public transportation system is based on buses that are generally reliable, but many visitors prefer to drive. Historic Providence also has two downtown lines that are part of the Providence LINK Trolley system. They cost $2 a ride and are a convenient way to get around.