Newport On a Budget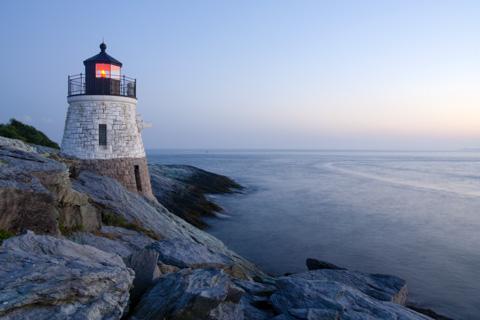 Established in colonial times as one of the most important ports of Rhode Island, Newport has since transformed into a historic seaside city and resort town for many summer visitors. It has one of the highest concentrations of colonial homes in the nation in the downtown Newport Historic District, and is perhaps most known for the famous Newport Mansions. The area is also home to Salve Regina University and Naval Station Newport which houses the United States Naval War College, the Naval Undersea Warfare Center, and a major United States Navy training center. With its rich history, culture, and prime location overlooking the ocean, Newport has been host to many seaside events like the America's Cup sailing regatta as well as the Newport Folk Festival.
Sights
The Newport Mansions, by far, are a main attraction of the Newport area. Organized by the Preservation Society of Newport County, these mansions sit as leading examples architectural heritage from the Colonial era through the Gilded Age. Many of the greats include the Breakers, Rosecliff, Marble House, the Elms, and Chateau Sur Mer-all located along Bellevue Avenue. These were once the summer homes of big names like Rockefeller and Vanderbilt and have since been preserved and organized into museums open for touring. While the outsides of each mansion are impressive in size and grandeur, the spectacular views and lavish interiors present remarkable features to match.
Ocean Drive Historic District is another method of sightseeing, featuring a 10-mile shoreline past parks, beaches, historic estates, a fort, as well as a yacht museum. If you prefer to get out of the car, Cliff Walk is a scenic trail that takes visitors along the shoreline past the backyards of many of the Newport Mansions on Bellevue Ave.
Neighborhoods
Thames Street acts as the hub of activity for shopping and dining. From nautical knick-knacks and memorabilia to clothing, antiques, candy shops, restaurants, inns, and art galleries-the attractions of Thames Street are a magnet for the crowds. It is everything you could want in a bustling seaside town of New England. One of the oldest continuously used streets in the state, Thames Street is lined with many colonial buildings that still survive today. It is the main street of downtown Newport, running parallel along the nearby waterfront.
Activities
The Newport Mansions are more than enough to occupy days of sightseeing. With ornate decor, grand architecture, and sweeping lawns leading down to the sea, one can easily get lost in the sheer grandeur of it all. The Cliff Walk, of course, offers different views along Rhode Island's rugged coastline, and the downtown district of Thames Street presents infinite opportunities for shopping and dining.
Other attractions of Newport include places like Touro Synagogue, the oldest surviving in the United States, as well as the International Tennis Hall of Fame & Museum which honors players and contributors and features artifacts, memorabilia, plus grass and court tennis facilities.
If you are looking to get away from the busyness of the hot spots, Fort Adams State Park is located at the mouth of Newport Harbor and offers panoramic views of the harbor and Narragansett Bay. The fort itself is a large coastal fortification that was active from 1841 through the first half of the 20th century. Away from the main part of town, the park features activities like swimming, boating, picnicking, and athletic fields. It also hosts the annual Newport Jazz Festival and Newport Folk Festival, and is home to the historic Eisenhower House.
Food and Dining
As far as native food goes, any New England town on the sea is going to thrive on seafood. Whether it's clam chowder, clam cakes, lobster bisque, seafood chowder, or gourmet seafood baskets, Newport is full of restaurants serving up sea-faring cuisine. Some of the top picks on TripAdvisor include Rosemary & Thyme Cafe, Restaurant Bouchard, Corner Cafe, The Mooring, Brick Alley Pub, Midtown Oyster Bar, Stoneacre Pantry, and The White Horse Tavern-the list is extensive and full of great options.
Another oddity of Rhode Island is "coffee milk," which you can order at most restaurants. It is even the official state drink, and most grocery stores sell coffee syrup especially for the concoction. As far as dessert goes, a must stop is the Newport Creamery, whose specialty milkshake is the Awful Awful, standing for "Awful Big, Awful Good." If you are looking for some grub before you dig in for ice cream, the Newport Creamery also serves up pretty tasty casual fare like burgers and melts.
Transportation
The nearest major airport is Theodore Francis Green Memorial State Airport which has domestic flights from Providence, Rhode Island and is 27 miles from the center of Newport. Another major airport is New Bedford Regional Airport, which has domestic flights from New Bedford, Massachusetts and is 31 miles from Newport. Martha's Vineyard Airport has domestic flights from Vineyard Haven, Massachusetts and is 87 miles from Newport.
The Rhode Island Public Transit Authority (RIPTA) provides buses that route from Newport to Providence and the University of Rhode Island.
By car from Boston/NY, follow I-95 to US Route 1 to RI Route 138 east across the bridge to Jamestown and then the Claiborne Pell Newport Bridge to Newport. From MA or other points east, follow I-195 toward Providence, but turn south on RI Route 114 before reaching Providence, and follow it to Newport.
Related:
Looking for a
party hostel in Hawaii
or
Miami
? Traveling alone to
LA
or
New Orleans
? Want a budget hostel in
NYC
?