Santa Barbara On a Budget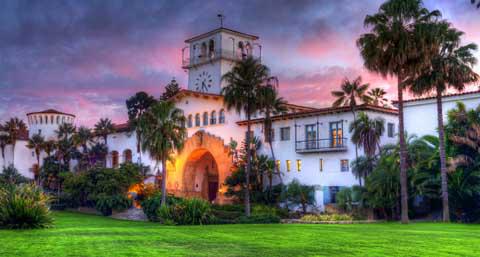 Santa Barbara is located in California, less than 100 miles from Los Angeles. It sits between the Santa Ynez Mountains and the Pacific Ocean, giving it a stunning backdrop. The town has a population of just 90,000 but it still offers visitors many cultural, culinary, and shopping experiences that surpass many large cities. There are wide beaches along a beautiful coastline, impressive wineries, and many top rated restaurants. Many people see Santa Barbara as a hangout for the rich and famous, but with a university and diverse population, the city is much more relatable than you might expect, although travel prices here are still somewhat high.
Santa Barbara's climate is Mediterranean. Its location along the coast means that the ocean breeze keeps the temperatures moderate with warm winters and cool summers. The winter months may experience storms with heavy rainfall and summers are drier. Snow may cover the Santa Ynez Mountains, but almost never falls in the city itself.
Sights
Many people visit Santa Barbara for its beautiful coastline and Mediterranean vibe. Simply exploring the city and soaking up the atmosphere and pleasant weather is the best way to experience the city. If you're looking for specific
things to do in Santa Barbara
, then popular options include the Santa Barbara County Courthouse, the Santa Barbara Mission, Stearns Wharf, the
Santa Barbara Zoo
, the Botanic Garden, the Contemporary Arts Forum, and Reagan Ranch Center Exhibit Gallery. Popular museums include the
Museum of Natural History
, the Museum of Art, the Historical Museum, and Karpeles Museum.
Neighborhoods
There are a variety of neighborhoods in Santa Barbara, each with its own character. The Mesa is the area from Santa Barbara City College to Arroyo Burro County Beach. It has a beach vibe and is a pleasant place to explore. Mission Canyon is a wooded and hilly area around the Old Mission. It is a popular starting point for hiking. The Riviera is the hillside that faces the ocean and resembles a Mediterranean coastal town. The Westside is in the lowlands between State Street and the Mesa and is where you'll find Santa Barbara City College. The Eastside is to the east of State Street to the base of the Riviera. The Waterfront has the majority of the tourist businesses along Cabrillo Blvd. Lower State Street is also popular with tourists for its thriving nightlife and many festivals. Upper State Street is a residential and commerical area. San Roque is northwest of downtown and Samarkand is a residential area.
Activities
There are many outdoor activities that you can enjoy in and around this area, especially if you're visiting as a day trip for
one day in Santa Barbara
from L.A. or elsewhere. The beaches are excellent places to relax and take in the natural beauty. Golf, hiking, surfing, paragliding, and kayaking are all popular sports. Food tours, wine tours, and walking tours in the area are also available.
Food and Dining
Mexican food is ubiquitous in Santa Barbara. There are also a range of styles and restaurant types throughout the city. Many top chefs have opened restaurants in the area so fine dining is easy to find with unique and well executed dishes. Many restaurants use local and fresh ingredients that make dining in Santa Barbara truly an experience.
Budget dining options around town include taquerias, cafes, sandwich shops, and pizza. If you're willing to spend a little more then you can enjoy excellent seafood, sushi, or French cuisine. Wine is also excellent in the area and should be enjoyed whenever possible.
Transportation
Most people drive to Santa Barbara. It's relatively easy to drive around town and there is free parking available in many areas outside of the downtown. Even in the downtown area you can often find free parking for the first hour. It's possible to rent a car from either Budget or Hertz, both of which have rental shops at the airport (
compare car rental prices here
).
There are buses that run throughout the city and connect it to the neighborhing cities of Goleta, Montecito and Carpinteria. The main Transit Center is 8 blocks from the Amtrak train station. There is also a shuttle bus that runs along State Street between downtown Sola St and Stearns Wharf, and along the waterfront between the harbor and the zoo. It leaves every quarter or half hour between 9 am and 6 pm (later on summer weekends).
It's possible to rent a bike from many of the shops along the waterfront. You can pick up a bike map at the Santa Barbara visitor center and there is a beach side bike path that many visitors enjoy. Rickshaw taxis are also common.
Related
Looking for a
party hostel in Las Vegas
or
San Diego
? Traveling alone to
NYC
or
LA
? Want a budget hostel in
San Francisco
?