Santa Cruz On a Budget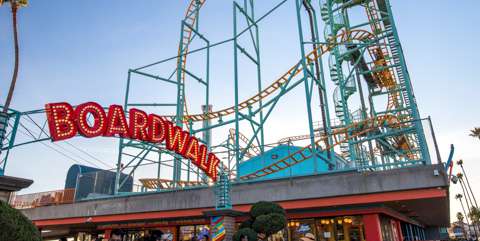 On the central coast of California in between Monterey Bay and San Jose lies
Santa Cruz, California
, a laid-back coastal college town with a reputation of locals open to liberal views and accepting of alternative lifestyles. Among its residents are University of California, Santa Cruz students, a large artist colony, and professional surfers.
With 29 miles of beaches and 14 state parks, Santa Cruz is a popular spot for hikers and surfers, but also is an up-and-coming art scene with annual art galleries, wine-tastings, music festivals, and cultural events.
The weather in Santa Cruz is known to be moderate year-round, with cool and rainy winters and hot, dry summers. Its proximity to the Pacific Ocean keeps the fog rolling in maintaining these mild temperatures.
Sights
The Santa Cruz Wharf offers a variety of stores for shopping, restaurants for dining, and recreational activities like boat cruises, fishing trips, and Bocce Ball.
Following the main street Cliff Drive southwest, you'll come across the Lighthouse Field State Beach, aka Its Beach, where you can see Seal Rock, where many seals sprawl out to rest, and the Mark Abbott Memorial Lighthouse, which houses the Santa Cruz Surfing Museum. Admission is free.
With 14 state parks, Santa Cruz's beautiful natural scenery is sure to bring peaceful vibes to all visitors. Drive or better yet, park your car and walk the three miles between the Santa Cruz Wharf to Natural Bridges State Park to take in the gorgeous views of West Cliff Drive, the perfect place to people watch. Keep an eye out for dolphins, seals and even whales.
Nearby is Antonelli Pond, great for fishing, picnicking, or walking your dog. The horseshoe loop around the pond is a short three-fourths of a mile and will give you the opportunity to see lots of birds, turtles, and even the endangered California red-legged frogs that live inside this man-made pond.
For an easy hike or bike ride, head to Wilder Ranch State Park for a stunning trails along the coastline which also lead down to the beach. Beware of Poison Oak!
Further inland is the Spanish Mission Santa Cruz, founded in 1791, which is also free to visit. Another historical site is Pleasure Point Beach, located along the cliffs of Monterey Bay, it is the ideal spot for skilled surfers. Pleasure Point also has lots to offer in the way of shops and restaurants for those strolling the street and is a great spot for recreational activities, such as rollerblading, biking or simply walking down the beach path.
Activities
The Mystery Spot is one of the most confounding attractions in Santa Cruz, intriguing visitors of all ages with the defiance of gravity and physics in the Santa Cruz Mountains. The 45-minute tour will amaze and astound visitors. Wear comfortable walking shoes and beware if you suffer from vertigo, as motion sickness is a common experience in this mysterious place.
Thrill seekers will love riding the Big Dipper, a national historic landmark and roller coaster at the iconic
Santa Cruz Boardwalk
, California's oldest amusement park which is fun and free for visitors of all ages. Also within the park is a video arcade, a mini golf course, laser tag, and of course, plenty of rides. Rides and attractions require ticket purchases for each individual ride or for an all-day wristband.
The steam train at the Roaring Camp Railroads will take you up to the groves of centennial Redwoods or down to the Santa Cruz Beach Boardwalk along the San Lorenzo River. Even your furry friends are welcome here, as long as they're on-leash.
Wine enthusiasts will want to visit the MJA Vineyards Tasting Room, to try craft wines in venue that exudes a relaxed, beach ambiance and friendly down-to-earth customer service. Joining the wine club is free and comes with perks of a free flight for the club member and one guest.
Nature lovers who wish to camp can find campgrounds just next to the railroads, at Henry Cowell Redwoods State Park for camping, hiking and other activities. Whether you're an avid hiker or just want to take a short walk, there are many different trails that will suit your preferences.
Water sports are a favorite pastime in Santa Cruz, especially sailing, diving, swimming, paddle-boarding, and surfing. There are a number of shops that rent equipment along the coastline such as Richard Schmidt School of Surfing, located in the roundabout near the Wharf and Adventure Out, which also books tours for outdoor excursions and classes and equipment for rock climbing and surfing. Steamer Lane is the most famous surf spot in Santa Cruz, just near Pleasure Point and is clearly the favorite spot among local surfers and surf kayakers.
For more activities in this dynamic and famous town, check out
101 things to do in Santa Cruz from a local
which has a long list of attractions to keep you busy.
Annual Festivals
Santa Cruz is home to many various festivals throughout the year. Among some of the festivals are:
The Santa Cruz Film Festival - a week-long festival held in June to celebrate cinema.
Scotts Valley Art & Wine Festival - a two-day festival dedicated to fine art, wine, beer and live music, held at Skypark in early August.
Santa Cruz County Fair is held in September, featuring family-friendly activities such as livestock shows, games and rides.
Open Studio Art Tour - takes place the first three weekends in October, held at different venues across the city showcasing works created in every medium of art.
On a more frequent basis, Santa Cruz Farmer's Markets are held weekly in five locations across the city on different days of the week. Check
santacruzfarmersmarket.org
for hours and locations.
Food and Dining
Lillian's Italian Kitchen is famous for its black truffle-stuffed gnocchi and diners likewise rave about the hearty and delicious Sunday Gravy on pasta. Tasty Italian fare for a moderate price will always draw in a crowd and while an hour-long wait is not unusual,
Lillian's
fortunately will take your phone number and call you when your table is ready so you can peruse the neighborhood while you wait.
Stop into Linda's Seabreeze Cafe for huge portions of brunch dishes like chicken chorizo, bacon waffles, and huevos rancheros at moderate prices.
Santa Cruz is a college town and there's a restaurant to fit every budget. Give your wallet a break when you go to Cafe Campesino for tacos, mole, and the tortilla bean soup. If you're not in the mood for Mexican, Betty's Burgers serves burgers, fries, and grinders for prices that even college students can afford. For even lighter fare, try the hummus plate or the best falafel in town at Mediterranean Grill & Go.
If you're looking for a swanky night out, Shadowbrook is well-known for its romantic ambiance and trolley car ride to and from the restaurant and venue for beautiful views of gardens and waterfalls. Often frequented for special occasion dinners, Shadowbrook features filet mignon, baked brie, and fresh seafood.
Those with a sweet tooth will love Marianne's Ice Cream, which serves artisan flavors like horchata, lavender, and butter brickle at a reasonable price. The Penny Ice Creamery is stiff competition, serving up whiskey custard cream, strawberry peppercorn, and dark chocolate sorbet, all made from locally-sourced organic ingredients. Don't forget to drop into the Pacific Cookie Company for their famous lemon drop cookies, coconut macaroons, and Dr. Midnight dark chocolate chip cookies.
Transportation
By Plane: The closest airports to Santa Cruz are the San Jose International Airport, Monterey Peninsula Airport, San Francisco International Airport, and Oakland International Airport. All airports offer shuttle and taxi service.
By Train: Amtrak offers several routes serving Santa Cruz, the San Francisco Bay Area and Northern California and California Thruway Bus Connections.
By Bus: The Amtrak Highway 17 Express bus ride is just an hour from downtown San Jose to downtown Santa Cruz. The Greyhound, MOnterey-Salinas Transit, and Caltrain also serve the city. Metro buses are available for transportation within the city and county.
By Car: Santa Cruz is reachable by car from nearby major cities San Jose, San Francisco, and Monterey. Pacific Coast Highway. For parking information,
download the parking brochure and map
.
Related
Looking for a
party hostel in Las Vegas
or
San Diego
? Traveling alone to
NYC
or
LA
? Want a budget hostel in
San Francisco
?