Cantabria On a Budget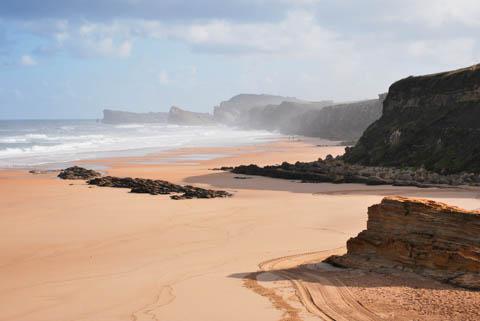 Occupying Spain's northern coast, the region of Cantabria is known for its mountains, cave paintings, and the capital city of Santander. Its diverse landscape allows for locals and visitors alike to hit the beach in the summer and go on mountain adventures in the winter. While these natural features alone are breathtaking, there is also much to say for Cantabria's quaint seaside towns, fresh cuisine, and rich history.
Sights
Bordered by mountains and sea, Cantabria is a region of natural beauty. Picos de Europa National Park, for example, is home to a stark mountain landscape on the inland side with rare species like the Cantabrian brown bear, wolves, and lynxes. This is the region for adventurous explorers and nature lovers looking to experience some of Spain's untouched environments. Cabárceno Nature Park and Zoo is another unique setting where you can see a variety of species including tigers, elephants, and reptiles.
With a history dating back to the Upper Paleolithic period, Cantabria is also well-known for its caves. The most significant site for cave paintings is that in the cave of Altamira, dating from about 37,000 BC. It has been declared, along with nine other Cantabrian caves, as a World Heritage Site by UNESCO. Some of the others include the Monte el Castillo Caves, the Covalanas Caves, El Pendo Caves, Hornos de la Peña Caves, and El Soplao Caves.
In Cantabria's cities, like Santander, architecture and museums occupy much of the sight-seeing. The most emblematic sight of Santander is the Magdalena Palace which was once a summer residence for the Spanish king. Located on a peninsula of the same name, the palace stands in beautiful stone masonry overlooking the sea. Other architectural sights include a handful of churches and public buildings, historic streets and squares, and a number of peaceful parks.
Regions
In Cantabria, the hotspot is the city of Santander. Located right on the bay, it is a place of many historic churches and a handful of interesting museums that range from archaeological discoveries of the region, to maritime history, and cultural features like bullfighting. There is also a large selection of beaches for those looking for a more relaxing getaway in the sun and sand. Santander is the region's capital. Its most famous tourist attraction is the Magdalena Palace which was used as a summer getaway of Spanish royalty. The city is also known for its fishing harbor. Other cities in Cantabria include Torrelavega and Castro Urdiales, plus a handful of seaside villages.
Activities
If it is outdoor adventure you seek, Cantabria has a full range of activities from hiking or skiing in the mountains to swimming and watersports along the beaches of the coastline. The Primera de El Sardinero is the most famous beach of Santander, while Somo Beach just outside of Santander is more secluded and less crowded than beaches in Santander. Some others include Playa de El Puntal, Playa de Bikinis, Playa de Covachos, and many more.
If you prefer to get lost in the history of the region, spend your days wandering city streets and villages, exploring museums, or hopping on a tour for a more guided experience.
And then there are the local festivals, fairs, and celebrations held in different cities and villages throughout the region. All over the region, cattle and typical products fairs are celebrated regularly. Some of these include La Vijanera or Winter Carnival celebrated during the first Sunday of the year in Silio, Carnaval marinero or Sailor Carnival in February in Santoña where townsfolk dress up as fish, and La Folía in April in San Vicente de la Barquera where a parade of local fishing boats follows one with a statue of the Virgin. Then there is also Cantabria Day held on the second Sunday of August in Cabezon de la Sal. Festivities include traditional Cantabrian music, ceramics fair, local foods, bolo palma championships, ox dragging contests, and public speeches. These and many more make up the local celebrations.
Food and Dining
The northwest of Spain is an area bordered by coastline, making seafood and fish a common staple for dishes throughout the region. The Spanish word for seafood is "marisco," and fresh catches include things like clams, mussels, pod razors, cockles, crabs, barnacles, crayfish, snails, lobster, squid, sea bass, hake, scorpion fish, anchovies, sardines, and tuna. Pulpo a feira is a common seafood dish of octopus prepared with oil, salt, and hot paprika. Then there are empanadas-pies made with a traditional dough, filled with onion, pepper, and some meat, usually tuna, veal, or seafood. Being close to the mountains as well, Cantabrian cuisine also features cattle and game like deer and wild boar. And some popular beverages include cider, wine, and orujo which is a type of pomace brandy. A great selection of dining options can be found in the city of Santander.
Transportation
The only airport in Cantabria is Santander Airport near Santander. It operates domestic flights, primarily from Madrid, and international flights with Ryanair from
London
,
Dublin
,
Brussels
,
Rome
,
Milan
,
Frankfurt
,
Paris
, and
Amsterdam
, plus other international flights to Bilbao.
There is also a ferry terminal in Santander if you wish to arrive by ferry from the UK.
By car from
Bilbao
, travel the A8 Freeway.
Navigating within the region is best done by rental car if you wish to see some of the smaller villages. Public buses are also available to the larger towns as well as between Santander and Bilbao.
Related:
Looking for a party in
Barcelona
or
Madrid
?
Traveling alone to
Granada
or
Seville
?
Find a
Contiki tour
to Europe.
Train and Bus Prices
The best prices for buses and trains in Spain
can be found on Omio
(formerly
GoEuro
). They let you search across all train, bus, and plane routes throughout the region.