Gijon On a Budget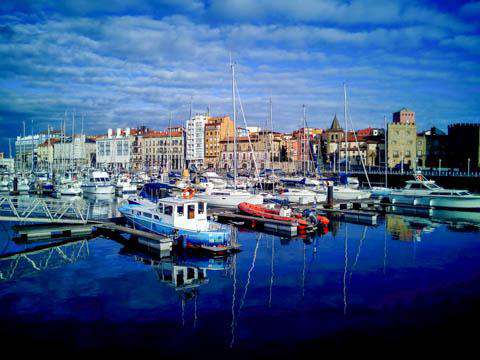 Gijon is a coastal city of the Asturias Principality of Spain. Known for its Roman past, museums, sculptures, and architecture, visitors have many opportunities to learn about Gijon's cultural and historic past. Given its location by the sea, the city is also skirted by a few nice beaches for a more leisurely getaway.
Sights
With a rich history dating back to Roman times, Gijon's sights revolve around architecture and museums significant to the city's past. The restored baths complex at Campo Valdes is especially unique-a public building which dates from the end of the 1st century A.D. The baths go hand in hand with the Campa de Torres Archaeological Site, a fortified settlement where Gijon keeps its Roman past alive. Both are a part of the seaport to the Ruta de la plata-an ancient pilgrimage path that crosses the west of Spain from north to south, with the Bay of Biscay at Gijon marking its northern point. The coastline here is also lined with a few nice beaches often frequented by visitors.
As far as museums go, a handful of Gijon's best include the Pueblu d'Asturies Folk Museum which preserves the heritage of the Asturian people, the Nicanor Piñole Museum which represents the works of an Asturian painter, and the Evaristo Valle Museum which honors the paintings and life of another local artist. Each one revolves around the importance of Asturian culture and how it has thrived in the arts over the years. Revillagigedo Palace is another such exhibition venue that also stands as an example of the region's Baroque 18th Century architecture. And then there is the Asturian Railway Museum-a fun place for those interested in the public railway history of Asturias.
Neighborhoods
The city of Gijon as a whole is the largest shopping center in the region of Asturias. Just walking around, you will come across a full range of shops and markets offering anything from local handicrafts to the more upscale boutiques. The Ecological and Crafts Market of Gijon is one such unique hub, created in an attempt to recover traditional local crafts and also promote ecological products that are environmentally friendly. You will find markets like these and more on the streets of Gijon, as well as plenty of opportunities for dining, and much to see in its historic neighborhoods and architecture. The Laboral City of Culture is another neat community to see, a creative center of 4,000 students and researchers housed in a mid-20th century building focused on art, design, and industry.
Activities
A city by the sea, Gijon has much to offer when it comes to water-related activities. Sailing, scuba diving, boat trips, sightings of sea birds, dolphins, and other marine life are all common for visitors drawn to the sea. There is also an Aquarium for those looking to get a closer look at the sea-dwelling animals, with a hands-on experience included in the tour. If you are interested in Atlantic flora and vegetation, the Atlantic Botanical Garden offers a wide range of activities including workshops and the occasional concert. Workshops, parties, concerts, films can also be enjoyed during the International Film Festival of Gijon.
Then there are, of course, Gijon's many beaches which can make for days of fun in the sun. San Lorenzo Beach located on Gijon bay is probably one of the most popular-good for swimming and well-equipped with toilets, showers, sunshades, hammocks for renting, and a nautical club. Estano Beach is another good spot if you are looking to avoid the crowds. It has a small beach of sand and gravel and a natural pool for swimming. Others include Poniente beach, Arbeyal beach, and El Rinconin or Cervigon Beach.
Food and Dining
As a city on Spain's coastline, Gijon is a place where seafood and fish are common staples. The Spanish word for seafood is "Marisco," and some popular shellfish shellfish include "centollo" or spider crab, "necoras" or velvet crab, "percebes" or goose barnacles, and mussels. Pulpo a feira is another common seafood dish of octopus prepared with oil, salt, and hot paprika. Then there are empanadas-pies made with traditional dough, then filled with onion, pepper, and some meat, usually tuna, veal, or seafood. Gijon is also known for its sweet treats. With the largest number of baker's shops per capita in the country, the city boasts some of the best cakes, pastries, and chocolate to be found in Spain. The region as a whole is also renowned for its cider, or sidra in Spanish. Pair this with some Gijon cocktails, tapas (appetizers), and pinchos (small snacks), and you will find yourself tasting some of the city's best.
Transportation
Asturias Airport is located near Aviles and has easy access, about 30 minutes, by bus or car to and from Gijon. The airport has flights to and from London, Stansted, Amsterdam, Brussels, Lisbon, Milan and Rome, Basel, and Zurich, and various destinations in Germany. Within Spain there are flights to Madrid, Barcelona, Valencia, Malaga, Alicante, Palma de Mallorca, Sevilla, and the Canary Islands.
By train, one can travel to Gijon through the Spanish company RENFE.
By bus, the city can be reached via ASLA bus.
Travelers can also enter Gijon by car or by boat.
Related:
Looking for a party in
Barcelona
or
Madrid
?
Traveling alone to
Granada
or
Seville
?
Find a
Contiki tour
to Europe.
Train and Bus Prices
The best prices for buses and trains in Spain
can be found on Omio
(formerly
GoEuro
). They let you search across all train, bus, and plane routes throughout the region.