Lastres On a Budget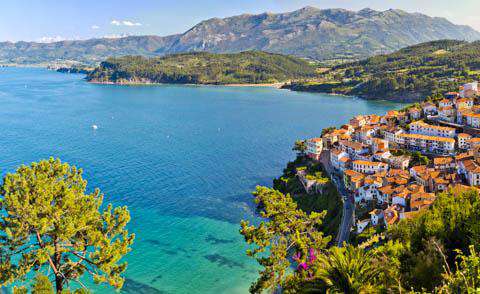 A city by the sea, Lastres (or Llastres) started out as a small fishing and whaling village accessible only by a dangerous path over cliffs. Today, it is still known as the "beautiful village of Asturias," with breathtaking views of the sea, streets full of historic charm, and a grand chain of mountains just inland. It is the perfect little getaway for someone wanting to bask in the beauty of nature with all the comforts of civilization at hand.
Sights
Declared a historical village, Llastres is a unique cliffside city of steep streets lined with palaces, fountains, churches, and chapels. The Santa María de Sabada Church, dating back to the 18th Century, is one of the village's draws-an artistic monument with decor including the altarpieces of the brothers Agustín and Michael Lopez Acevedo and an expressive Renaissance image of the crucifixion carved beautifully in wood. The Torre del Reloj (Tower of the Clock) is another landmark with four floors, perhaps the most emblematic monument of Llastres. And then there is the Palacio de los Vallados, a beautiful hotel that blends right in with the rest of the historic village.
For something a little different, there is also a Jurassic Museum of Asturias located near Llastres. The museum displays cover a period of 3,500 million years with over 20 dinosaur replicas and a rich collection of footprints and fossils found in the Asturian Jurassic coastline. If the history of the village's architecture just doesn't go far enough, this museum will take you way back to the prehistoric happenings of the region.
Neighborhoods
A typical fishermen's village, Llastres is nestled along the rocky Atlantic coast in Spain's Asturias region. About a 30-minute drive east of Gijon, the capital city of Asturias, Llastres has a population of around 1,000 inhabitants and a long-standing fishing tradition. From the San Roque lookout point, you'll get some stunning panoramic views of the town built on the cliffside, with the Sueve Mountains lumbering in the backdrop. The old town is filled with historic buildings from churches and palaces to the famous Clock Tower built on a 15th-century lookout spot. If you want to see some of the town's bustling culture today, visit the action of the fish auction at the fish market down by the docks. Asturias is a fairly rainy region, so the best months to see Llastres are from June to September when the weather is at its best.
Activities
Once you've explored the depths of the village and all that its charming streets have to offer, there are a handful of opportunities to stray just outside the city limits to get a little closer to nature. A beach like Playa Lastres, for example, is a good one for surfing, while the beach Playa la Griega also has some nice waves as well as a chance to see some dinosaur footprints.
On the other side of things, you could also venture up to the Mirador de San Roque, a viewing point and recreation area. From here you can get a spectacular sight of the Cantabrian Sea and the surrounding mountains of the region. Located at the top of the village, the Mirador de San Roque also has a recreation area, picnic tables, a scenic meadow, and a balcony with panoramic views of the village and its port.
Food and Dining
Located right along the coast, Llastres, like most of Asturias, is a place where seafood and fish are common staples. The Spanish word for seafood is "Marisco," and some popular shellfish shellfish include "centollo" or spider crab, "necoras" or velvet crab, "percebes" or goose barnacles, and mussels. Pulpo a feira is another common seafood dish of octopus prepared with oil, salt, and hot paprika. Then there are empanadas-pies made with traditional dough, then filled with onion, pepper, and some meat, usually tuna, veal, or seafood. Some other popular items include a kind of bean and sausage stew called fabada, a cordon bleu ham and cheese type dish called cachopo, plenty of cheeses, a rice pudding called arroz con leches, and an Asturian hard cider that has a reputation all over Spain. Some popular places to experience the nightlife include nightclubs like Azor and Xareu and a pub called Trabas.
Transportation
Asturias Airport, located in Aviles, is the nearest airport to Llastres. The airport has flights to and from London, Stansted, Amsterdam, Brussels, Lisbon, Milan and Rome, Basel, Zurich, and various destinations in Germany. Within Spain there are flights to Madrid, Barcelona, Valencia, Malaga, Alicante, Palma de Mallorca, Sevilla, and the Canary Islands.
From the airport to Llastres, it is about an hour's drive east along Route A-8.
Related:
Looking for a party in
Barcelona
or
Madrid
?
Traveling alone to
Granada
or
Seville
?
Find a
Contiki tour
to Europe.
Train and Bus Prices
The best prices for buses and trains in Spain
can be found on Omio
(formerly
GoEuro
). They let you search across all train, bus, and plane routes throughout the region.