Dover On a Budget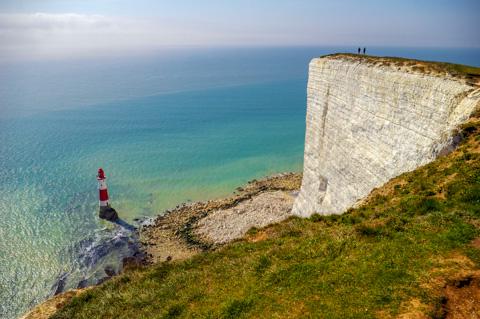 Dover is a major port town on the English Channel, and the closest port in the United Kingdom to the rest of continental Europe. It is best known for its white cliffs, pubs, and Roman history.
Sights
The White Cliffs of Dover have been an icon of Britain for centuries. The walks along these cliff tops are exhilarating with striking views of the English Channel below. Above these white cliffs is another icon of the area-Dover Castle. Representing 2,000 years of history, the castle grounds feature a Roman Lighthouse, the Great Tower of King Henry II, an underground hospital used during World War II, the tunnels where the Dunkirk evacuation was masterminded, and additional underground tunnels that served purposes of shelter, safety, and secrecy for the defense of Dover over many wars from Napoleonic times to the Cold War. The South Foreland Lighthouse is another landmark on these cliffs, the site of Faraday's work in pioneering the use of electricity in lighthouses, and the first to display an electrically powered signal.
Another unique remnant of the town's ancient history is the Roman Painted House. Built about AD 200, the structure served as a part of a villa or hotel for travelers. The ruins include painted murals, underfloor heating systems (known as hypocaust), and a massive fort wall built later for defense. There are also a number of museums worth a visit, such as St Margaret's Museum with changing displays on local history, and Dover Museum, which houses an award-winning Bronze Age Boat Gallery amongst other exhibits.
Neighborhoods
Dover's streets are lined with options for dining, shopping, entertainment, and overnight accommodations. Additional information on events, as well as city maps, can be found at the Dover Visitor Information Centre, located in the Dover Museum on Market Square. Around Dover, there are also a number of towns and villages worth visiting, some of which include Folkestone (6 miles), Deal (7 miles), Elham (8 miles), and Sandwich (10 miles). Each town has its own unique features-Folkestone has a coastal park and well-preserved maritime history, Deal also has a rich maritime past as well as a beautiful promenade and restored pier, Elham is known for its medieval church, Tudor houses, and rolling hills, and Sandwich is perhaps the most well-preserved medieval town in Britain also with Tudors and churches. Dover and these surrounding villages all have a variety of pubs, shops, and quality restaurants.
Activities
On a visit to Dover, one can spend time sightseeing, walking along the iconic white cliffs, visiting museums, discovering the region's ancient past, and more. One unique way to see the cliffs is to arrange a coastal tour on Dover Sea Safari's speed boat, the Dover Explorer. Highlights include cliff views, wildlife watching, and more leisurely yacht tours.
Visitors can also walk the scenic North Downs Way, a walking trail that follows the low hills running alongside the coast. It stretches about 246 kilometers (153 miles) from Farnham to Dover, past Guildford, Dorking, Merstham, Otford, and Rochester, along the Surrey Hills Area of Outstanding Natural Beauty (AONB) and Kent Downs AONB.
Another enjoyable activity is to take one of East Kent Railway's steam train rides. The journey offers an experience along a four-mile heritage railway running through some of Kent's beautiful countryside.
Food and Dining
Traditional fare of England consists of anything you might find in a British pub-fish and chips, bangers and mash (sausages and mashed potatoes), stews, soups, and just about any kind of meat pie you could ask for (often called pasties). A few additional specialties include black pudding (black sausage), steak and kidney pudding, pickled eggs, and plenty of coffee and tea shops. With England's imperial history, curry is also a very popular specialty in many British towns and cities, including Dover. Some of the best Indian cuisine in Dover can be found at the Curry Garden Restaurant. English pubs can be found just about everywhere (one of the most popular is the White Horse Inn), but there are also restaurants serving international fare like Italian or Chinese.
Transportation
For those traveling internationally, Gatwick Airport is the closest major airport, located almost 80 miles west of Dover. London City Airport is about the same distance. From the airports, travelers can take a car along the A2 and M2 to reach Dover, or arrange for a ride on the National Express coach service.
The town's proximity to continental Europe via the English Channel also makes international travel by ferry a popular option. Regular ferries run from Dover to Calais and Dunkirk in France.