Loch Lomond National Park On a Budget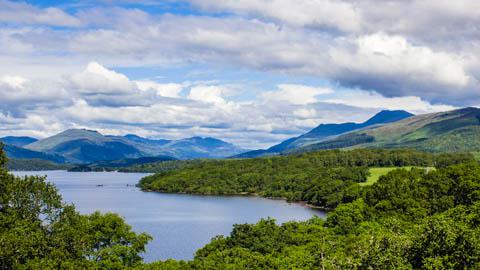 Loch Lomond and The Trossachs National Park lies just north west of Glasgow. It is the fourth largest national park within the British Isles and has a population of 15,600 people. The park is full of mountains, lochs, and wildlife. This park attracts active travelers that are interested in camping, hiking, exploring, and other outdoor sports. However, it can also be a very relaxing area as it offers quaint bed and breakfast accommodations tucked away in the woods.
Sights
Natural sights in this park are plentiful. Arguably the most beautiful summit in the park is The Cobbler, which is located in the Arrochar Alps. It is well known among rock climbers as well as hikers, but is also a picturesque site for those not intending to summit the peak. The Falls of Dochart cascade beneath a bridge in the town of Killin and surround the Islands of Inchubie. The visitor center in the park not only has a wide variety of maps and information, but also has a beautiful gate that leads into the park that is worth seeing. In the town of Inveruglas, there is a wonderful hike to Loch Sloy that offers superb views of Loch Long, Ben Arthur, Beinn Narnain, and Beinn Ime, which are some of the most beautiful peaks in the park.
Neighborhoods
The park is split into four regions: Breadalbane, Loch Lomond, The Trossachs, and Argyll Forest Park. The first, Breadalbane, is located at the northern tip and this is where the Falls of Dochart can be found. Loch Lomond is the body of water that the park is centered around. There are many villages and towns on the shores of the loch. Luss is one of them, and is a conservation village with 18th century cottages and incredible views from the main pier. The Trossachs region is on the eastern edge of the park, and consists of beautiful woodland glens. The Scottish writer Sir Walter Scott spent much of his time in this area, and wrote his famous poem The Lady of the Lake based on his inspiration from Loch Katrine.
Activities
Take a cruise on the SS Sir Walter Scott steamship on Loch Katrine, or cruise on Loch Lomond from multiple different water ports throughout the park. Outdoor sport is very popular in the park; from walking, to cycling, to horse riding, this park has it all. Watersports are also great activities at Loch Lomond seeing as there are many lakes all around the park. You'll find opportunities to water ski, wakeboard, kayak, and even zorb! For those who don't know, zorbing is an activity where you climb inside a giant inflatable ball with a small amount of water in it and roll down a hill.
The Loch Lomond shores in Balloch have many activities. Here you can head to the Bird of Prey Centre, which is located in woodland and inhabits over 30 different birds of prey and owls. You can also visit the Sea Life Centre that has over 1500 marine creatures. If you book tickets online, you can save 30%. There is a ropes course here too, which is a great activity for all you thrill seekers. If you are visiting the Loch Lomond Shores during spring/summer months, there are many markets, festivals, craft fairs, and fairground attractions happening in the area.
Food and Dining
Scotland is known for a particular item included in their traditional full Scottish breakfast. The item is called black pudding, and essentially it is pig's blood sausage. Haggis is another unique Scottish food that you will find in Loch Lomond National Park. It is minced sheep's offal with oatmeal and seasoning. There are many other foods to try if you (or your stomach) aren't feeling adventurous enough to try the foods previously described. In Loch Lomond you can find traditional UK fish and chips and many other meat and vegetable dishes. Salmon is also a famous cuisine in all of Scotland.
Transportation
You can reach Loch Lomond via public transportation from Glasgow, Argyll, and central Scotland. There are trains, busses, and ferries that can transport you to and throughout the national park as well. The Taveline Scotland website has timetables as well as tickets available to purchase. There are also water taxis and water buses that travel around Loch Lomond. The water taxis are an on demand service, and the waterbuses run on more of a set schedule. The water taxi is best for large groups wanting to explore as much as possible. The water bus is more practical for those traveling alone or in small groups, and has more affordable prices.
Related:
Traveling
alone to London
or
Edinburgh
?
Looking for a party and need a
hostel in London
?
Find a
Contiki tour
to Europe.