Snowdonia National Park On a Budget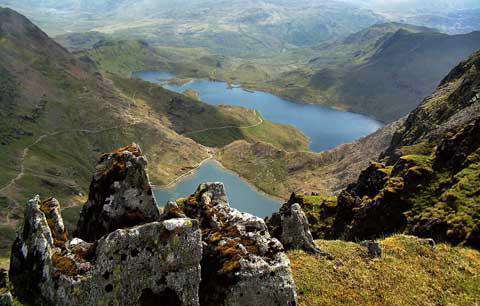 Snowdonia National Park is in North West Wales and is known for its outstanding natural beauty. Mount Snowdon is located in the park, which is the highest peak in all of Wales. There are many campsites and hiking trails, as well as traditional Welsh pubs and shops. English is one of the languages spoken in Snowdonia, however 75% of the population, which is 121,000, speaks Welsh.
Sights
Most sights in Snowdonia are natural ones, whether it is a mountain, lake, beach, or waterfall. These sites can really be seen anywhere, even just driving through the national park. One of the peaks worth visiting is Mount Snowdon. It is 1,085 meters above sea level, which is about 3,500 feet, making it the tallest peak in Wales. It is a gorgeous hike, with several different routes that can be taken. Even in the summer months, though, the weather can be unpredictable so be sure to plan accordingly. If you are not up for the hiking challenge, there is a passenger train that leads up to the summit of the peak. Although only operating during the summer season, this railway experience is truly incredible. On a clear day, views of the Irish Sea with Ireland on the horizon can be seen.
Snowdonia has many ancient castles still standing that are beautiful sights to see. Dolbadarn Castle is located in the northwest and looks out above Llyn Padarn in Llanberis, which is a glacially formed lake. The Prince of Gwynedd built the castle in 1230. Castell y Bere is another castle in the park that has many of its features still intact. It was also built in the 13th century and is located in Southern Snowdonia. Lastly, Harlech Castle is a breathtaking sight that has even been designated a World Heritage Site by UNESCO. The castle still stands in good shape despite being built in 1289. This castle is located in Western Snowdonia.
Neighborhoods
There are six main regions of Snowdonia. Each has something different to offer as far as activities, sights, accommodation, and dining. The first region is Bangor, Caernarfon and Llanberis. This is the region that Mt. Snowdon is in and lies in the northwest corner of the park. For those planning to hike the peak, there is a wonderful hostel just at the foot of the trailhead at Pen-Y-Pas that is very affordable. Conwy Valley and Hiraethog is another region in Snowdonia. There is a golf course, ropes course, and a beautiful river that runs through this area. There is also a Prince of Gwynedd historic tour offered in this region. Accommodations here range from tiny traditional villages to beautiful by-the-sea resorts. Southern Snowdonia is more green and hilly compared to the rough and rugged mountains found in other regions of the area. This area is known for world class mountain biking. Cardigan Bay is a region where the mountains meet the sea. There is a scenic railway along the Cambrian coast that is perfect for a leisurely day out. Criccieth, Porthmadog and Vale of Ffestiniog have historical harbor towns. Again, this is a region where the mountains and the sea collide. Lastly, Llyn Peninsula is situated on the Irish Sea and has some Celtic heritage. This is a region where Welsh culture is very apparent as the locals speak the Welsh language. The peninsula is a protected "Area of Outstanding Natural Beauty" under the National Parks and Access to the Countryside Act of 1949.
Activities
Most activities in Snowdonia National Park are outdoors. This park is known for hiking, biking, cycling, fishing, sailing, and much more. If you have the time, there is a 28-mile walk in Southern Snowdonia. It is called the Mary Jones Walk and it takes you through the countryside, woodlands and mountain meadows while surrounded by water and peaks. During summer months, stand up paddle boarding is a great activity. This can be done on the sea or on inland bodies of water in many places around Snowdonia. Dinas Dinlle and Llyn Padarn are two places that definitely offer paddle boarding.
There are also many events and festivals happening throughout the year. There are sailing competitions that are open to the public, music and food festivals, sandcastle building competitions, hiking excursions, and more. The official website for the national park has all the information on these events and festivals.
Food and Dining
There is an abundance of fresh food in Snowdonia. Wales is traditionally known for its simplistic, organic, and wholesome cuisine. Lamb, fish, mussels, and cheese are all notable foods to try while in Snowdonia. There is a wonderful restaurant in Porthmadog called Yr Hen Fecws that has fresh food options similar to the descriptions above as well as a cozy atmosphere.
Transportation
Trains travel to the Snowdonia region from most places throughout the UK. Once inside the park, the Conwy Valley Line runs from the Betws y Coed area all the way to Blaenau Ffestiniog. The Cambrian Coast Line travels along the coast of Snowdonia. The train service in Wales is called Arriva Trains Wales and tickets can be purchased on their website.
Traveling by car is another option within Snowdonia if you plan on renting. Snowdonia is easily accessed by major motorways, no matter which direction you are coming from. You can also catch a bus to Snowdonia from London, Chester, or Manchester.
Once in the park, the Snowdon Sherpa is a public transportation option that can take you to the sights and activities that Snowdonia offers. Purchasing the "Explore North and Mid Wales" pass gets you unlimited train travel for four days, and unlimited bus travel for eight days throughout Snowdonia. This pass costs £66.00, so only purchase this for long stays in Snowdonia where you will need to utilize the public transportation system frequently.
Related:
Traveling
alone to London
or
Edinburgh
?
Looking for a party and need a
hostel in London
?
Find a
Contiki tour
to Europe.
Train and Bus Prices
The best prices for buses and trains in United Kingdom
can be found on Omio
(formerly
GoEuro
). They let you search across all train, bus, and plane routes throughout the region.