Windsor On a Budget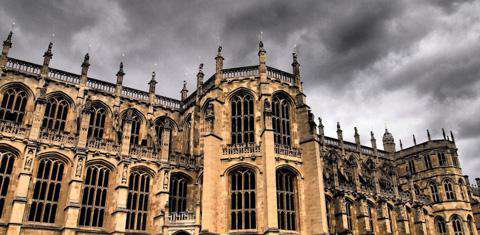 Windsor is a small town in Berkshire, England most famous for Windsor Castle, which is the largest and oldest occupied castle in the world. The town rests along the River Thames, across which lies Windsor's twin town of Eton, known for Eton College. Together, the two make up a quaint tourist destination that is largely pedestrianized, making for a walkable, car-free holiday.
Sights
Built in the 11th century, Windsor Castle is a famed royal residence and top tourist attraction of Windsor. Occupying 13 acres, it is the largest inhabited castle in the world. Attracting hundreds of thousands of tourists each year, much of the castle is open to visitation, including the extravagant State Apartments and the medieval Gothic St George's Chapel. The apartments are furnished with some of the finest works of art from the royal collection, including paintings by Rembrandt, Rubens, Canaletto, Gainsborough, and others. Another popular feature of the Castle is the Changing of the Guard ceremony, which occurs almost daily (see website for schedule) at 11 am. The ceremony is free to attend and visitors can watch as the guards stationed at the Victoria Barracks march up to and from the Castle accompanied by the guard's band playing traditional military marches. Other landmarks of Windsor include Guildhall (built by Sir Christopher Wren) and Windsor Parish Church, which are both located on High Street.
Eton, across the River Thames, has a few attractions of its own. Eton College is the best-known, with a school-yard and chapel and Gothic architecture that dates to the 15th century. Also well-visited is Brocas Meadows, just across Windsor Bridge, which offers stunning views of Windsor and its castle from across the river.
Neighborhoods
Windsor is considered to be a twin town with Eton, which is located just over the River Thames. Eton is the smaller of the two, though both are small enough to navigate on foot. It is actually easier and quicker to walk between Windsor and Eton rather than drive because the twin towns are connected by Windsor Bridge, which is pedestrianized. For driving between the two towns, travelers must take the Windsor bypass to cross the river. Several other streets are also pedestrianized, such as Peascod Street. This street and the roads that branch out around it make up the main shopping area in town with plenty of options for dining as well. Many locals frequent the cafes at the bottom end of Peascod Street. The general area is the prime location for shopping, dining, and winding down from a long day with some drinking and socializing.
Activities
Windsor has plenty of options for sightseeing, many of which involve guided tours of Windsor Castle or a variety of boat tours along the river. There is also a hop-on, hop-off bus service that stops at Windsor Castle, Victoria Barracks, The Long Walk (leads up to the castle), and Eton College. Additional options for entertainment can be had throughout the year at the Royal Windsor Racecourse and the Theatre Royale.
The town is also famed to be on one end of the Three Castles Path, which stretches 50 miles from Windsor to Winchester. The walk is inspired by the journeys of King John between the two towns via the castle he built at Odiham at the time of Magna Carta. It passes through beautiful scenery, including heath, forest, parkland, picturesque villages, and trickling streams.
Food and Dining
Traditional fare of England consists of anything you might find in a British pub-fish and chips, bangers and mash (sausages and mashed potatoes), stews, soups, and just about any kind of meat pie you could ask for (often called pasties). A few additional specialties include black pudding (black sausage), steak and kidney pudding, pickled eggs, and plenty of coffee and tea shops. With England's imperial history, curry is also a very popular specialty in many British towns and cities, including Windsor. English pubs can be found just about everywhere, but there are also plenty of restaurants serving Asian, Indian, Italian, American, and more.
Transportation
Windsor is served by the airports of London, most conveniently Heathrow Airport, which is about an 8-mile drive along the M4 (westbound) motorway. Heathrow is also connected to Windsor via bus routes. The next closest London airport is Gatwick Airport, followed by Stansted Airport. From these airports there is no direct public transportation to Windsor, so visitors must take a train or bus from London, or alternatively hire or rent a car. Windsor is about an hour from Heathrow and 90 minutes from Gatwick.
Train and Bus Prices
The best prices for buses and trains in United Kingdom
can be found on Omio
(formerly
GoEuro
). They let you search across all train, bus, and plane routes throughout the region.