Berkshires On a Budget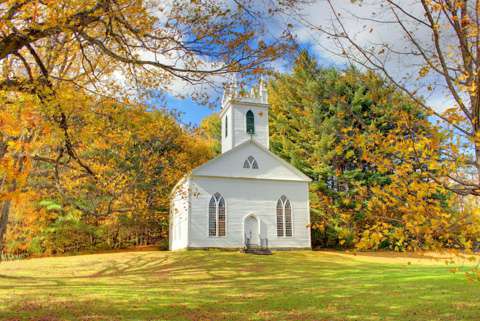 The Berkshires are a popular highland destination in the western part of Massachusetts and northwest Connecticut. The region has scenic landscape, hiking, lakes, recreational opportunities and other outdoor experiences. The Berkshires also has an impressive cultural scene with music, arts, museums, and live theaters.
The Berkshires can be a bit expensive to visit if you stay at a luxury resort and take advantage of the award winning restaurants in the area. Alternatively, the experience can be equally rewarding by camping, picnicking, and spending your time hiking and enjoying the beautiful natural setting.
Sights
There are a wide range of sights spread throughout the Berkshires - from the natural beauty to the cultural highlights, there really is something for everyone.
Tanglewood
- Tanglewood is an open-air music venue where you can enjoy the Boston Symphony Orchestra during the summer months.
Jacob's Pillow
- Jacob's Pillow is a famous dance training center that hosts a popular international dance festival and a range of other performances.
Monument Mountain
- Monument Mountain is found in the town of Great Barrington and offers impressive hikes and breathtaking views of the area.
Mount Greylock
- The highest point in Massachusetts- Mount Greylock is found in the town of Adams. It offers a variety of activities including hiking, camping, hunting, skiing, and more.
Clark Art Institute
- The Clark Art Institute displays a range of European and American works from the Renaissance to the early 20th century.
The Mount
- The former home of Edith Wharton, this estate in Lenox has a 42 room house and formal gardens that are large and impressively maintained.
Pleasant Valley Wildlife Sanctuary
- Also in the town of Lenox, the Pleasant Valley Wildlife Sanctuary covers 1,211 acres and 7 miles of trails. It's maintained by the Massachusetts Audubon Society.
Jiminy Peak Mountain Resort
- This popular resort offers a number of winter sports including skiing and snowshoeing. During the warmer months you can enjoy hiking, mountain views, and more.
Herman Melville Arrowhead Museum
- The former home of Herman Melville, this property is now a museum with a farm and nature trails in the town of Pittsfield..
Ramblewild Adventure Park
- This treetop adventure course offers something for adventurous spirits, from beginners to the experienced. There are ropes courses, zip lines, swings, and bridges.
Massachusetts Museum of Contemporary Art
- The Massachusetts Museum of Contemporary Art is in North Adams and has exhibits that include sculptures, paintings, photography and more. They also host more than 75 performances a year.
Norman Rockwell Museum
- In the town of Stockbridge, this Norman Rockwell Museum educates visitors on the life of this famous American artist.
Activities
The Berkshires offers a diversity of activities for visitors. During the winter months there is skiing, snowshoeing, festivals, and a number of holiday events. During the warmer seasons, hiking, swimming, adventure parks, festivals, and more are all popular.
Towns
The Berkshires has a number of towns that each offer their own personality and character. Below is a description of a few.
Lenox
- Lenox is one of the most popular towns to visit in the area. It's small and charming with a quaint downtown that's perfect for walks. There's historic New England architecture, local restaurants, spas, and art venues. There's also a number of hikes in the area.
Stockbridge
- Stockbridge is another charming town in a central part of the Berkshires. The downtown is a bit smaller than Lenox and there are just a handful of restaurants to choose from, but there are nice trails along the Housatonic River. This town is known for its cultural sights including the Berkshire Theater Group, which is popular for its plays and musicals. Hiking and skiing are popular in the area as well.
Pittsfield
- Pittsfield is the largest city in the Berkshires, but it still has plenty of charm and character. Pittsfield is known as the "city of festivals" and it really comes to life during the summer months when there always seems to be something going on. There's a city baseball team, a lot of parks, and plenty of activities to enjoy. There are also some excellent restaurants in town.
Great Barrington
- Great Barrington has one of the larger downtowns in the Berkshires. There are plenty of restaurants, shops and activities. You can wander through the town's art galleries and pop into a number of charming stores. There are also a number of great hikes, natural swimming spots, and skiing options in the area.
Williamstown
- Williamstown is a charming college town in the northern part of the Berkshires. It's a great spot to escape for a romantic week or weekend. There's plenty of hiking and museums in the area, as well as the prestigious Williams College, which has some great galleries and museums. In particular, visitors enjoy the Williams College Museum of Art and the Clark Museum, which is just outside of the downtown area.
There are a number of great hiking areas near town as well. Just outside of town is Mt. Greylock, which is the highest peak in Massachusetts. Also nearby are the Taconic Trail State Park, Field Farm, and Bullock Forest.
Lee
- Lee has a historic downtown and a laid back down-to-earth vibe that visitors love. The downtown has a number of historic buildings including the Congregational Church, the Lee Library, and the Civil War Memorial Hall. There are also a number of Victorian homes in the area.
Outside of the downtown area, visitors enjoy shopping at the nearby outlet mall. There are also a number of restaurants in the area. Laurel Lake is another fun place to hang out and it offers a quintessential mountain experience.
North Adams
- North Adams is home to a number of historic churches, giving it a charming skyline. The area is filled with forests, parks, and beautiful landscapes.
Food and Dining
The Berkshires offers everything from award winning restaurants with fine dining and five star settings, to local cafes that serve up local specialties at a more casual pace. Family friendly restaurants that serve pizza, hamburgers, and other kid friendly classics are all common, as are more upscale settings that provide a more romantic experience.
Transportation
The Berkshires is a predominantly rural area with a series of towns. Most of the towns are pedestrian friendly, but to fully experience and enjoy the Berkshires you really do need to have a car.