Martha's Vineyard On a Budget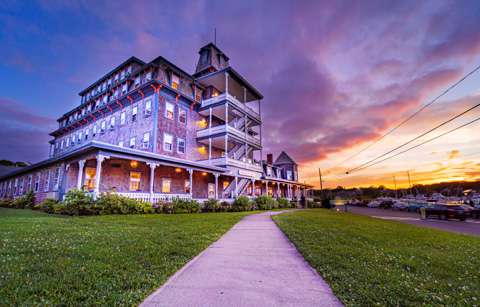 Martha's Vineyard is a famous destination for CEO's, celebrities, and executives. It's an island that's just 8 miles from the Cape Cod peninsula and it is a popular place to "summer" for many recognizable people. Martha's Vineyard has become so popular among the stars, that it's no longer surprising to see a celebrity hanging around.
For those who are less famous, Martha's Vineyard can actually be visited on a budget. Bikes are a great way to get around and there are casual restaurants that won't break the bank. Free entertainment is plentiful as well - just head to the beach!
Sights
Martha's Vineyard has a number of sights worth checking out. The area is filled with history and natural beauty, so it's easy to find places to visit. Popular lighthouses in the area include Cape Poge Lighthouse, Gay Head Lighthouse, East Chop Lighthouse, Edgartown Lighthouse, and West Chop Lighthouse. Another beautiful spot is the Gay Head cliffs at Aquinnah. Head there for an impressive sunset.
Martha's Vineyard also has no shortage of great beaches. Some of the most popular are South Beach (a public beach with great surf), State Beach (a calm public beach that's great for kids) , Aquinnah Beach (beautiful cliffs), Lucy Vincent Beach (a private beach that allows nudity), Oak Bluffs State Beach (a sandy beach that's great for families and popular for kite flying), Long Point Wildlife Refuge (strong currents but has a pond that's great for kids), Joseph Sylvia State Beach (public beach that's great for families).
Towns
There are six towns on Martha's Vineyard - Aquinnah, Chilmark, Edgartown, Oak Bluffs, Tisbury, and West Tisbury.
Activities
There are a wide variety of activities that you can enjoy on Martha's Vineyard. Charter fishing is a favorite for many visitors and there are a number of companies that offer fishing trips. Kids often enjoy horseback riding, which is a popular activity in West Tisbury. Martha's Vineyard is also famous for its world class art galleries and shopping options. For golfing check out Farm Neck Golf Course or Mink Meadows Golf Course. Biking and hiking are also popular activities around Martha's Vineyard.
Food and Dining
As a destination for the rich and famous, you can expect plenty of restaurants that offer a fine dining experience that is world class. For those on a more casual budget, there are also informal restaurants with menus that are respectable and slightly more reasonably priced. During the summer months all restaurants are open on the island, but as the slow season approaches, you'll find more and more restaurants closing during the season. February is the quietest month on Martha's Vineyard, and this is when the most restaurants close their doors.
Transportation
Ferries run year round to Martha's Vineyard from Woods Hole Massachusetts, arriving at either Vineyard Haven or Oak Bluffs. There are also seasonal services between several other New England ports as well as New York City.
Once on the island there are buses that travel throughout the island. Fares are about $1 for a ride for each town you pass through.
Visitors also enjoy renting bikes or mopeds. There are bike paths throughout the island.