Cape Cod On a Budget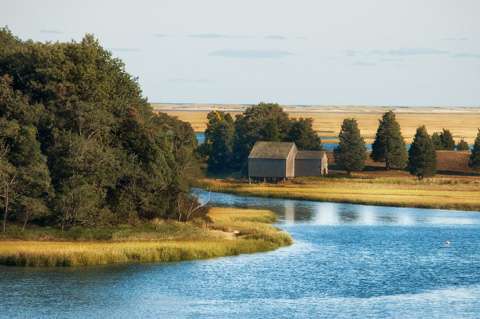 Cape Cod, in eastern Massachusetts, is a popular travel destination for its natural beauty, rich history, and world renowned restaurants. Many visitors enjoy the bed and breakfasts that are so common in the area, but travelers on a budget may find their money goes a bit farther if that find a short term rental property a bit removed from the water.
This peninsula draws a crowd, particularly during the summer months when it enjoys cooler temperatures than most nearby areas. It's not uncommon for the area's population to swell to three times its year round population between June and August.
Sights
With its rich history, Cape Cod has a wide diversity of sights to enjoy. The area is known for its lighthouses, with some of the most famous being Nobska Light in Woods Hole, Sandy Neck Light, in Barnstable, Lewis Bay Light in Hyannis Harbor, Hardings and Chatham Light in Chathan, Nauset Light in Eastham, Cape Cod Light in Truro, and Race POint, Wood End, and Long Point Light in Provincetown.
The Historic English Weeping Beech Tree is said to have been gifted by the British Governor in 1776.
Natural beauty is also plentiful in the area. The Cape Cod National Seashore is where you'll find many beautiful beaches, sand dunes, and hiking trails and the Bass River is a popular place for water sports.
Towns
Most people divide Cape Cod into four regions - the Upper Cape, the Mid Cape, the Lower Cape, and the Outer Cape. In the past, the Outer Cape was included with the Lower Cape. There are 15 towns on Cape Cod.
The Upper Cape includes four - Bourne, Sandwich, Falmouth, and Mashpee. The three towns of the Mid Cape are Barnstable, Yarmouth, and Dennis. The Lower Cape includes Brewster, Harwich, Chatham, and Orleans, and the Outer Cape includes Eastham, Wellfleet, Truro, and Provincetown.
Activities
There really is no shortage of activities to enjoy in Cape Cod, and there really is something for everyone. With its miles of coastline, there are plenty of great swimming spots. Bikers appreciate the wide variety of trails in the area, and anybody interest in water sports can enjoy kayaking, fishing, and more.
If you want to enjoy something a little more subdued, there are plenty of antique shops and art galleries in the area. Golfing is also a popular activity, as is whale watching and tennis.
Food and Dining
Dining is an activity in itself in Cape Cod. There are countless local restaurants that serve seafood or other specialties. Head to a "clam shack" to enjoy some freshly caught lobster, clams, fish, and mussels. Another favorite of the area is New England clam chowder.
Restaurant prices can be a bit steep in Cape Cod, but the food is reliably good. Don't forget to tip the expected 15% to 20% on top of your bill.
Transportation
Most people prefer to explore Cape Cod by car. There are also taxis available, but you can expect to pay a high price for any taxi ride.
For sightseeing, a popular activity is the 2.5 hour Cape Cod Central Railroad tour that travels from Hyannis to the Cape Cod Canal. To make the trip extra special, you can enjoy a dinner or weekend brunch tour.