Chattanooga On a Budget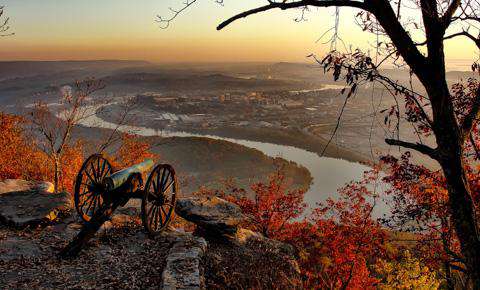 Located on the Tennessee River near the border of the U.S. state of Georgia, Chattanooga is Tennessee's fourth largest city and a major transportation hub. The city has received national recognition for the renaissance of its once dilapidated downtown and redevelopment of its riverfront, including the restoration of the historic Walnut Street Bridge.
Sights
First built in 1890, Walnut Street Bridge is more than a century old. Following its restoration, the bridge has become a landmark for Chattanooga. Not only is it the oldest and largest surviving truss bridge in the southern United States, but it is also one of the world's longest pedestrian bridges. Another iconic attraction of Chattanooga is Lookout Mountain. Located on the mountain is Rock City, which features a 4100-foot walking trail, a 90-foot waterfall, a 180-foot long suspension bridge, and Lover's Leap where visitors can "see seven states." Another special attraction to Lookout Mountain is Ruby Falls, actually falling within the mountain with a 145-foot drop. There is an elevator ride down into the caverns of the falls with cave tours available. The Incline Railway shuttles passengers up a steep incline to the top of the mountain for spectacular views of the valley and river below.
The city also features a good number of parks, museums, and other attractions. The Tennessee Aquarium, for example, showcases a variety of aquatic life with two main buildings: "Ocean Journey" and "River Journey." There is also a Chattanooga Zoo and a variety of popular museums, including the Hunter Museums of American Art, the Creative Discovery Museum, and the Tennessee Valley Railroad Museum. As far as parks go, Coolidge Park is a central green space for the city, featuring a beautifully restored carousel, a pavilion, an interactive play fountain, and plenty of open space where the Navy and Marine Reserve Center once stood.
Neighborhoods
Downtown Chattanooga is a hub for tourists, and all of the downtown attractions, hotels, restaurants, shopping venues, and convention center are conveniently connected by a free, electric shuttle operated by the Chattanooga Area Regional Transportation Authority (CARTA). Alternatively, visitors can also use a bike share program to navigate downtown. Walnut Street Bridge connects the downtown with the now thriving Northshore District. Located on the north shore of the Tennessee River, the Northshore District has grown and developed to become a Chattanooga focal point with Coolidge Park as one of the city's most popular green spaces and Frazier Avenue serving as the main street of this area. The Southside District is still being developed and offers some off-the-beaten path markets and galleries, while St. Elmo District offers a quaint, historic hub at the foot of Lookout Mountain with a walkable residential area featuring several small boutique shops and restaurants.
Activities
There are plenty of activities for visitors both in and on the outskirts of the city, from the bustling downtown hub of the city below to the nature excursions on Lookout Mountain above. There is even a climbing wall in Coolidge Park where visitors can climb on one of the limestone towers that supports the Walnut Street Bridge. Pedestrians can also enjoy the riverfront along the Tennessee River Walk, a 10-mile path that stretches from Ross's Landing in the heart of downtown Chattanooga to the Tennessee Riverpark and the Chickamauga Dam. There are plenty of opportunities along the path for picnicking and enjoying the greenery. Other activities include riverboat rides, walking tours, golf, shopping, theatre-going, festivals, and sporting events.
Food and Dining
Barbeque is common throughout the southern United States, and Tennessee has many varieties of it depending on where you are in the state. Visitors will likely be able to find all kinds of barbeque in Chattanooga though it typically consists of a grilled or smoked meat (pork is a favorite) served in a thick and sweet sauce. BBQ ribs and pulled pork sandwiches topped with slaw are common and the sauce is usually some combination of thick and sweet and tangy with a zip. Other examples of Southern home cooking that can likely be found in Chattanooga include fried chicken, catfish, country ham, buttermilk biscuits and gravy, cornbread, fried pickles, and banana pudding. Often classified as Soul food, these dishes and other favorites like po'boy, hush puppies, and mac and cheese are widespread in the southern United States. As a major city, Chattanooga also has a plethora of restaurants serving international fare as well, from Japanese, Chinese, and Korean, to Mediterranean, Italian, and Mexican.
Transportation
The nearest hub for air service is Chattanooga Metropolitan Airport, located east of downtown Chattanooga. It is mainly serviced by American Eagle, Delta Connection Carriers, and Allegiant Air with non-stop flights available between Chattanooga and the following cities: Atlanta, GA; Charlotte, NC; Chicago, IL; Dallas, TX; Detroit, MI; Orlando, FL; Tampa Bay, FL; and Washington, D.C. Transportation to local hotels from the airport can be easily arranged.
By car, use highways I-75, I-24, or I-59. Long distance buses that serve Chattanooga include Greyhound and Megabus. The city is also accessible via the Tennessee River by personal water craft.