Gatlinburg On a Budget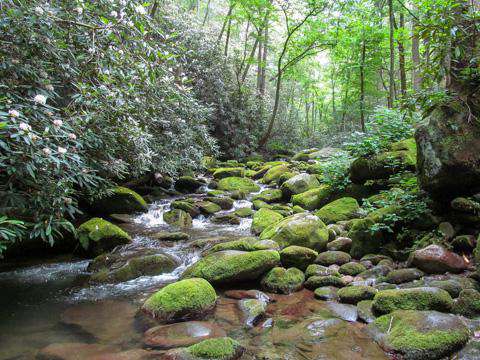 Located in eastern Tennessee, Gatlinburg is a gateway to the Great Smoky Mountains National Park, and for many it is a destination in and of itself. It's anything but natural, and most of its entertainment is centered around amusement park rides and gimmicky sights. You'll find no shortage of cheap hotels and restaurant options, many of which are the typical chains you would find in most tourist towns. It is a convenient town to pick up any necessities you may have forgotten before your visit to the nearby national park.
Gatlinburg's climate is hot in the summer and cool in the winter. Summer highs are typically in the mid 80s Fahrenheit and winter highs are in the high 40s to low 50s Fahrenheit. Rain is spread consistently throughout the year and several inches of snow can be expected every winter.
Sights
The main sights in town are designed for those hoping to escape the nearby natural setting. Many attractions can be considered tacky or gimmicky, but that doesn't seem to reduce the appeal for many visitors. There are many stores in the downtown area and several have attached museums. Cooter's Place is a Dukes of Hazzard store and museum. There is also the Guinness World Records Museum, the Hollywood Star Cars Museum, and Ripley's Believe It or Not Museum, among others. A favorite attraction in the area is the Gatlinburg Sky Life, which offers excellent views of the the area. The Gatlinburg Space Needle also has an observation tower and arcade. If you're looking for something a little different, you can head to the Smoky Mountain Winery, which has complimentary tours and wine tasting.
For even more ideas, read
this amazing article about things to do in the Smoky Mountains
which has information about the national park areas, hiking, and activities for every season.
Neighborhoods
Gatlinburg covers just over ten square miles in total. There is a downtown area which is where you'll find most of the tourist attractions, restaurants, and entertainment. This area is easily walkable, but there is also a trolley that travels throughout. Many of the city's popular resorts are within walking distance to the downtown. The city is surrounded by mountains. Le Conte and Sugarland Mountain are to the south, Cove Mountain is to the west, Big Ridge is to the northeast and Grapeyard Ridge is to the east.
Most hotels in the area are chains and are reasonably priced and a decent quality. You aren't likely to find anything particularly special, but you can easily find a good deal if you decide to stay in town.
Activities
Many visitors to Gatlinburg choose to spend their time in the nearby Great Smoky Mountains National Park. There are many hikes in the area, including part of the famed Appalachian Trail. If hiking is not your thing, then Gatlinburg has no shortage of other activities including amusement park rides, water parks, and arcades.
Ober Gatlinburg is a popular place to visit with an aerial tramway, alpine slide, a bear habitat, and a ski resort.
Cades Cove
(in the park) is another interesting place to spend some time. It's about 45 minutes from the town and you can see wildlife that is native to the area.
The town has plenty of festivals year around. Some of the more interesting ones include the Spring Wildflower Pilgrimage, the Gatlinburg Scottish Festival & Games, Gatlinburg Heritage Days, the Great Smoky Arts & Crafts Holiday Show, and the Great Smoky Arts & Crafts Christmas Show.
Food and Dining
There are plenty of budget and mid-range restaurants around town. Most serve the typical American fare including steaks, burgers, and sandwiches. There are plenty of chain restaurants around town which offer predictable food and quality. There are also a handful of locally owned places, some with an interesting atmosphere and high quality dishes. For breakfast you'll find a handful of diners and cafes which offer anything from omelets to pancakes or sausage. In the evening there are some bars that stay open late and can sell you cheap beer with a lively atmosphere.
Transportation
You generally must have a car to explore Gatlinburg and the surrounding area, but there is a trolley that can transport tourists to many of the sights in the immediate downtown area. During the peak season, particularly at the height of the summer months, traffic in the area can become very congested. Both in town and headed in the direction of the
Great Smoky Mountains National Park
, you can expect delays during peak times.
Related
Looking for a
party hostel in Hawaii
or
Miami
? Traveling alone to
LA
or
New Orleans
? Want a budget hostel in
NYC
?