Cleveland On a Budget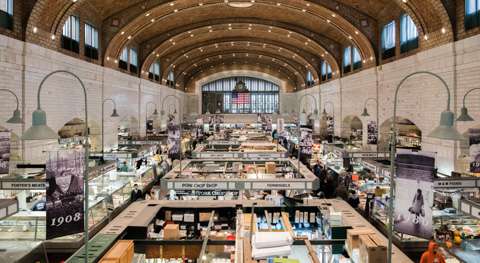 Located on the shores of Lake Erie of the Great Lakes, Cleveland is the second largest city in the U.S. state of Ohio. As a culturally diverse and thriving metropolitan area, the city is host to a vast range of sights and activities, such as world-class museums, cultural events, professional sports, and golf courses as well as plenty of dining, shopping, and entertainment opportunities.
Sights
Having boomed throughout the Industrial Revolution, Cleveland has a proud manufacturing history that is largely represented in a concentration of historical landmarks located in University Circle near the Downtown. One of the attractions here includes the Western Reserve Historical Society where two 20th-century mansions exhibit Cleveland's history as well as the Crawford Auto-Aviation Museum and an extensive Cleveland historical research library. The area is also host to the Cleveland Museum of Art, Cleveland Museum of Natural History, Cleveland Cultural Gardens (in Rockefeller Park), Cleveland Botanical Garden, and Lake View Cemetery where many famous people are buried, such as President James A. Garfield and John D. Rockefeller.
Cleveland is also nicknamed the "Rock n Roll Capital" due to the Rock and Roll Hall of Fame, located Downtown. This museum is a must-see for visitors and locals alike, archiving the history of the best-known and most influential artists, producers, and other notable figures in rock and roll. Another of Cleveland's nicknames is the "Forest City" because of it parks and forested areas. The largest of these areas within the city is Rockefeller Park, which features the Cultural Gardens, a greenhouse, a seven-mile stream, and landmark late 19th-century bridges.
Neighborhoods
The three main districts of Cleveland are Downtown, East Side, and West Side.
Downtown Cleveland
hugs Lake Erie near the mouth of the Cuyahoga River. It is further divided into individual neighborhoods and Cleveland State University, and is the most convenient location for accommodations during a visit due to its central location and proximity to plenty of dining, shopping, and entertainment.
East Side
indicates the portion of the city that lies to the east of the river, while
West Side
indicates the portion to the right of the river. Both are broken down into an assortment of individual neighborhoods. East Side is known for its cultural and arts complex, while West Side is home to the airport and West Side market. While most of Cleveland's neighborhoods are walkable with plenty of restaurants, shopping, galleries, and cafes a few worthy of note include
Tremont
for its art scene of galleries, theatres, and cafes,
Ohio City
for its microbreweries, eclectic shops, and cafes, and
Coventry Village
for its metropolitan experience of locally-sourced food, antique shops, and retail locations.
Activities
Aside from its parks and historical heritage, Cleveland also puts on a number of cultural events, big and small, throughout the year-especially in the arts districts. Entertainment ranges from theatre, dance, and music to gallery showings, exhibits, and much more. Another unique experience is the West Side Market, where visitors can buy artisan goods, fresh produce, baked goods, and prepared food. This is just one of many smaller varieties of markets throughout the city. Movie fans also make it a point to visit the Christmas Story House in the Tremont neighborhood, which has been restored to an accurate portrayal of the house in the movie, both inside and out.
Other activities include a packed schedule of professional sporting events, the most golf courses per capita in the United States, and a plethora of lake activities including boating, sailing, fishing, swimming, and a full range of water sports. Just outside the Cleveland area there are also miles of trails for hiking, biking, and horseback riding in what is known as the Emerald Necklace, boosting Cleveland's "Forest City" status.
Food and Dining
Being a major American city, Cleveland has just about any kind of food one could ask for, from major well-known restaurant and fast food chains to specialty international options like Chinese, Japanese, Thai, Italian, Mexican, Indian, Mediterranean and many more. There are also a number of vibrant markets with ethnic food options, as well as world-class restaurants, especially in the Downtown area. Other neighborhoods with premiere dining opportunities include the Historic Warehouse District, the Flats, Ohio City, Tremont, the Gateway Neighborhood, and along the Restaurant Row in the East Side suburbs. Italian-American bakeries are also abundant throughout the city, serving sweet handmade pastries and donuts, but a Cleveland specialty is the Cleveland-style Cassata Cake made with strawberries and rich custard. Another local favorite is the Polish Boy or Po' Boy, which consists of kielbasa and sauerkraut on a hot dog bun typically topped with hot sauce and served with french fries.
Transportation
The city is served by Cleveland Hopkins International Airport, located about 13 miles southwest of Downtown. Easy transportation between the airport and Downtown Cleveland is available via the RTA Red Line Rapid Transit for just a few dollars. The next nearest airport is Akron-Canton Airport, located 50 miles south of Cleveland in Akron.
Many visitors also arrive by car via one of the four main Interstate highways-71, 77, 80, or 90. Amtrak trains and long-distance buses also arrive in Cleveland.