Milwaukee On a Budget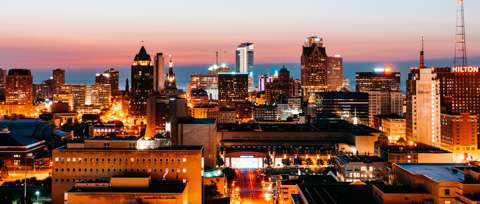 Milwaukee is a city in the U.S. state of Wisconsin on Lake Michigan's western shore. It's known for its breweries, many of which offer tours chronicling its role in the beer industry. Overlooking the Menomonee River, the Harley-Davidson Museum displays classic motorcycles, including one of Elvis Presley's. Nearby is the Milwaukee Public Museum, with its large-scale European Village and a recreation of old Milwaukee. In summertime, festivals let loose by the lake almost every weekend. These attractions along with stylish eating and shopping areas have turned Wisconsin's largest city into an interesting and attractive destination.
Sights
The Harley Davidson Museum, where hundreds of motorcycles show the styles through the decades, including the flashy rides of Elvis and Evel Knievel. You can sit in the saddle of various bikes and take unique photos. Even non-bikers will enjoy the interactive exhibits and tough, leather-clad crowds.
The lakeside Milwaukee Art Museum, which features a stunning winglike addition by Santiago Calatrava. It soars open and closed every day at 10am, noon and 5pm (8pm on Thursday), which is fun to watch; head to the suspension bridge outside for the best view. There are fabulous folk and outsider art galleries, and a sizeable collection of Georgia O'Keeffe paintings. A 2015 renovation added photography and new media galleries to the trove.
Take a look at the Harley Davidson Plant, where engines are built, in suburban Menomonee Falls. The factory offers two options for tours: a free, 30-minute jaunt where you see a video and take a quick walk onto the factory floor, and a two-hour paid tour where you don safety glasses and check out the assembly line, powder-coat process and other in-depth engine-making activities.
The Hoan Bridge is one of the most recognizable Milwaukee landmarks. It is a tied arch bridge suspended over the port of Milwaukee on the Milwaukee River. It's part of I-794 that leads into downtown.
Neighborhoods
Downtown Milwaukee consists of two neighborhoods which sit across the Milwaukee River from each other: Juneautown and Kilbourntown.
Juneautown
Between the lake and the river is the financial heart of the city, as well as the place where Milwaukee was born. The city's tallest building, the 601-foot USBank Tower, is located here along the lake, as are a number of the other architecturally significant buildings, including the Cathedral of St. John and Milwaukee's City Hall. There are a number of coffee shops and restaurants, but except for around Cathedral Square and Milwaukee Street area mostly closes down after business hours.
Kilbourntown (or Westown)
Across the river, Kilbourntown serves as the city's entertainment center. Here you will find attractions such as the Wisconsin Center, Milwaukee's primary convention center. Nearby are the Grand Avenue Mall, the Milwaukee Theater, and the Bradley Center. Many of the city's hotels are located here as well, as are a number of excellent restaurants and clubs. Further to the west is Milwaukee's gigantic neo-classical Courthouse, the Milwaukee Public Museum, and the ornate Milwaukee Central Library. While none of the city's tall buildings have public observatories, you can get a fantastic view from Polaris, the revolving restaurant perched atop the Hyatt Regency in the heart of Kilbourntown.
Historic Third Ward
This small district, located directly to the south of Juneautown, is Milwaukee's version of the trendy urban "warehouse district." The streets of the Third Ward are lined with 19th and early 20th-century warehouse buildings which have been converted into lofts and offices. At street level, chic shops and restaurants are commonplace. The area is also an entertainment hub. The Eisner Museum of Advertising and Design, the Broadway Theater Center, and the Milwaukee Institute of Art and Design can be found here.
Activities
The well-loved Lakefront Brewery, across the river from Brady St, has afternoon tours, but the best time to visit is on Friday nights when there's a fish fry, 16 beers to try and a polka band letting loose.
Go for a tour of the Miller Brewing Company. Founded in 1855, the historic Miller facility preserves Milwaukee's beer legacy. Join the legions lined up for the free, hour-long tours. Though the mass-produced beer may not be your favorite, the factory impresses with its sheer scale: you'll visit the packaging plant where 2000 cans are filled each minute, and the warehouse where a half-million cases await shipment. And then there's the generous tasting session at the tour's end, where you can down three full-size samples.
Experience Discovery World at Pier Wisconsin. The city's lakefront science and technology museum is primarily a kid-pleaser, with freshwater and saltwater aquariums (where you can touch sharks and sturgeon) and a dockside, triple-masted Great Lakes schooner to ogle, and sailing tours are also available. Adults will appreciate the Les Paul exhibit, showcasing the Wisconsin native's pioneering guitars and sound equipment.
Milwaukee County Zoo, one of the best zoos in the US, features 2,500 animals representing 300 species on 200 acres. Besides animal showcases, the zoo also features train tours, sea lion shows, and a dairy farm. Check with zoo schedules for fun special events like sleepovers at the zoo or trick-or-treating at the zoo on Halloween.
The parkland edging Lake Michigan is prime for walking, cycling and inline skating. Also here is Bradford Beach, which is good for swimming and lounging.
Food and Dining
With its immigrant heritage, Milwaukee is a major restaurant city. Good local restaurants serve almost every kind of food imaginable, usually quite inexpensively. Different neighborhoods have different specialties when it comes to food. Old World Third St along (and just west of) the Milwaukee River provides a richer variety of restaurants and also many of the more upscale restaurants and clubs in town. Traditional Germanic and Mediterranean foods are the highlights.
Milwaukee St, between Wisconsin and Wells Streets, offers many trendy and top rated restaurants in the city as well as an upscale nightlife for the after dinner drink.
The east side also has many nice restaurants, bakeries, and cafes. Most places are clustered on Farwell, North, or Brady Streets. The Fifth Ward and South Side contain many different authentic and cheap Mexican and Latin American restaurants.
Bay View has a variety of different kinds of places, especially with regards to "hip" comfort food.
Transportation
There is an array of almost every transportation mode thinkable to get to Milwaukee. The cheapest way is by bus, but many travelers prefer the comfort and convenience of air, boat, car, or train travel. Chicago, a massive transportation hub, is less than 100 miles away. Milwaukee is served by General Mitchell International Airport. Milwaukee County Transit System buses run frequent airport service from roughly 4AM to 2AM. Amtrak serves downtown and an airport station. The newly remodeled Milwaukee Intermodal station offers connectivity to inter-city bus services and is located downtown a short distance from many attractions and hotels. Starting service at May 1st, and ending service at November 1st, it is possible to take the ferry from Muskegon MI to Milwaukee Harbor. The trip takes 2 1/2 hours and takes you over majestic Lake Michigan. Milwaukee is served by several interstate bus lines daily, there is competition on most routes as well as onward connections. Milwaukee is also easily reached by road, if you prefer to drive. Getting around in Milwaukee is easy. Milwaukee's bus system, MCTS, has an extensive coverage area and core routes with very frequent service. There is also a free tourist trolley available seasonally that loops through some of the more popular tourist areas, and, of course, driving is another way of getting around.