Detroit On a Budget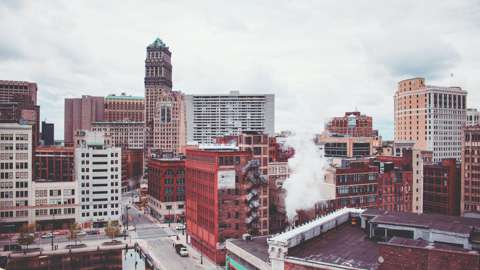 Detroit is the largest city in the Midwestern state of Michigan. Near Downtown, the neoclassical Detroit Institute of Arts is famed for the Detroit Industry Murals painted by Diego Rivera, and inspired by the city's ties to the auto industry, giving it the nickname "Motor City." Detroit is also the birthplace of Motown Records, whose chart-topping history is on display at their original headquarters, Hitsville U.S.A.
Murals, markets, greenways, bike shops, distilleries and inventive chefs are getting the city's groove on, along with fresh public works like the new street car and sports arena downtown. While the city does have an abandoned, otherworldly vibe in some areas, it's these same qualities that fuel a raw urban energy you won't find anywhere else. Artists, entrepreneurs and young people keep moving in, and a DIY spirit pervades. They're converting vacant lots into urban farms and abandoned buildings into cafes and museums, making it an interesting and exciting destination to visit.
Sights
The 1928 Fisher Building from the man who built Detroit, Albert Kahn, has an imposing art deco exterior made from Minnesota granite and Maryland marble, and an interior to rival any Italian cathedral. From the soaring vaulted ceilings, featuring an array of intricate, hand-painted patterns, to the sparkling mosaics by Hungarian artist Geza Maroti and gleaming marble on the walls, the visual inspiration here is endless.
The Motown Historical Museum. In this row of modest houses Berry Gordy launched Motown Records - and the careers of Stevie Wonder, Diana Ross, Marvin Gaye and Michael Jackson - with an $800 loan in 1959. Gordy and Motown split for Los Angeles in 1972, but you can still step into humble Studio A and see where the famed names recorded their first hits.
The Detroit Institute of Arts holds one of the world's finest art collections. The centerpiece is Diego Rivera's mural Detroit Industry, which fills an entire room and reflects the city's blue-collar labor history. Beyond it are Picassos, Caravaggios, suits of armor, modern African American paintings, puppets and troves more spread through 100-plus galleries.
The Ford Piquette Avenue Plant Tour takes visitors to the only "Brass Era" auto assembly plant in Detroit that is open to the public. A National Historic Landmark, the Ford Piquette Road plant was built in 1904, and it was the first factory owned by the Ford Motor Company and specifically built to manufacture the Ford. It was in that building that Mr. Ford designed his Model T and forever guaranteed himself a spot in the pages of history.
Neighborhoods
Downtown
Detroit's central business district, containing most of the prominent skyscrapers in Detroit. It is the nation's second largest theatre district, has several parks, three casinos, and three major league sporting venues.
Midtown-New Center
This is Detroit's cultural center, home to several world class museums, art galleries, and Wayne State University.
Corktown
Detroit's oldest neighborhood. It was settled by Irish people from County Cork, hence the name Corktown. Many historic landmarks are located in the neighborhood, such as the abandoned Michigan Central Station and Tigers Stadium.
Greektown
Detroit's most famous neighborhood, known for its nightlife and gambling scene. It has an endless number of Greek restaurants and is home to Greektown Casino.
Mexicantown
The fastest growing neighborhood in Detroit. Predominantly hispanic, the area is famous for its Mexican cuisine, which is evidenced by its vast number of restaurants.
Activities
Campus Maritus Park, a new public space in the heart of Detroit's downtown, is the perfect spot to while away a sunny afternoon. At the center is the Michigan Soldiers & Sailors Monument: In the warmer months, there's a sandy beach at its foot; in the winter, the space becomes the city's most popular ice rink. There's a stage for concerts and, in summer, a pop-up restaurant and bar.
Pretty Belle Isle Park floats in the Detroit River. The entire expanse is parkland where kayaking, walking trails and a glass-domed conservatory await. There's a beach, zoo, aquarium and maritime museum, too. The cycling here is terrific.
Experience a jazz fest at Baker's Keyboard Lounge. Come for the music, stay for the top-notch soul food - Detroit's longest continuously operating jazz club has made it through 80 years of ups and downs for a reason.
Go on a river cruise. Built in 1993 in Jennings, Louisiana, the Detroit Princess is an impressive cruise ship that offers several different kinds of river tours including lunch, afternoon, dinner, and moonlight cruises. The Detroit Princess is also available to host a variety of events such as corporate functions or private events like birthday parties, family reunions, and weddings.
Food and Dining
Detroit's downtown has an emerging food scene with several new farm to table restaurants. Detroit is world famous for the coney, a hot dog with chili, mustard, and chopped fresh onions. The most known coney restaurants are the American Coney Island and Lafayette Coney Island, both located next door to each other in downtown Detroit. Detroit-style pizza is a delicious and crispy deep dish pizza that you can't truly find outside of Michigan. It is not quite as thick as Chicago-style pizza, but the buttery crust is worth seeking out. The Detroit classic is Buddy's Pizza restaurants chain, with numerous locations a half hour drive from the city. Detroit's Greektown offers a large selection of Greek restaurants, all with delicious options. Detroit's Mexicantown is known for Mexican cuisine at restaurants such as Mexican Village, Evie's Tamales, El Zocalo and Xochimilco. Hamtramck is famous for its Polish cuisine and bakeries and neighboring Dearborn is known for its wide selection of restaurants serving Lebanese and Arabic fare. Choose to dine in elegance at one of Detroit's many fine restaurants a sample of which include the Coach Insignia atop the Renaissance Center Downtown, the Whitney House restaurant in Midtown, or the Opus One in the New Center. The options are endless, and you can find whatever it is you're craving.
Transportation
It is easy to get to Detroit by plane into the Detroit Metro Airport. The airport is a major Delta hub and operational headquarters, so it offers direct flights to and from a surprising variety of cities and countries. There are train routes available to get to Detroit. You can also get to Detroit by bus or car. Detroit does not have an elevated/subway network that covers the entire city, but there is the People Mover, an automated, elevated rail system that runs a three mile loop in the downtown area. It is the best way to get around the downtown area. A round trip excursion, covering 13 stations, takes approximately 20 min, and offers great views of the city's downtown landmarks. The Detroit Department of Transportation provides mass transit bus service within the city of Detroit and to nearby areas. There is also a new streetcar line that runs from Downtown up Woodward avenue to New Center. Detroit has an abundance of taxi, limo, and shuttle services. Car rental prices are reasonable. Detroit spreads over a large area, it is difficult to be without a car, so a rental car is one of the best options for getting around. An extensive freeway system and ample parking make the region one of the most auto-friendly in North America. Detroit is one of the best cities for biking, with a thriving bike culture. Streets are flat and have usually multiple lanes in each direction.