Saint Louis On a Budget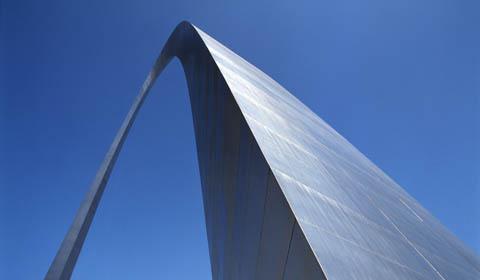 Nicknamed the "Gateway to the West" and perhaps best known for its iconic Gateway Arch, St. Louis, Missouri, has grown from a last stop for pioneers journeying west to a thriving metropolis notable for its diverse culture, impressive architecture, and unique neighborhoods. It sits on the Mississippi River and has plenty to offer in dining, shopping, sight-seeing, and entertainment.
Sights
Beyond the
Gateway Arch
(a tribute to the early 19th-century explorations of Lewis and Clark and America's westward expansion), St. Louis is home to a number of monuments, museums, parks, and other attractions unique to the city. The
St. Louis Zoo
, for example, is recognized as one of the top five zoos in the nation. It is located in Forest Park, one of the nation's largest city parks with 1,293 acres, open to the public for activities like golf, tennis, baseball, bicycling, boating, fishing, handball, ice skating, in-line skating, jogging, cricket, rugby, and more. The park is also home to the St. Louis Science Center and the Missouri History Museum, and was historically the site of the 1904 Louisiana Purchase World's Fair.
Other top sights include the Missouri Botanical Garden, the Cathedral Basilica of St. Louis (known especially for its mosaic art), the City Museum (which is more of an architectural playground with mazes, obstacle courses, tunnels, airplanes suspended in midair, and chutes and ladders), and the St. Louis Art Museum.
Neighborhoods
St. Louis has one of America's most distinctive neighborhood cultures, each community upholding its own individual flare. Downtown makes up the central business district of the city, featuring all three professional sporting teams' stadiums, dozens of hotels, corporate headquarters, dining and shopping, entertainment, nightlife, and the famous Gateway arch. Laclede's Landing, on the city's eastern edge, is one of the oldest standing neighborhoods of the city with cobblestone streets, horse-drawn carriage rides, live music, restaurants, and bars. Soulard is another of St. Louis' old neighborhoods, known for its red brick architecture, barbeque restaurants, and blues music clubs, while Lafayette Square is also nearby featuring tree-lined streets with shopping, dining, and a number of bed and breakfasts. These are just a few of the 79 government-designated neighborhoods within the City of St. Louis. Some others include the historic Old North Saint Louis, the arts, theatre, and museum district of Grand Center/Midtown, the upscale Central West End, St. Louis' Little Italy at The Hill, and the historic African-American neighborhood of North St. Louis.
Activities
In addition to exploring some of the top attractions - museums, parks, and architecture included - St. Louis is a great place to get lost in the cultures of each distinctive neighborhood. The descriptions above give some insight into the top districts, the Central West End, Laclede's Landing, and Soulard being especially popular with visitors. Additional parks worth visiting include the one at Lafayette Square (the oldest in the city, chartered in 1806), Laumeier Sculpture Park, and South Grand and Tower Grove Park (which features bike paths, playgrounds, a wading pool, several restored Victorian pavilions, and seasonally hosts a Farmer's Market and festivals).
Other activities including movies, Mississippi River cruises, sporting events, and musical performances from jazz to folk, classical, and more.
Food and Dining
Cuisine of St. Louis has a long history and broad range of influences including Italian, German, Irish, and French, amongst others - making the food culture of the city a true melting pot of America. Unique to the city are specialized forms of traditional favorites like pizza, barbecue, ravioli, pork, and pastries. St. Louis-style pizza, for example, is made with Provel cheese on a super thin crust, while toasted ravioli is breaded and toasted dry or fried rather than the more common method of boiling. As far as barbeque goes, it usually involves direct grilling with a sweet, sticky, and acidic tomato-based sauce and one of two cuts - slow-cooked pork steak and St. Louis-style spare ribs. Gooey Butter Cake is one of the best-loved pastries, while Ted Drewes Frozen Custard is another favorite dessert with locals.
Transportation
By plane, the largest airport serving St. Louis is the Lambert–St. Louis International Airport, located about 14 miles northwest of the city center. It is directly served by the MetroLink light rail line.
By car, St. Louis can be accessed by Interstate 70 West from Illinois, Indiana, Ohio, and points eastward, I-64W from Illinois, Kentucky, Tennessee, and points southeastward, I-55N from Arkansas, Tennessee, and points southward, I-55S from Illinois, I-44E from Tulsa, and I-70E from Kansas City.
The city is also served by Amtrak for train transportation, as well as Greyhound and Megabus for long distance bus transportation. The bus terminal and train station are located next to each other around S. 15th Street.
Related:
Looking for a
party hostel in Las Vegas
or
San Diego
? Traveling alone to
NYC
or
LA
? Want a budget hostel in
San Francisco
?