Wisconsin Dells On a Budget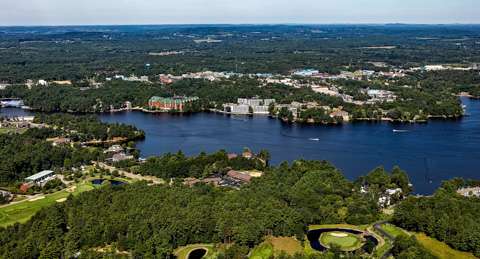 Located in central Wisconsin, Wisconsin Dells offers natural beauty, fun rivers, and some of the area's most famous theme parks. Wisconsin Dells is one of the two towns that make up "The Dells." The other town, Lake Delton, is another popular Midwestern tourist spot.
Wisconsin Dells is about an hour north of Madison and two hours from Milwaukee. It's famous for its striking rock formations and scenic bluffs. The town's name comes from the Dells of the Wisconsin River, which is an impressive gorge that was originally formed by a glacier.
Sights
In addition to the many amusement and water parks in the area, Wisconsin Dells also has some fun museums. The
Circus World Museum
, Ripley's Believe it or Not!, and the Mid-Continent Railway Museum are all favorites of visitors. There are also a couple of theaters in the area where you can catch a show. For a unique experience, check out the Tommy Bartlett Show which features a water skier. For something a little more traditional, head to the Rick Wilcox Theater.
Neighborhoods
The Dells is actually made up of two separate towns - Wisconsin Dells and Lake Delton. The area is made up of a downtown area and outer regions that include lakes, rivers, and forested areas. The Wisconsin River is also divided into an "Upper" and "Lower" Dells which refers to areas above and below the Hydro-Electric Dam. Each area has a different landscape and the geography is different. You can take boat tours of either the Upper Dells or the Lower Dells.
Activities
Amusement parks in the area are popular and there are a number that you can choose from. Mt. Olympus Water and Theme Park is a favorite, as is Noah's Ark Waterpark. There are also many resorts in the area that have their own water parks. The most recognizable one is Great Wolf Lodge, but there is also Kalahari Resort, Wilderness Resort, Chula Vista Resort, and more.
If you plan to visit the area in the winter, expect snow. It's possible to go cross-country skiing in some places, as well as other winter activities. If you're looking for a place to stay, check out these
cozy winter cabins in Wisconsin
.
There are also a number of boat tours in the area. Upper & Lower Dells Boat Tours runs services between April and October.
Wisconsin Ducks
also operates boat and land tours in the area.
Food and Dining
The area has no shortage of family friendly chain and local restaurants to choose from. There's a Cheesecake Factory, a handful of Mexican options, pizza, subs, and more. There are also a few pubs and bars where you can grab a drink, and a few higher end restaurants, some with views, if you're interested in a more fine dining experience.
Transportation
Many of the sights in Wisconsin Dells are in the downtown area along Broadway or between Wisconsin Dells and Lake Delton near the Wisconsin Dells Parkway. You really need access to a private vehicle if you plan to explore the area in any level of detail.