Death Valley National Park On a Budget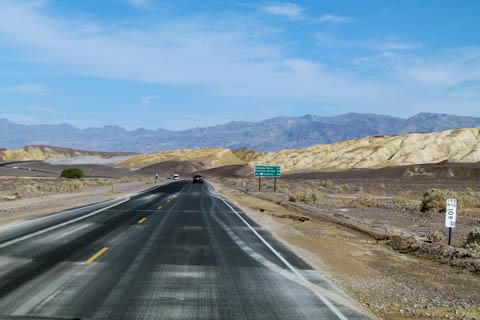 With over 3.4 million acres of desert and mountains, the sights of Death Valley encompass sweeping viewpoints, scenic drives, dunes, craters, and colors that change with the course of the sun. Historically, a few Native American cultures are known to have lived in the area, mostly nomadic. The first Europeans to stumble upon the area were a group drawn by the California Gold Rush. Forced to abandon their wagons, they were eventually able to hike out of the valley. Upon leaving, one traveler called it Death Valley and the name stuck.
Today, though the vast stretch of desert seems dry and barren, it is thriving biosphere for many species. In addition to bighorn sheep, coyotes, bobcats, cougars, and mule deer, the region also lay home to birds, reptiles, amphibians, and plant life like desert holly, mesquite, Joshua trees, and pinyon-juniper. While the lowest point in the valley is several hundred feet below sea level, these creatures have adapted to the harsh environment, a surprising place full of beauty in unexpected ways.
Sights
The sights of Death Valley are nearly all natural landforms. Some of the best views of the park from above include Dante's View and Zabriskie Point, both located along the ridge of the Black Mountains on the eastern end of the park. Both offer panoramic views of the valley (best during morning hours when the sun is in the east), as well as breathtaking views of the night sky. Due to its isolation, the sky above Death Valley at night provides some of the best visibility for stargazing. Visitors can even see the Milky Way stretch above the desert and sometimes catch a meteor shower.
Another prime sight-seeing feature of the park is the Artist's Drive, a scenic loop drive through multi-hued volcanic and sedimentary hills. The 9-mile stretch is one-way, starting from Badwater Road and running past some of the most beautiful features of the park, like Artist's Palette which is especially photogenic in late afternoon light. Other popular spots include Titus Canyon, Badwater salt flats, Ubehebe Crater, the Mequite Flat Sand Dunes, Mosaic Canyon, the Devils Golf Course, and the Racetrack-where visitors can see evidence of the phenomenon where rocks leave mysterious tracks, seeming to have moved on their own. From jagged mountain trails and giant craters to sweeping sand dune and vast salt flats, the landscape of Death Valley is one of great diversity.
Neighborhoods
In the harsh environment of Death Valley, towns of civilization are far and few. In addition to nine campgrounds with varying facilities, Death Valley has a few spots of convenience in Furnace Creek, Stovepipe Wells Village, and Panamint Springs. At any of these places, visitors can find lodging, camper stores, restaurants, dump stations, fuel and auto services. Furnace Creek Visitor Center, located on the eastern end, is perhaps the best place to start as it is the main visitor information source for the park. With a resort featuring an inn and ranch as well as restaurants, a golf course, tennis courts, and tourist excursions, Furnace Creek is probably the village with the most amenities. Tourism of Death Valley began here, and so it has become a little oasis for visitors looking to experience the park.
Activities
With over three million acres of wilderness, Death Valley National Park contains an amazing variety of terrain, historic sites, plants, and animals for outdoor adventurers to explore. From hiking, backpacking, and backcountry camping, to mountain biking, birdwatching, and horseback riding, visitors from all over come to experience the rugged environment of the lowest valley in North America. It is, however, important to be prepared with plenty of water and clothing for temperature extremes. The highest recorded temperature in the valley reached as high as 134 (F), while the lowest recorded 15 (F).
In addition to seeing the natural phenomena and wildlife, Death Valley is also home to the ruins of the Harmony Borax works, which operated from 1883 to 1888. Now a ghost town, visitors can tour the abandoned Adobe ruins and an original wagon that lay as evidence to the industry that once was. Loads of Borax were pulled from this site by the famous Twenty Mule Teams all the way to a railhead near Mojave, a grueling 165 mile, ten day trip across primitive roads. If you wish to experience a little history, this is the place to start.
There are also photography tours, private tours, hiking and camping tours, as well as off-road tours available to visitors who wish for a more guided experience.
Food and Dining
As mentioned earlier, towns in Death Valley are far and few. So unless you are a camper prepared to rough it over a camp fire, restaurants and grocery stores are far and few as well. Campers can fuel up on supplies at hubs like Furnace Creek, Stovepipe Wells, Panamint Springs, or any towns adjacent to the park. Furnace Creek is the village with the most amenities, sporting a general store and a small selection of restaurants available at the Furnace Creek Inn. Stovepipe Wells and Panamint Springs each have a restaurant or two as well. The selections are fairly basic, saloon-type, sandwiches, burgers, and brews. The best place to get a wider selection is the Death Valley Junction located just outside the eastern border. Here visitors can find a few saloons and steakhouses as listed on TripAdvisor.
Transportation
By car, the main road transecting Death Valley National Park from east to west is California Highway 190. From the east in Nevada, U.S. Route 95 parallels the park from north to south with connecting highways. From the west, State Route 14 and U.S. Route 395 lead to Ridgecrest, CA where State Route 178 heads east into the park. South of the park, Interstate 15 passes through Baker, California on its way from Los Angeles to Las Vegas. State Route 127 travels north from Baker to Shoshone and Death Valley Junction with connections to the park.
By air, the only way to get directly into Death Valley is by private plane, coming into Furnace Creek Airport or Stovepipe Wells Airport. The most popular airport destination for guests wishing to visit Death Valley is the Las Vegas McCarren International Airport. It is located 130 miles from the eastern gates of the park and is serviced by most major U.S. airlines, including Air Tran, American Airlines, Continental, Delta, Frontier, Jet Blue, Southwest, United and U.S. Airways.
Related:
Looking for a
party hostel in Las Vegas
or
San Diego
? Traveling alone to
NYC
or
LA
? Want a budget hostel in
San Francisco
?