Tampa On a Budget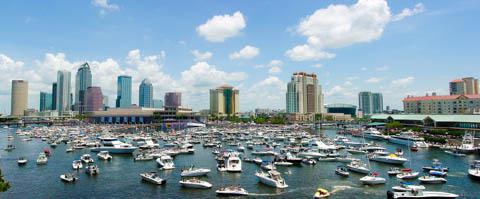 On the north shore of Tampa Bay, across the water from Saint Peterburg, is the city of Tampa. The city has a population of almost 350,000. The metropolitan area includes Tampa, St. Peterburg, and Clearwater. It has about 2.9 million residents and is the second largest metropolitan area in the state. The city is a popular destination for outdoor activities and in 2008 it was ranked the 5th best outdoor city by Forbes.
The climate in Tampa is humid subtropical. The winters are mild but there are occasionally cold spells that bring night time temperatures down near freezing. Although it is very rare, snow has fallen in Tampa. Spring and Fall are both warm and humid and summer can become quite hot. Thunderstorms are also frequent during the summer months.
Sights
There are some popular destinations in Tampa which attract tourists from around Florida and elsewhere. In particular, the Busch Gardens theme park is a favorite of adults and children alike. Also of interest is the Lowry Park Zoo and the Florida Aquarium. There are some museums around town like the Tampa Museum of Art and the Museum of Science and Industry. Tampa is also home to the University of South Florida. It is also worth exploring Ybor City. This is a historic, multi-ethnic area that is located northeast of the city's downtown. There are many nightclubs, bars, and shops that appeal to people who are looking for nightlife activities. During the day you can explore the historic district that was originally home to many Cuban, Spanish and Italian immigrants. There were many cigar factories and the area is credited with bringing the Cuban sandwich to the United States.
Neighborhoods
The city is split into five different districts that spread out from the downtown area. West Tampa is west of the downtown area, just across the Hillsborough River. South Residential is a predominantly residential area that goes south on the Interbay Peninsula. Historic Ybor City is just northeast of downtown and blends with the area. East Tampa is north of Ybor City and North Tampa is the area north of Busch Boulevard.
The more central Tampa area has six different neighborhoods which include Hyde Park, Seminole Heights, Historic West Tampa, Hampton Terrace, Tampa Heights and Ybor City.
Activities
Activities in Tampa include taking walking tours, going fishing on the bay, taking a cruise of the bay, or attending one of the many festivals in town.
Many people choose to attend a sporting event in Tampa. Popular teams include the Tampa Bay Buccaneers (football), the Tampa Bay Lightning (hockey), and the Tampa Bay Rays (baseball).
If you're interested in doing some shopping while you're in town then your best options are the SoHo District, which has upscale shopping near downtown, Palma Ceia south of Hyde Park, the Big Top Flea Market, and Channelside near the cruise ship terminals. Other malls in the area are the International Plaza Mall, Westshore Plaza Mall, University Mall, and Citrus Park Town Center.
Golf is also a popular activity around town. There are many golf courses including Ace Golf/Pebble Creek Golf Club, Babe Zaharias Golf Course, Bloomingdale Golfers Club, and Emerald Greens Golf Resort and Country Club.
Food and Dining
There are many budget restaurants and cafes around Tampa, many of which have an international flare. You'll find plenty of Mexican options and there are many taco stands around town. There are also a variety of great Cuban restaurants, as well as pizza, sandwiches and hotdogs. If you're looking for something a little nicer, there are some great seafood restaurants that serve up a delicious and reasonably priced meal. Overall, Tampa proves to be a very budget conscious destination for travelers.
Transportation
While there is a bus system and a streetcar in Tampa, you really need to have a car to travel any significant distance. Like most mid-sized American cities, the public transportation system is lacking and the buses are unreliable and do not thoroughly cover the city. There are three types of routes available: Local, Commuter Express, and Trollies. Local routes cover short distances with frequent stops. Commuter Express lines go long distances into the suburbs. Trolley routes are operated with rubber-wheel trolleys, which are diesel buses designed to look like streetcars. They run through the Central Business District north and south through downtown to the northern end of Harbor Island.
The streetcar, while quaint, only covers a short distance from Whiting and Franklin Streets to Centennial Park. There are eleven stops along the line and it passes by many shops, restaurants and sights.
Related:
Looking for a
party hostel in Hawaii
or
Miami
? Traveling alone to
LA
or
New Orleans
? Want a budget hostel in
NYC
?