Alexandria On a Budget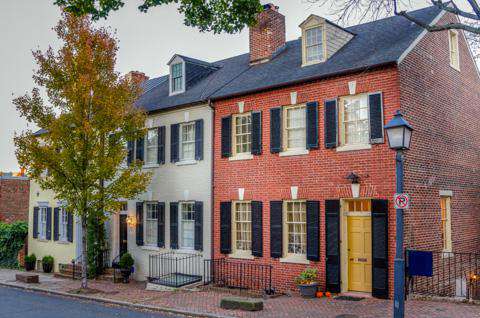 Just minutes from the nation's capital of Washington DC, Alexandria offers a world of rich history and beautifully preserved buildings from the 18th-19th centuries. A city of many interests, attractions range from the old haunts of George Washington and historic architecture to museums, local crafts, and quaint boutiques. With its cobblestoned streets, Old Town of Alexandria is sure to charm as well.
Sights
The majority of Alexandria's sights are situated within the historic Old Town of the city. One of the more outstanding features is the George Washington Masonic Memorial, built by Freemasons in the 1930's to resemble the lighthouse at Alexandria in Egypt, one of the seven wonders of the ancient world. While this is a monument to Washington, there are many historic places significant to his past as well. Gadsby's Tavern is one of his old haunts, he was once a member of the historic Christ Church Alexandria, and Cameron Street marks the location of Washington's town home and office. Though the original house burned down in the 1850s, it was reconstructed in the 1960s and still stands today. The city is also important to the Civil War general Robert E. Lee, who was also a member of the Christ Church and whose boyhood home is the Lee-Fendall House on Oronoco Street.
Other worthwhile attractions include the Carlyle House, Old Presbyterian Meeting House, Stabler-Leadbeater Apothecary, the Spite House, Torpedo Factory Art Center, and the Ice Well. Additionally, Captains Row and Gentry Row, located along Prince Street, contain some of the oldest residencies in the city-picturesque with cobblestones and charming colonial architecture.
Ventures outside of Old Town include the Alexandria Black History Museum, Fort Ward, Port City Brewing Company, and the U.S. Patent and Trademark Museum.
Neighborhoods
Old Town Alexandria is the true heart of the city. Hugging the Potomac River, this part of Alexandria was once an important port during the colonial, revolutionary, and Civil War periods. Today its past is still apparent in its charming cobblestoned streets, colonial houses, and historic churches. Dating back to 1749, the quaint Old Town is full of rich history and places once frequented by George Washington himself. In addition, there is also much opportunity for shopping and dining, as well as visiting museums and hopping on guided tours. Some of these include horse drawn carriage rides, ghost tours, and historic walking tours.
Activities
Historic sight-seeing definitely steals the show as far as activities go in Alexandria. Visitors are free to explore the sights on their own, but if you are looking for a more guided experience Alexandria Colonial Tours offers historic ghost tours of Old Town and Historic Alexandria Homes Tour takes visitors through six beautiful historic homes.
On the outdoorsy side of things, Cameron Run Regional Park, located on Eisenhower Avenue, offers a green space with opportunities for fishing, miniature golf, and batting cages, plus a water park called Great Waves known for its water slides.
Alexandria is also known for its festivals, one of the most memorable being the Annual Alexandria Holiday Boat Parade of Lights. Held in the first week of December, dozens of decorated boats cruise the Potomac River from Old Town Alexandria to DC's Southwest waterfront-all amidst holiday music and other holiday festivities.
Food and Dining
As far as food goes, some of the more traditional meals in Virginia include dishes like barbeque pork, Brunswick stew, and peanut soup-which was especially popular during colonial times. Desserts like marble cake and shoofly pie come largely from the Pennsylvania Dutch, while fried peaches with vanilla ice cream is considered a more upscale dessert. And, of course, the closer you get to the coast, the more likely you will able to indulge in fresh seafood dishes. In Alexandria, many restaurants can be found in Old Town, though be aware that the closer you get to the waterfront the more expensive menu items will be. Gadsby's Tavern, as mentioned earlier was frequented not only by George Washington, but all five of the first U.S. Presidents. The restaurant has been operating for over 300 years, and is partly a museum with access to the old 1785 portion of the tavern and the historic ballroom upstairs.
Transportation
Alexandria is accessible from three airports in the Washington DC area. Ronald Reagan Washington National Airport is located north of Alexandria in Arlington County, Washington Dulles International Airport is 30 miles northwest of the city in Fairfax County, and Baltimore-Washington International Thurgood Marshall Airport is located 40 miles northeast of Alexandria near Baltimore, MD. All three airports have public transportation connections to Alexandria, though the connection between Ronald Reagan Washington National Airport and Alexandria via Metrorail is the simplest, fastest, and cheapest.
By train, Amtrak services regional trains to Alexandria with stops in Boston, New York City, Lynchburg, Newport News, and Norfolk. Long-distance trains also run to New Orleans, Miami, Chicago, Savannah, and Charlotte.
Locally, the Virginia Railway Express provides commuter services, and the Metrorail is another frequent way of navigating with stations in Virginia, DC, and Maryland. There are four stations in Alexandria, serviced by the Blue and Yellow lines: Braddock Road, King Street – Old Town, Eisenhower Avenue, and Van Dorn Street.
By car major highways in the area include I-95/I-495 (Capital Beltway), I-395, and Highway 1. Within the city itself, King Street runs east-west from Old Town Alexandria out towards Falls Church and beyond and Duke Street runs east-west from Old Town Alexandria from Annandale and beyond.
Related:
Looking for a
party hostel in Las Vegas
or
San Diego
? Traveling alone to
NYC
or
LA
? Want a budget hostel in
San Francisco
?