Norfolk On a Budget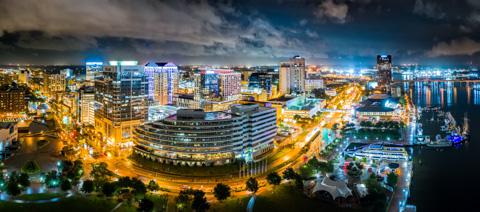 The city of Norfolk in the U.S. state of Virginia is a port city holding a large Navy and shipping presence in its harbor. With a long history as a strategic military point, Norfolk is home to the largest Navy base in the world, Naval Station Norfolk. Other attractions include opportunities for dining, shopping, and entertainment as well as many parks and memorials.
Sights
With a history dating back to colonial years, the city of Norfolk has much to see in the form of architecture. Churches make up some of the more impressive examples with many like the Basilica of Saint Mary of the Immaculate Conception, which stands tall with white steeples. Others include the Christ & St. Luke's Episcopal Church from 1910, the Freemason Street Baptist Church from 1850, and the 1739 St. Paul's Episcopal Church which has a cannon ball fired by Lord Dunmore in 1776 still lodged in the church wall today. The Ghent Historic district houses many of these buildings and more.
As a long-time time port, there is also much to see related to the place's maritime past. The Hampton Roads Naval Museum has an exhibit that interprets the lengthy history of the U.S. Navy in southeast Virginia and northeast North Carolina, while the Nauticus and the Battleship Wisconsin is open as a maritime-themed science center and museum. Visitors can also opt to take a tour of the Naval Station to see aircraft carriers and other large ships, conducted by Naval personnel.
Other popular attractions include the Cannonball Trail on Freemason Street, the Chrysler Museum of Art, Hermitage Museum & Gardens, MacArthur Memorial, Norfolk Botanical Gardens, Pagoda and Oriental Garden, and the Virginia Zoological Park.
Neighborhoods
The Downtown Norfolk waterfront is the historic district of the city. It has always been a center for port activity-shipping, military, and otherwise-and today serves as a bustling hub for just about anything a tourist could want. Not only is there an impressive collection of landmarks and museums, but there are also opportunities to entertain for days with multiple theatres, a zoo, cruises on the water, and more. Shopping and dining are both varied and diverse, catering to the many tastes and palettes of all who visit Norfolk. Granby Street is the main thoroughfare through the downtown and is lined with many restaurants and bars. Ghent is a historic district adjacent to downtown, and is filled with historic homes, tree-lined streets, and beautiful old churches. And then there is Ocean View, Norfolk's beach community for those looking to soak up the sun.
Activities
In a city like Norfolk, activities range from museums and historic sight-seeing to ocean cruises and beach-bumming. Ocean View is the prime neighborhood for the beachgoers, situated right on the Chesapeake Bay. It is often a quiet escape from the crowds at Virginia Beach, and has a nice pier for fishing.
As far as entertainment goes, Chrysler Hall brings Broadway to Norfolk, having hosted shows like Wicked, American Idiot, The Book of Mormon, Lion King, and Phantom of the Opera. Attucks Theatre is nicknamed the Apollo Theatre of the South, Wells Theatre and the Virginia Stage Company is a venue of the performing arts, and Harrison Opera House hosts events run by the Virginia Opera as well as concerts, musicals, and Broadway shows.
If you are big on the culinary scene you may want to come into the city during the Downtown Norfolk Restaurant Week, sample some local brews on the Ghent Bar Tour, or visit the O'Connor Brewing Company for a taste and tour of the homegrown brewery.
Food and Dining
While traditional Virginian cuisine consists of dishes like barbeque, Brunswick stew, colonial peanut soup, and seafood closer to the coast, Norfolk is a city with a happy mix of it all. For the saucier side of things, one might stop in at a place like Belmont House of Smoke or Doumar's Cones & Barbecue. But if its seafood you crave, a few Norfolk staples include A.W. Shucks, Capt. Groovy's Grill and Raw Bar, and 456 Fish. Other top restaurants, as rated on TripAdvisor include No Frill Bar and Grill, Freemason Abbey Restaurant, Handsome Biscuit, and Grilled Cheese Bistro. Norfolk is a place packed with flavors from all walks of the world, thrown in with a splash of southern flare.
Transportation
By plane, Norfolk International Airport is located just northeast of the city center. There are non-stop flights to Norfolk Airport from Atlanta, Baltimore, Charlotte, Chicago, Cincinnati, Dallas Fort Worth, Detroit, Houston, Jacksonville, Memphis, Miami, Minneapolis St Paul, Nashville, New York, Orlando, Philadelphia, St Louis, Tampa and Washington. Newport News/Williamsburg International Airport is another means for flying, located about 20 minutes north of the city in Newport News, VA.
By train, Amtrak offers train service to Norfolk as part of the Northeast Regional service that runs from Boston south to Washington, DC and various points in Virginia.
By car, main highway routes include I-64 and Route 460.
Norfolk can also be reached by passenger ferry from Portsmouth.
Related:
Looking for a
party hostel in Hawaii
or
Miami
? Traveling alone to
LA
or
New Orleans
? Want a budget hostel in
NYC
?