Richmond On a Budget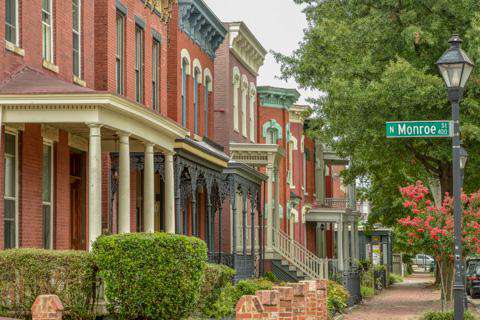 One of the oldest American cities, Richmond was established in 1607 by English settlers led by Captain Christopher Newport and Captain John Smith. During the Civil War it existed as the capital of the Confederacy, and today it remains the capital of the U.S. state of Virginia. There are many historic sights to see and museums to explore, as well as plenty of shopping, dining, and entertainment.
Sights
Richmond is a big city with a long history, making it a place of very many sights to see. If you're looking to delve into some history, Monument Avenue is a great place to start. It stretches from the downtown all the way to West End and is lined with statues dedicated to Confederate heroes and their achievements during the war and beyond. The Historic Downtown, especially Shockoe Bottom, is another place full of history, and the city's many museums offer a deeper glimpse of it all. Some of these include the Museum of the Confederacy, a Black History Museum, Edgar Allen Poe Museum, and the Virginia Fine Arts Museum. Other sights include The American Civil War Center and Richmond National Battlefield Headquarters at Tredegar, the White House of the Confederacy, Hollywood Cemetery, and the Landmark Theatre which regularly hosts off-Broadway shows and comedians.
On the nature side of things, the city also has many beautiful parks like Byrd Park and Maynard Park, which both have attractive gardens and wildlife. Belle Isle, in the middle of the James River, is another great escape-known for its part in the movies Cold Mountain, Hannibal, and the Jackal. And then there is the Lewis Ginter Botanical Garden, an oasis of diverse gardens, a conservatory, a garden shop, as well as a cafe and tea house.
Neighborhoods
Richmond is essentially a city of neighborhoods, each one unique in looks, flavors, and culture. The Fan neighborhood is named so for its roads which fan out to the west from N. Belvidere Street. It is home to many historic homes, parks, and monuments as well as the Monroe Park campus of Virginia Commonwealth University. The Museum District and Carytown essentially make up Richmond's Historic District with many historic homes and some of the city's most famous museums like the Museum of the Confederacy and the Virginia Museum of Fine Arts. Then there is the Downtown which includes the business district, Shockoe, Jackson Ward, and Tobacco Row. Shockoe Bottom in particular is home to many historic sites like a house of Edgar Allen Poe's, as well as plentiful options for dining. Other neighborhoods of Richmond include West End, Southside, Northside, Southwest, and East End.
Activities
Any visit to Richmond could be occupied by sightseeing for days. With a history dating back to colonial times, the city has seen it all. Any of the museums mentioned earlier are great resources for learning a bit about its past and culture, while the historic homes and sites offer a look at a more preserved yesteryear. The hub of Richmond, especially in the downtown, is a center for shopping, dining, and entertainment, while the city's parks and sections along the James River offer opportunities for outdoor activities with prospects for swimming, fishing, boating, wildlife watching, and biking trails.
Richmond also has quite the music scene with clubs offering a diverse selection of genres comprising rock, indie, metal, punk, hardcore, alternative, blues, jazz, jam, country and bluegrass. Some popular venues include The Camel, The Canal Club, Carpenter Theater at Richmond Center Stage, Cary Street Cafe, Gallery 5, The National, PSK Manor, and Strange Matter.
Food and Dining
As far as food goes, many of Virginia's signature dishes are common throughout much of the Southern United States as well. Country ham is a particular favorite, as is barbeque-mostly pork with a vinegar-based sauce. Brunswick stew is another traditional favorite, thought to have originated in Brunswick County in the southeast; it is a thick vegetable stew with meat. Then there is peanut soup which dates back to colonial times as well as a vast selection of seafood the closer you get to the coast. Being a city, Richmond offers a mix of that and more. With traditional favorites and international cuisine, some of the top picks as rated on TripAdvisor include places like Momma J's Kitchen, Hogs Head Cafe, Tarrant's Cafe, Lemaire Restaurant, Buz and Ned's Real Barbeque, Perly's, Stella's, Can Can Brasserie, and Tobacco Company Restaurant and Club.
Transportation
By plane, Richmond International Airport is the largest, and is served by Allegiant Air, American Airlines, American Eagle, Delta Air Lines, Delta Connection, JetBlue Airways, Southwest Airlines, United Airlines, and United Express. It is located about 7 miles southeast of downtown Richmond.
By train, the city is served by two Amtrak Stations: Staples Mill Station and Main Street Station.
By bus, Greyhound has a large terminal located on Boulevard about 4 miles west of the downtown. The city is also served by Eastern Travel with a station located near the intersection of Boulevard and Broad Street. Additionally, Megabus offers service from Philadelphia, Baltimore, Washington, D.C., Raleigh/Durham, Charlotte, and Hampton. Buses arrive and depart at the Richmond Travel Plaza on E Main St across from Main St Station.
By car, Richmond is on I-95, about 2 hours south of Washington DC. I-65 also runs through the city east-west for easy access to Norfolk, Virginia Beach, Williamsburg, and Charlottesville.
Related:
Looking for a
party hostel in Hawaii
or
Miami
? Traveling alone to
LA
or
New Orleans
? Want a budget hostel in
NYC
?